Plug Bug
Plug Bug: The Electric 1969 VW Bug
In April of 2010 I purchased a 1969 VW bug with the intent of converting it to run on electricity. In May I ordered parts. In January 2011, it finally moved!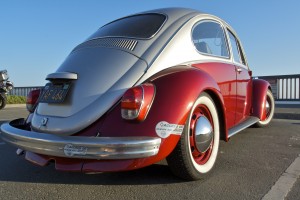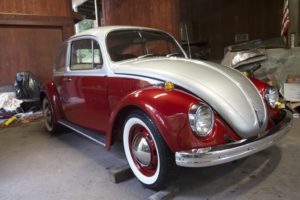 At a glance: 154 volts, 200 ah, 30.8kw-hr battery pack. Roughly 80+ mile range when in the Santa Cruz mountains. Up to 100 miles if not driven in the hills, and maintain 55mph.
Components:
* Netgain WarP 9 DC Motor
* Netgain Controls WarP Drive Controller (1000 amps)
* 48 3.2v 200ah Thunderksy Lithium Iron Phosphate batteries, in series for 154v nominal. 192v fully charged. 200ah in each cell.
* Elithion Lithiumate BMS (Battery Management System)
* Belktronix DC-DC converter
* Manzanita Micro PFC-30 Charger (NOTE: I don't recommend it; mine failed twice. See this post and this post).
* Stock transmission, with standard clutch
* Front lowered 2″ with drop spindles
* Disc brakes all around
* 2″ shortened adjustable front beam
Range:
* Roughly 220-350 watt-hours consumed per mile
* 100+ mile range in theory (to 20% State of Charge), but acceleration and the hills take a lot away. My typical driving seems to give about 70-80 mile range to 20% SOC. That would be roughly 100 mile range to 0% battery (which I won't do).
* Longest drive so far: 70 miles, and the battery was at 38% State of Charge. In theory, that is a 113 mile range to 0% battery level. This included driving over highway 17 twice (but lots of hypermiling).
* Update: another mileage test indicates about 120 mile range at 55mph on flat.
Performance:
* Better than a stock bug
* Lots of low end torque
* Drives 55-60 mph up  highway 17 (> 5% grade at some places) and I can still accelerate
* Top speed, in theory 95 MPH (based on the gear ratio, and 5000 max ratio RPM of the motor)
* Top speed I've actually gone: about 85+ MPH
—– Below are chronological posts from my "Electric Bug" category on my blog from oldest to newest. You can see the process of me building up the car. —–