Plug Bug: Batteries Arrived!
I'm a little behind on the status of the project…I got the batteries on Dec 8th, but was really busy that week due to Louise's show, Left of the North Pole.
It was a pain getting the batteries; the guys at the warehouse had some miscommunication and I had to drive up to the place twice, wasting a bunch of gas in my truck and an hour+ of my time. Oh well!
The bad news: they are bigger than I anticipated; I was hoping for 200ah cells in a "160ah case". But, I'm making it work by removing the backseat out of the car.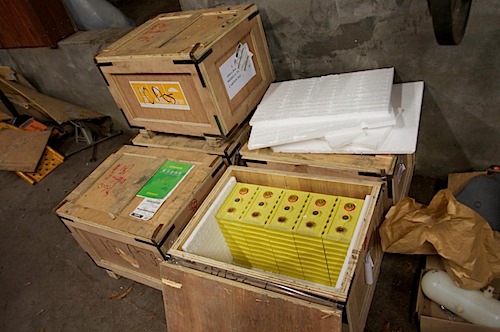 I didn't order the hardware to save some money; I figured I could make my own straps and copper bus bars. Plus, the configuration they come strapped in wouldn't work for what I was previously planning.
I took some 1/8″ aluminum to make as end plates for the cells. The cells have to be tightly compressed, as they expand during use.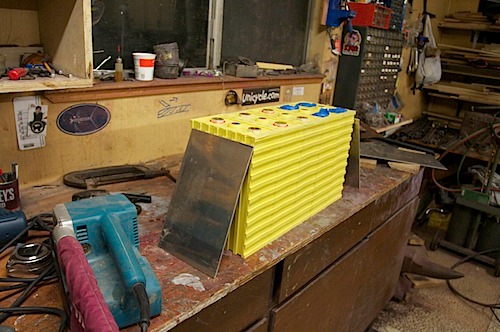 I bought on ebay a Mini Polyester Strapping Kit 5/8″ x .040″+seals + tools for $80 + $20 shipping. 1600 lbs breaking strength. Those should be plenty strong enough. Unfortunately the tensioning mechanism wasn't working! I took the thing apart and realized it was put together wrong by the manufacturer — I had to flip a little ratcheting mechanism to get it to work right. I then strapped the cells into packs of 5 for the front battery pack (more on that design later):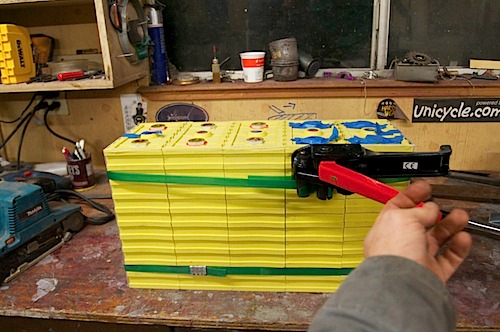 Here's all three cell groups for the front pack: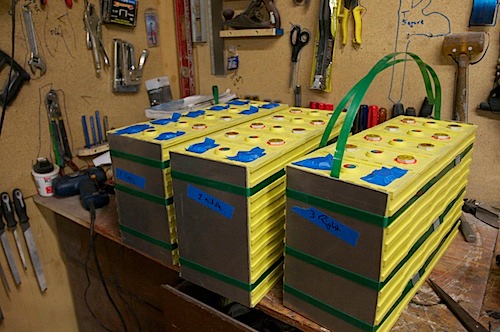 The right most group has a little handled on top so I can move it around. Aaron gave me an idea on how I can use some climbing webbing and make it look nicer and less obtrusive. I need to have a strong handle that I can use to drop the cells into the battery box, and also use it to lift them out.
---
---