Plug Bug: Luggage panel replaced
Note: this post is out of order; I did this quite a while ago, but our internet (Surfnet Wifi) has been down at home.
The rear luggage floor, behind the rear seat, was rotten with rust. I didn't want to replace the entire panel ($200) as I figured it would be a pain to spot weld it in. I thought it would be easier to just weld in a new piece of sheet steel, and save some money. I also had plans of widening the rear area about 2″ to fit in more batteries. It turns out I couldn't do that, and we'll see why below.
At lunch during work Shane came with me to Sims Metals in downtown San Jose and we picked up some stock. I found some outdoor 16 gauge steel, which is much cheaper than new sheets. Unfortunately the piece wouldn't fit in my car, and I wanted it kept larger than 4′, and their clean cutter cuts a max of 4′. I had the guy torch cut it, and it didn't warp it too much. I always prefer to drive the Prius over my truck. The truck gets 10 mpg and the Prius gets 47 mpg. I drive 40 miles each day (to work and back), so driving the prius is less than one gallon of gas (~$3) while driving the truck if 4 ($12). That makes a trip to sims cost even more if I have to drive the truck, so I avoid it if I can. Anyways, the piece fit: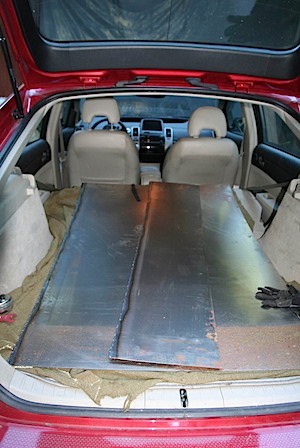 I tried to cut out the old junk with the jig saw, but that wasn't getting me close enough to the edge: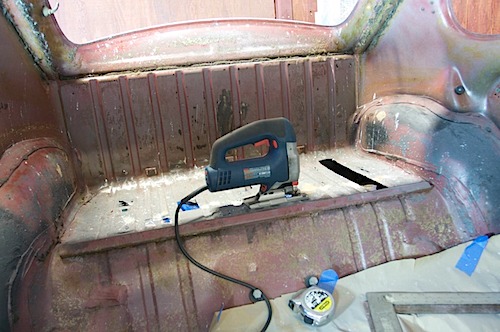 So, I ended up using the grinder to cut it out:
Now, I wanted to widen the area to fit more batteries, but taking a close look at the wheel wells meant I would have to cut into the metal that appears to be partially structural, so I opted to not do it and deal with the battery location problem when I get them.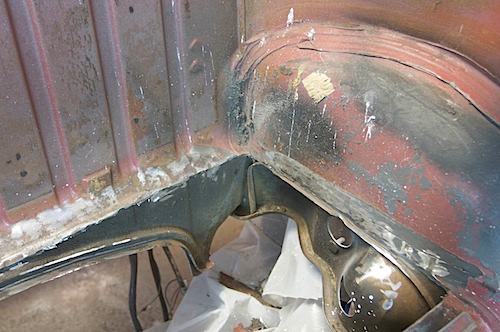 I cut the new piece with the jig saw and then tweaked it slightly with the grinder until it fit just right. I tacked it in with the MIG welder and then welded it all around to keep the water out.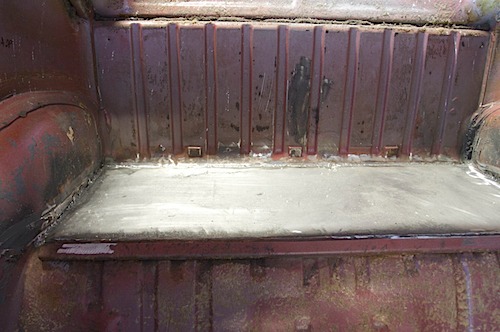 ---
---