Plug Bug: Power/Energy Required
This is an older post I never ended up publishing. Basically it is my process of how selection and research — especially with my particular commute and the hills I have to tackle.
How much energy will my bug need for what I want it to do? How do I figure this out? I started out on the DIYElectricCar Forums/Wiki page – How Much Power Will I need? This left a lot of unanswered questions, mainly because my physics is now 10 years old and rusty. So, I dug through some of my old books and read a bunch of stuff online and started making a spreadsheet in Numbers on my Mac. Strangely, I was re-reading a page from my old physics book and then ran into that same exact article on the web: "Topic 2: Automotive Power".
I also discovered a few other people had made good spreadsheets, but it was still good practice to make my own. The ones I found:
* The Electric Auto Association of Nevada has one made by tomofreno. Awesome.
* Cameron Software has the first one I came across (click on "Drive Power").
* EVConvert – an online spreadsheet calculator.
Using these as guides, I made my own; I'll post it when I finally stop tweaking on it.
Now, I have about a 20 mile commute from the mountains to Apple. (The bottom of the chart to B on the left of the chart). But, I frequently go to Planet Granite to climb and want to be able to add that into my daily driving. I want to do this complete route, without charing. But, I'm hoping that normally I will charge at work. The total distance is nearly 52 miles (normally 40 miles if I don't go to the gym). That's pretty tough for a homebuilt EV with the giant hill.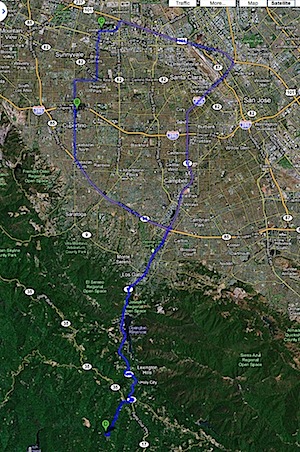 Part of the problem is Highway 17. It is steep roughly a 4.5% average grade from Los Gatos to the top. I am upping it to 5% to round up for my number estimates. I want to be able to maintain the normal speed, about 50-55 mph (I'm shooting for 55mph).
I mapped it with iMapMyRide: http://www.mapmyride.com/ride/united-states/ca/san-jose/376127181995643458
Elevation profile:


It takes 33kw (44hp) of power to get up that hill, and has to sustain it for at least 7 minutes at 55 MPH to get me to the top. I need a motor rated for at least this. That eliminates a lot of options — especially the lower priced AC options like the Azure Dynamics AC24 and HPEV's AC50. One of the troubles I had with DC motor selection is that they usually have charts at really low voltages (72V), so I don't know how they will perform at higher voltages (ie: 154V). The WarP 9 is rated up to 170V.
---
---