The Electric Bug Project (The Plug Bug)
My next project has started! I'm planning on converting a 1969 VW bug to run on electricity. I have been wanting to do this for quite some time and originally I was looking for a VW bus to convert, However, I eventually decided to not use a bus, since they aren't very aerodynamic, and are quite hard to find in good shape for a decent price.
I found a great bug on craigslist that I'm quite happy with. I bought it last Saturday from a wonderful man named Ed, who lives in San Jose and was the original owner. He took fantastic care of the bug, and it is in great shape considering it is 40 years old. There is some rust on the floor boards of the back seats, and the roof is starting to get a little rusty, but everything is there and is pretty straight. I'm hoping to convert it and do a good job restoring it to look cool again. It will definitely have a happy second life when I'm done with it.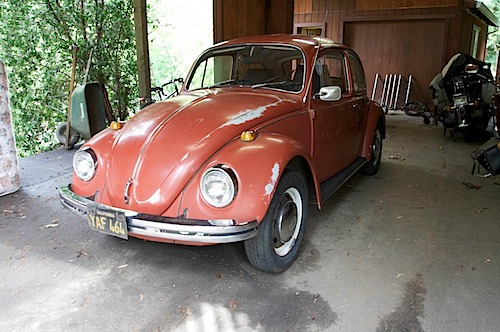 Primary goal: Drive to work and back, ideally without charging (it is 20 miles each way, with a large hill on the way home)
Fallback goal: Drive to work, charge, and drive home.
Secondary goal: Restoration. I first have to finish one last item around the house before I can really dig in and start this project. My upstairs railing project got stalled for a few months while I remodeled a house in Aptos, and I've been dying to finish it. I got a bit of work done on it this past weekend.
---
---