Plug Bug: Drive to work data
My drive home includes ~1900′ of elevation gain, which takes a lot of energy. The car averaged 322 watt-hours/mile. So, what does the data look like coming too work where I drive *down* highway 17?
The controller reported 29.9 amp-hours used, which gives 229.4 watt-hours/mile. So, for my commute to work and back roundtrip, the average is: 276 watt-hours/mile. That gives a 111 mile range estimate to 100% Depth of Discharge. At a more conservative 80% discharge depth, that would be an 89 mile range when driving conservatively like I did during my test period. If I considered it as only taking 229 watt-hours/mile, it would be 134 miles to 100%, or 107 miles to 80% — but that isn't realistic since I was driving mainly downhill on the way to work. But, a 100 mile average range might be doable if one sticks to relatively flat driving. Also note that I'm ignoring any extra draws on the battery, such as the 12v system (via the DC-DC converter) and the heater (which I wasn't running). They easily take an additional 1-3% of the charge on my drive to work.
I mapped my drive to work, although I forgot to turn on the mapping until about a mile after I started driving. Here's comparing the hills to the battery amps that the controller took: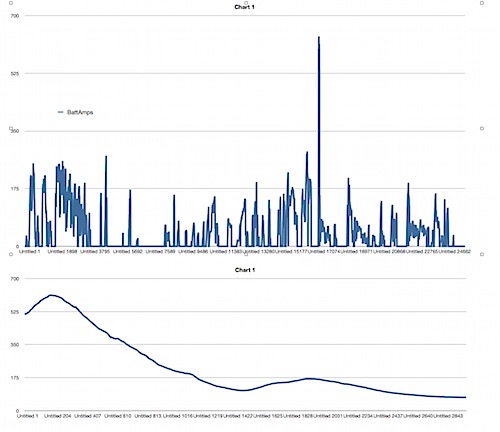 ---
---