Electric VW: Transmission Killer
In my last post on the bug, I had mentioned that I replaced my brushes, hoping it would fix some noise I was getting in the transmission/motor area. It didn't help, and I then replaced two CV joints, as one was worn pretty bad. That also didn't help.
So, I bit the bullet and removed the transmission/motor. This isn't fun; I have to remove some of my cells in the rear seat area as they cover the hatch that lets me undo the transmission from the shifter. It isn't too bad; I simply undo the red hold down strap, disconnect the BMS and cell wires, and then pull out the center set of cells.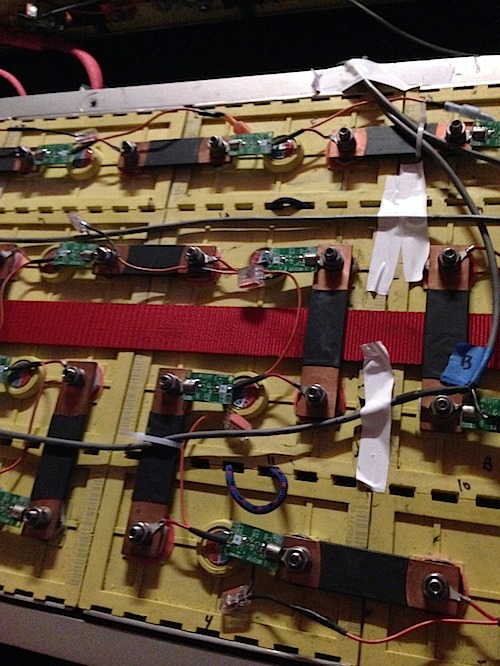 The hardest part about getting the rest of the stuff out is to remember how to do it. I had made a motor mount thing that I used to slip under the motor and get it out, but I forgot that it doesn't work anymore (for some reason), and I simply use a piece of plywood under a jack to lower the motor/tranny combo. I have to first remove the "ears" on the transmission to get it to do this; it is a pain. Once I remembered all the tricks, it slid right out (this took a while).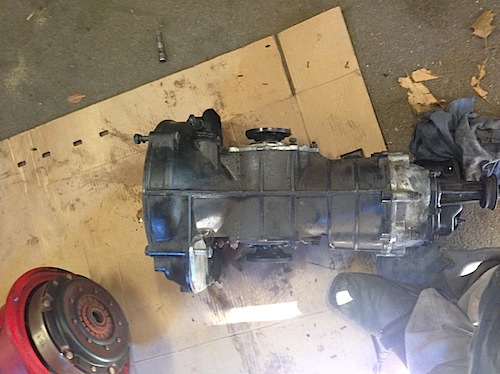 Now, here's what failed. The bearing that holds this shaft in place is blown (not the throw out bearing, but the bearing on the case itself):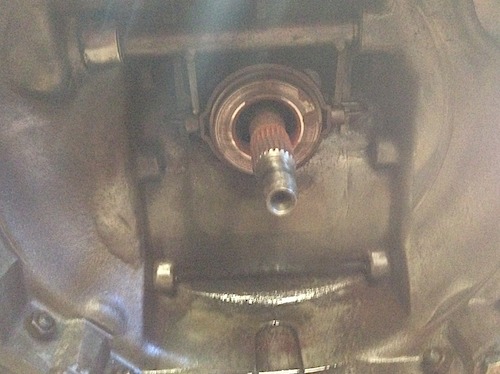 The shaft wiggles like mad, and the bearing has clear damage that I can see, and it is obviously leaking when it shouldn't leak from there.
So, time for a new one. Last tranny was from Bugformance in San Jose, CA. I'm going to try this place next: http://www.mofoco.com/category/Rebuilt_VW_Transmissions/c112 which means waiting a few weeks…
---
---