---
Back in 2012 I decided to make a V36 unicycle. I've kept breaking handlebars, mainly at the point where they attach to the seat base or the main seat post tube. The "T" unicycle design isn't strong enough, and a V is clearly the way to go. I've been riding the unicycle for the past 4 years, and have at least 1000 miles on it (probably a lot more). It works quite well, but has a little too much side to side flex that can probably be cured with some larger main post tubing.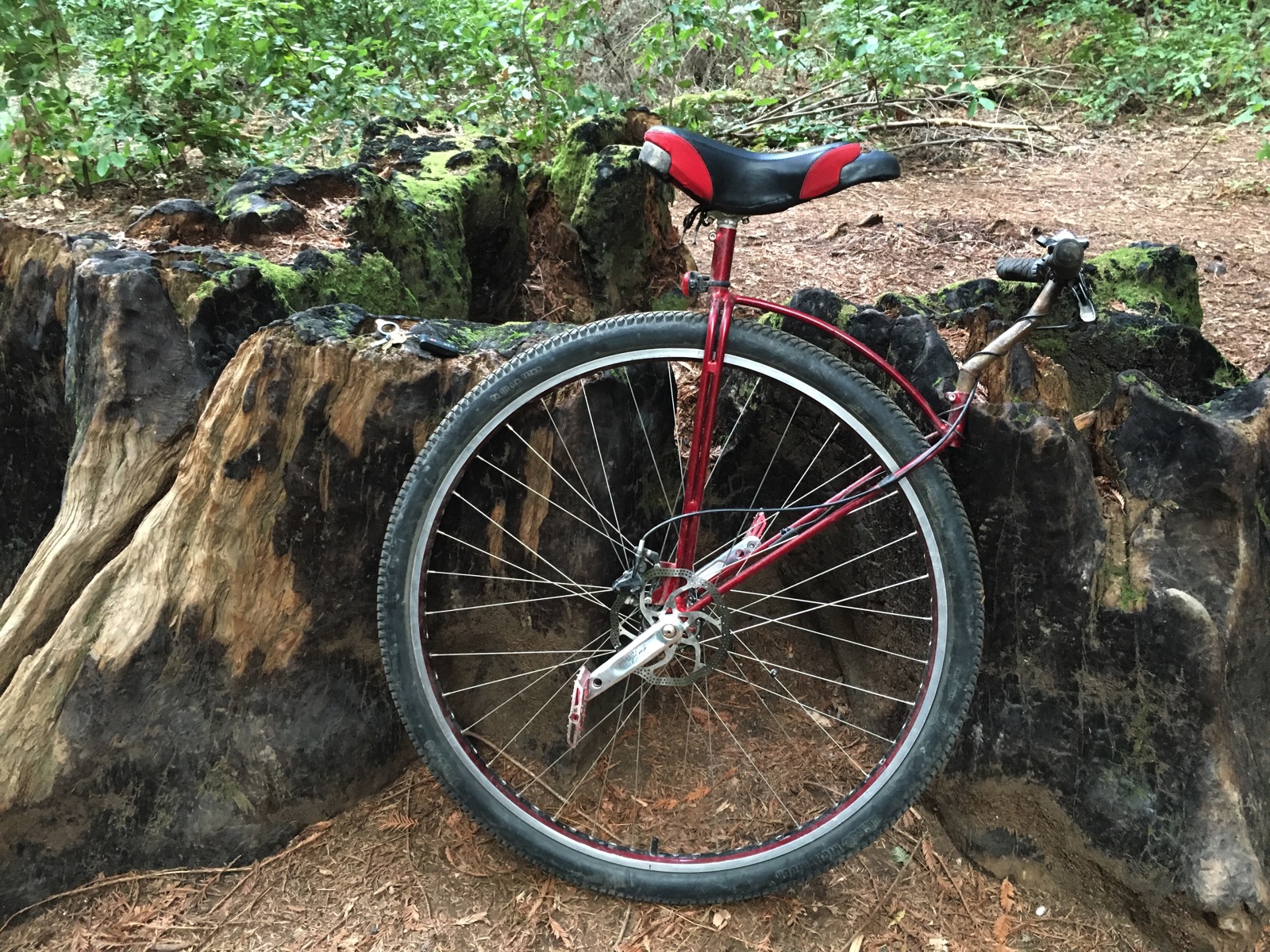 Here's a collection of the posts describing the unicycle:
Making the V36 — this documents my jig and some of the initial tests. A single seat post tube was too flexy.
V36 mod 2 – I brazed on a second tube to make it flex less. This helped drastically! I also brazed on the disc brake mount.
V36 after powder coating – a nice shiny red! I used this style handlebar for a few years, but it provided too much wrist pain on long rides.
V36 handlebar experiments – part 1  – the T style handlebar works, but not quite a comfy enough angle. I cut and re-welded it several times.
V36 final handlebar. – this is what I'm currently using, and is shown above. I liked a more forward angle in order to push the slight V back a bit. Very comfy for my hands, especially with the soft grips. Today I added a brake protecter (post coming soon!)
---
---
A few weekends ago I decided to do a long unicycle ride. Up to this point, the longest ride I did was around Lake Tahoe, which is no short ride topping in at over 70 miles with a bit of climbing and at a much higher elevation than my normal sea level riding. It was incredibly tough, and I did it before the invention of geared unicycles. 
Check out the complete ride stats on Strava: https://www.strava.com/activities/570160115
93.2 miles, 8:20 minutes of moving time (about 10 hours total time out), and 8,134 ft of climbing. Not too shabby! I really want to shoot for a 100 mile ride now, and the ultimate adventure will be 1 wheel, 10 hours, 100 miles, 10000' of climbing. It would be insane, but we have to have goals! 
I feel like I'm currently in "medium" shape, working up to "good" shape for this years UNICON in San Sebastian, Spain. I pretty accurately remember how I was feeling at various points on the ride, and I'm finally going to write about it before it fades from my memory.
From my house, there is a long steady up along Summit Rd, which turns into Highway 35 (Skyline Blvd)…and then it gradually just keeps climbing until I hit Castle Rock state park. After that point, it is some downhill until the top of Highway 9. Along the way, I was munching a little bit of food to keep me going; mainly dried pineapples and some nuts. I recall taking a break after the first hour of riding, which is shortly after I passed Black Road, and then again at the parking lot at the top of Highway 9 where it intersects with Highway 35. I was trying to pace myself and get the cycle meter to average 10mph; that way I could shoot for 100 miles in 10 hours of riding. It was difficult to do with all the uphill, and I was averaging about 9 or so at that point. 
After I passed 9 I started to question if I'd be able to do the entire loop; my legs weren't feeling all that great after 20-30 miles, and it was going to be really hard to do the entire thing. But I kept going, and stopped at the Palo Alto city side to take one of the few pictures I captured: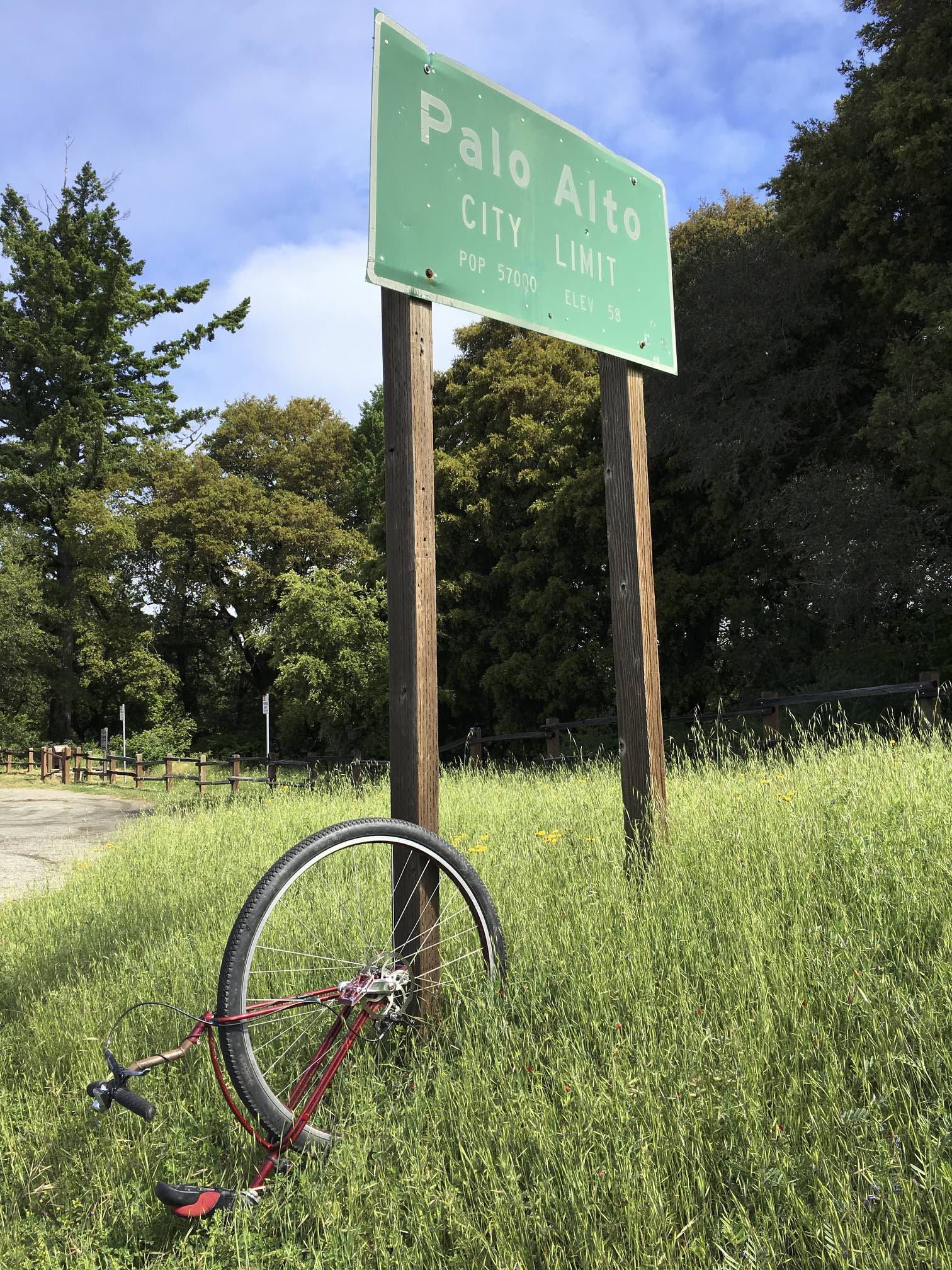 I was originally thinking of going all the way to La Honda (84), but once I hit the top of Alpine Rd I saw a few bikers and asked them if it went down to the Ocean. They said it did, and that it was really an awesome way to go. I was sort of wanting to take some sort of short cut at the point. My legs were doing okay (but not great), but I knew I wasn't even at the half way point.
I'm so glad I went down Alpine! I've never been down the road before, and it was amazing. The long downhill was pretty tiring though, as I had to keep spinning. I was passed by a group of bikers once I got to 84; they commented about how I was crazy. Little did they know how far into the ride I was!
84/La Honda was tough. It was mostly downhill, and I stopped every hour to rest a short bit and eat some food. I brought an Avocado for high fat/energy — I'm not sure that was the best food choice. Shortly after I stopped I saw a small store/food place in San Gregorio. At this point I was seriously questioning the sanity of what I was doing, and what I would do to get home if I couldn't make it. I was starting to dread the possible hills along Highway 1 back home. I pulled in and got an expensive drip coffee and chocolate bar. I gulped the coffee down, rested a bit, and headed back on the road, feeling super re-energized and back to being strong again (coffee!!). 
I hit highway 1 and started heading south. The coffee and food was kicking in, and I pounded up the ~8% grade hills with no trouble at all. The scenery was amazing along the coast, and it was an incredibly beautiful day!
I stopped every hour or so to just rest my bum, and re-energize. It was tough, and I was leaning over the uni handlebar and just pounding away at the pedals at a slowish speed. I passed by Ano Nuevo and thought about the elephant seals. 
At this point, I was looking forward to hitting Davenport. I hadn't ridden this part of 1 before, and there were a lot more ups than I expected, making it difficult. But past Davenport and to  Santa Cruz I've ridden a lot, and knew I could make it. So, once I hit Davenport I pulled into the cafe and got an espresso and piece of pie. It was lovely! The food and caffeine kicked me awake again, and I started pedaling towards town.
I hit Santa Cruz in no time at all; still riding not super fast, but not super slow either. I thought about the easiest way home…and figured I'd do the short hill climb up Graham Hill Rd until it hit Felton. I had to take a break going up the largest climb…and motivate myself to keep going. Once I was at Felton I knew home was in reach and started cruising up the back roads to my house.
At this point, my legs were done. I had to walk some of the steep bumpy back roads. I could have forced myself to ride, but I was nervous that I would be tearing up my leg tissue. In the end, I think I would have been fine, as my legs weren't ever really super sore during the next few days. More "tired" than anything else.
The ride was tough, but I made it!
Four days later, I did the 20 miles to work one morning for "unicycle to work day" and 20 miles back! Ultimate training. Unfortunately I've slacked off the past week and a half and need to get in the habit of doing some more longer rides again.
 Here's an overview screen shot from Strava: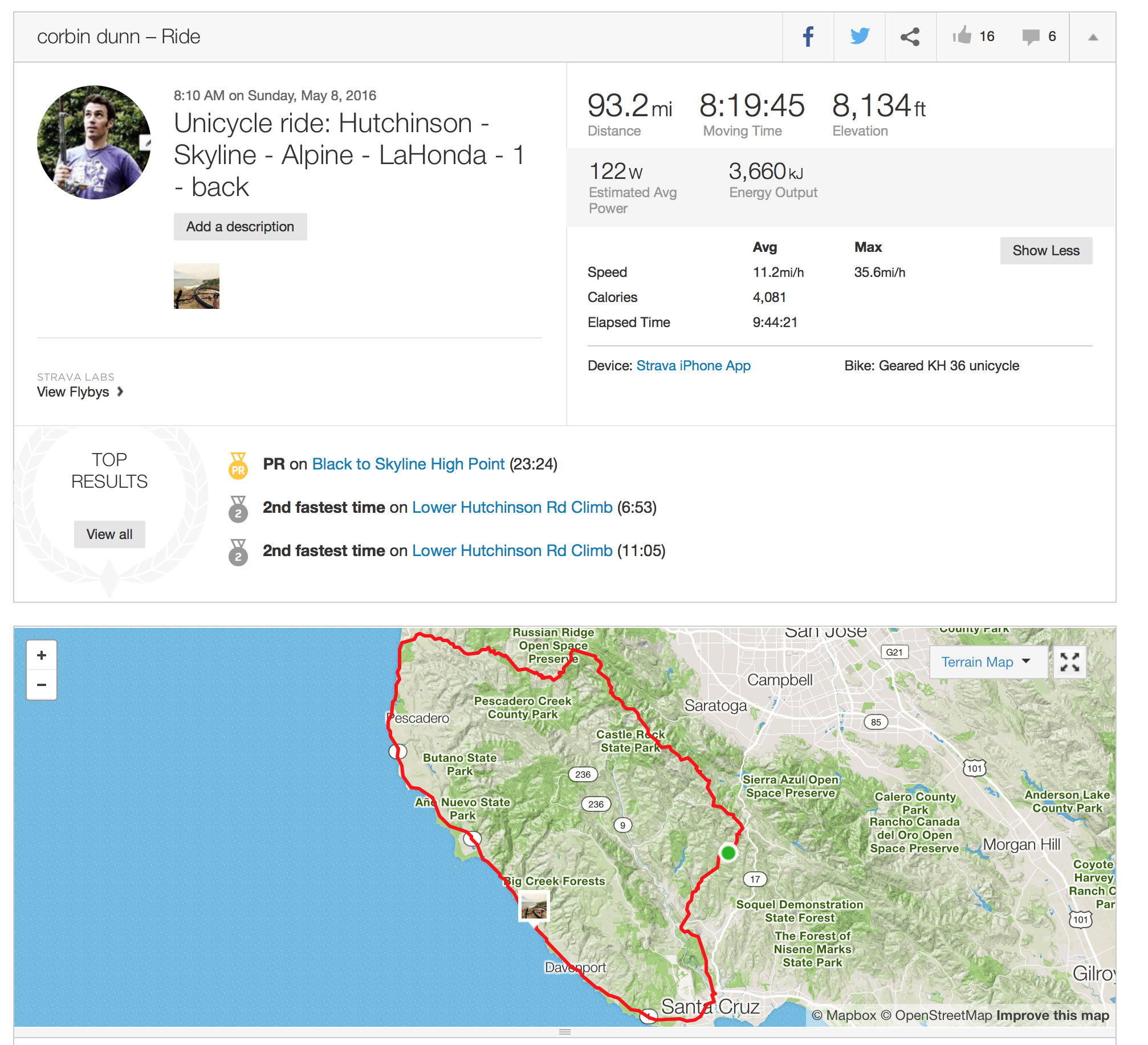 ---
---
I figure it might be interesting to share my knowledge of how LED cyr wheels came about and the history of them. I may have gotten some dates and people wrong, so please feel free to correct me if anything isn't correct or I'm missing something. [email: corbin @ corbinstreehouse ]
As soon as I started doing cyr wheel I figured it would be awesome to make a fire cyr wheel and an LED cyr wheel. I never got into fire…but I did experiment with LEDs.  The first person I know of to have an LED cyr wheel is Sam Tribble of Spinnovation.  Sam has been an innovator in the cyr wheel arena, and he created a double hoop wheel: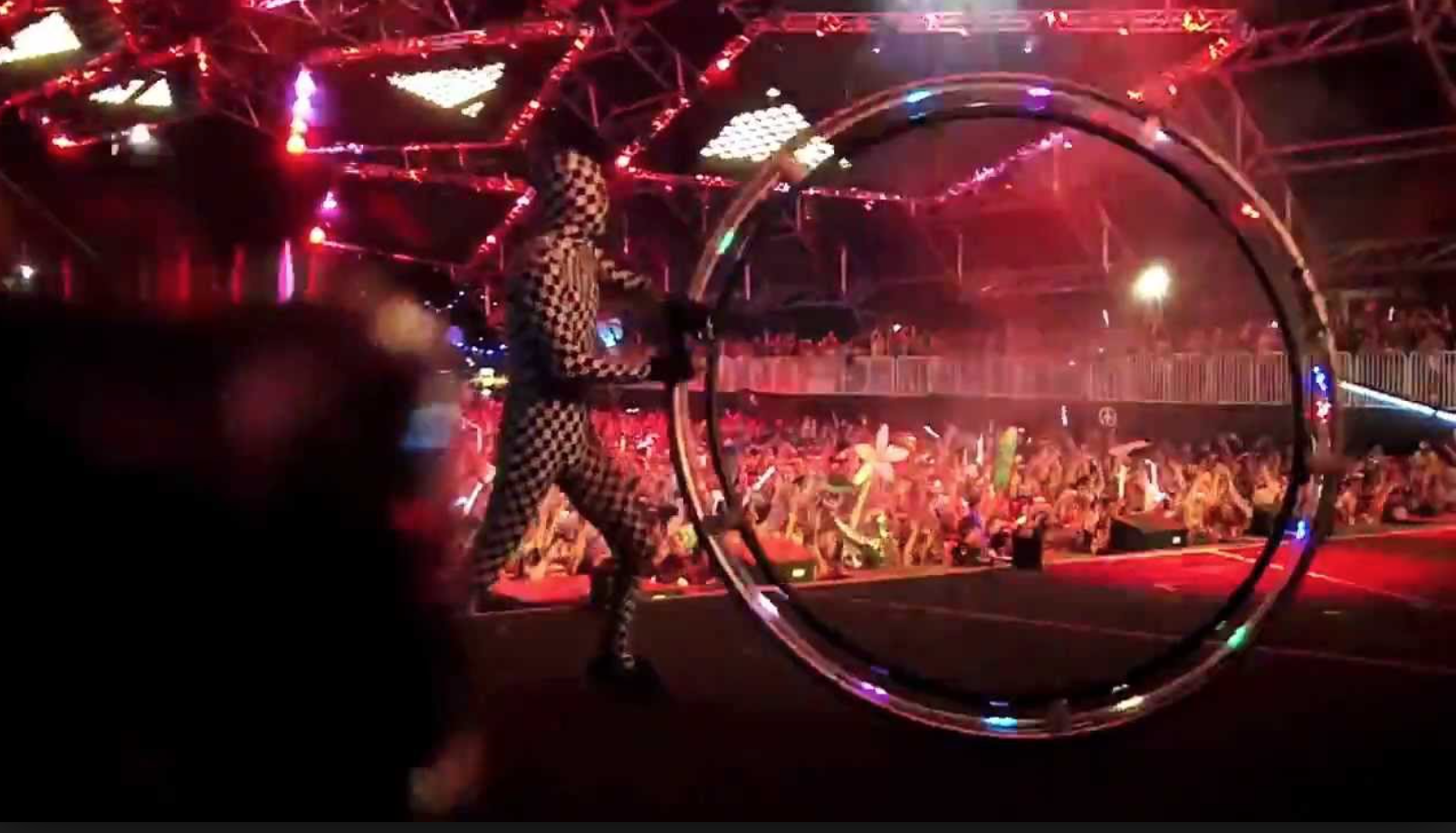 Here's a video of Mikey in the wheel; screen grab comes from YouTube. This double wheel style works great at protecting the LEDs and making them serviceable. Years ago I had sketched up some pictures of a similar wheel like this, but with fire in the middle. I'm not exactly sure when Sam made his first LED wheel, but I'm sure it was one of the first ones — if not the first one.
I really wanted a single hoop LED wheel and I was starting to dabble more in electronics — particularly with Arduinos for controlling my electric car bits. I didn't want to waste money on individually addressable LEDs, as I wasn't sure my idea would work out, so I bought some single-color LEDs and hacked together my first LED wheel in July 2013. I rushed something together before burning man, and I just cut the PVC tubing and shoved some LEDs underneath. I held the tubing together with hot glue; and I was quite surprised that it actually worked. I got quite a bit of use out of that wheel, and I learned a lot in how I would want my next one to be. The LEDs would fail pretty quickly due to movement and pressure from my weight being on the inside of the wheel. Still, it actually worked and was a nice proof of concept. This wheel is probably the first single-wheel LED cyr that could be found on the internet.
I wasn't very motivated to make another wheel until December 2013 when I saw Alexandre Lane's new "roue vive" LED wheels on his YouTube page. I'm sure Alexandre had a working wheel before my first one, and seeing his beautiful wheels prompted me to want an individually addressable LED wheel. I started research in December 2013, and if you follow my blog you'll see a lot of the ideas I went through. 
Eventually I came out with a pretty well designed LED Cyr Wheel v2: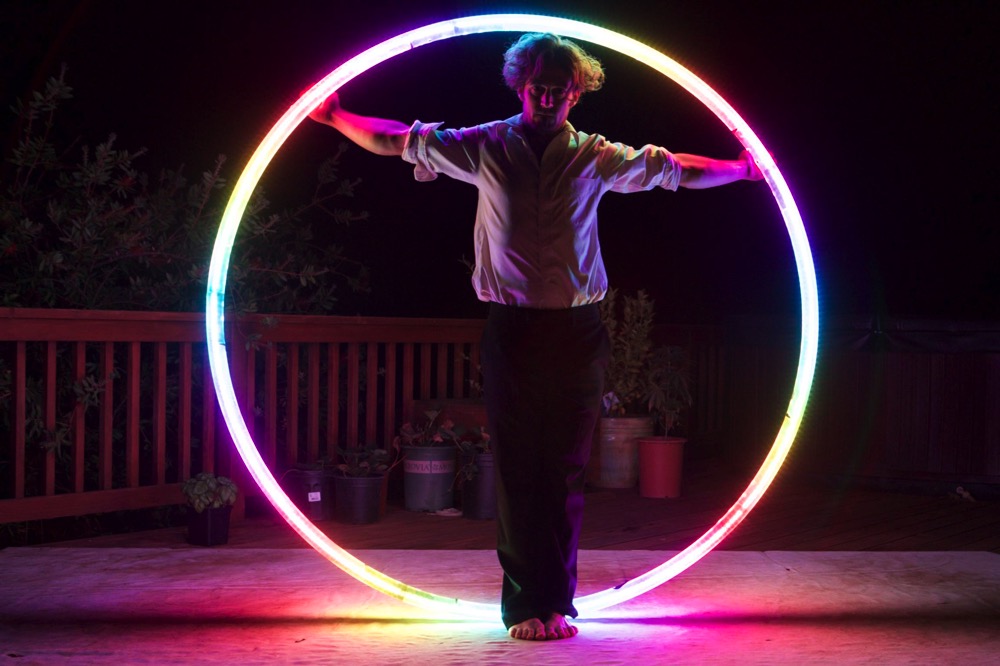 Since my v2, I've seen a few more people play with LEDs in wheels. Here is what I've seen:
One guy is 3d printing cuffs that protect the LEDs and can go on an existing cyr wheel. Quite clever! 
Sarah Moser invested some time and ideas in making a wheel. She chatted with me a bit after I made my v2 wheel.
Srikanth Barefoot has an LED wheel — I believe he tapes or some how attaches the LEDs to his wheel, and they aren't embedded. I haven't directly talked to him about his wheel, but it looks like he does a lot of performing with it. 
Hugo Noel of Circus Concepts is now selling an LED Cyr Wheel. His wheels have the LEDs on the inside diameter, which illuminates mostly the performer instead of the wheel itself. They utilize DMX.
Jesse at Cyr Craft has been working on lots of prototypes. First drilled wheels, and now grooved wheels — they are looking good!
This Etsy shop Cyr Wheel has an LED cyr wheel for sale from Ukraine. It looks like they drilled a TON of holes and I wonder about strength and durability. I hesitated when I had to drill just two or three holes per section, as I know people have broken regular cyr wheels before without any holes at all! Still — they look pretty cool.
David Matz used some of my building techniques to make several LED cyr wheels in conjunction with Spin FX. He talked to me a bit about my techniques and also went with LEDs embedded in epoxy in a technique similar to mine. I thought we would spin too slowly to do POV, so I never invested time in it..but he proved that you can do it! So, this prompted me to make a 3rd LED cyr wheel…
 Now… I have my v3 wheel almost done! The first LED cyr wheel with Bluetooth and a companion desktop application to create pattern sequences. And it does awesome POV.
---
---
I want to record some video with my Canon 5D Mark III. I've done some basic experiments, but I really want to learn what the professionals do with this camera.
First off, I upgraded to the latest firmware from Canon. I went to Canon's Firmware page and downloaded version 1.3.3. I know there are some other hacks you can install on top of the standard Canon OS, such as Magic Lantern, but I'm going to ignore those for now. Updating is simple if you first install Canon's EOS Utility app. 
Vincent Laforet has been producing great visuals for many years, and utilizes Canon equipment a lot.  He has a great blog post: Setting up your Canon 5D MKII that I'm using as a basis.
First off, I downloaded the Technicolor Cinestyle profile. To save you some time, here's a direct link to the file: Cinestyle profile download. It's easy to install. Start the Canon EOS Utility, attach your camera with a USB cord and flip it on and click on Camera Settings: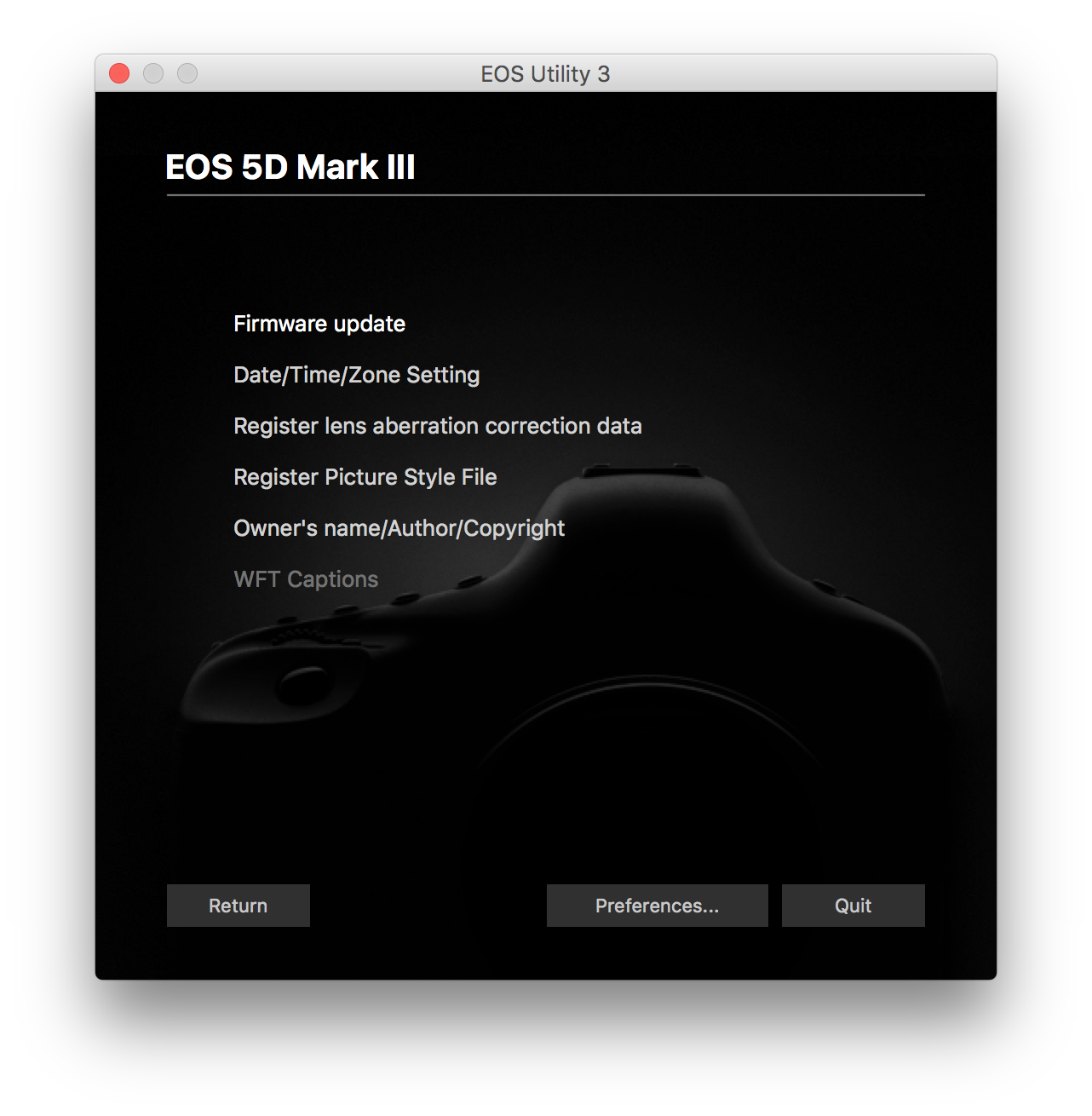 At first they weren't enabled for me, and it was because I had the camera in Video Mode. Flip it to Photo mode (the switch above the START/STOP button), and they become enabled. You can then select "Register Picture Style File" and upload the file to User Def 1 (or whatever default you want), and select it in the Picture Style menu.
So, now it is time to start playing with things… Shutter speed 50, 1080 24p shooting, with whatever ISO makes things stand out right (and in the right multiples of 160).
---
---
Oh, the Plug Bug! I have so much time and energy spent on this car, and it continues to this day.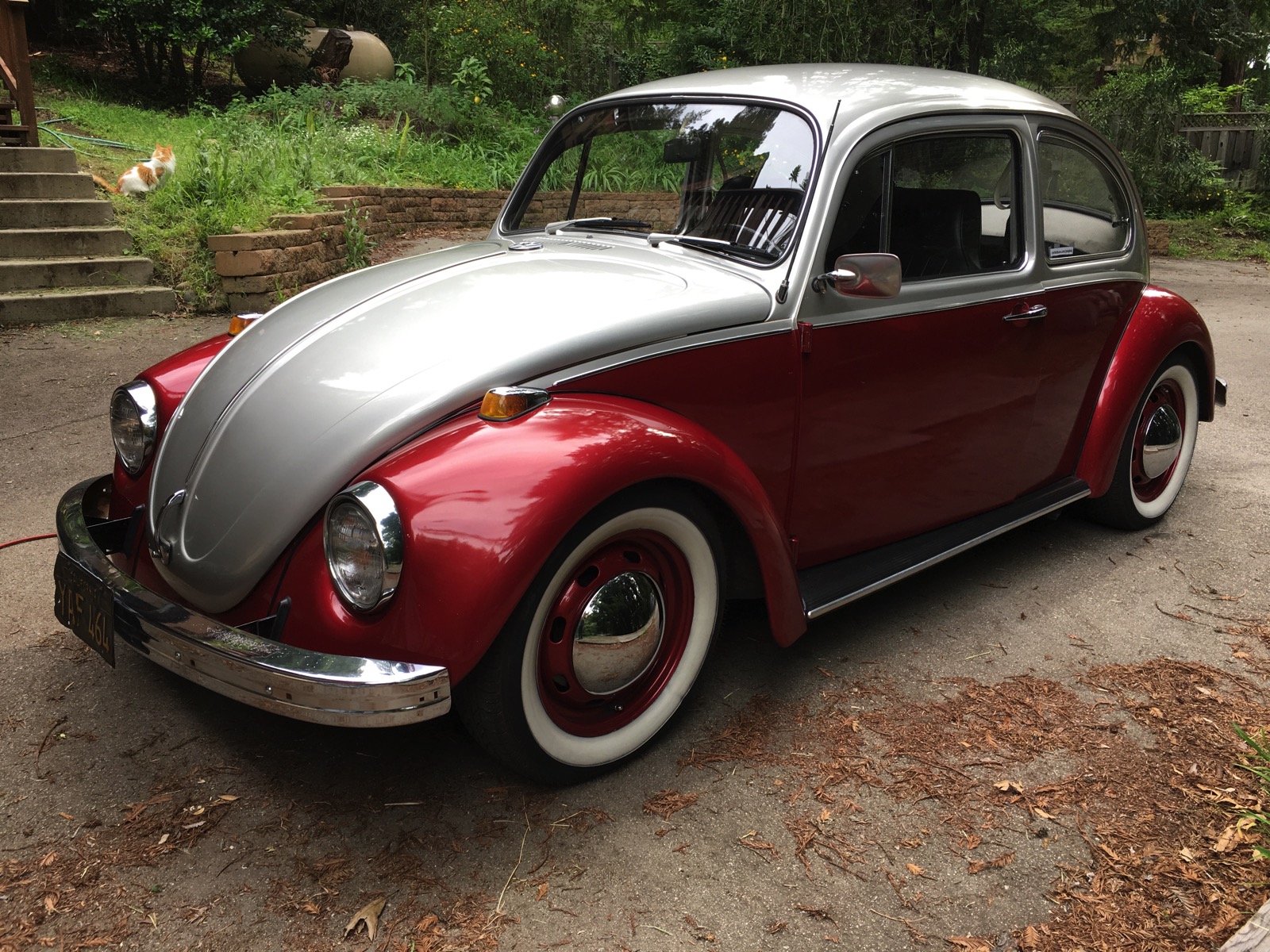 In the past month, the bugs transmission has been in and out three times. This is a time consuming task; it takes me about ¾ of a day to do a transmission swap.
I've been hearing a bad noise in the rear of the car, and I assumed it was the transmission after having so many issues with my rebuilt tranny. Here's that setup coming out: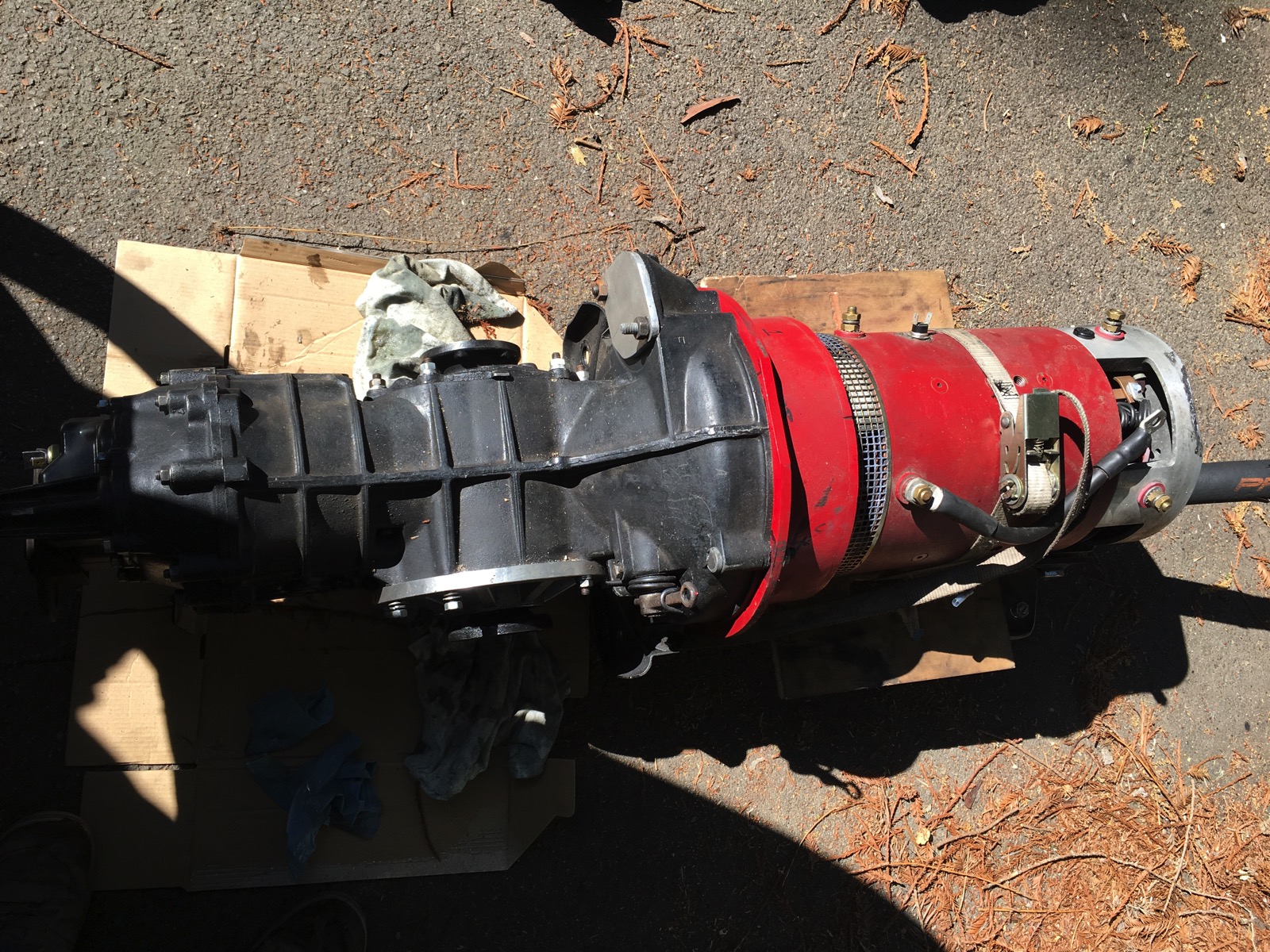 So, I was unsure what to do, and put back in my old transmission. It made a horrible worse noise, and definitely needs some rebuilding. I didn't drive more than a few feet before I knew it was just bad. I'm pretty sure it is the main bearings inside the transmission; the shaft moves up and down, whereas it doesn't on my other one.
So what to do. I was frustrated and out of ideas. I didn't want to buy a new transmission again, as I don't want to spend a lot more money on this car. But, I went to eBay and found a used transmission for $400. I offered them $250, and to my surprise they took it. It cost me an extra $100 to get it shipped from LA, but it seemed like a good idea.
So, I put in the eBay transmission. It still made the same noise! Ugg…at least I know it wasn't the transmission. And then this transmission definitely needs a rebuild; it pops out of fourth pretty consistently, which means it has a worn synchro. 
Out it came, and back in the "good" one: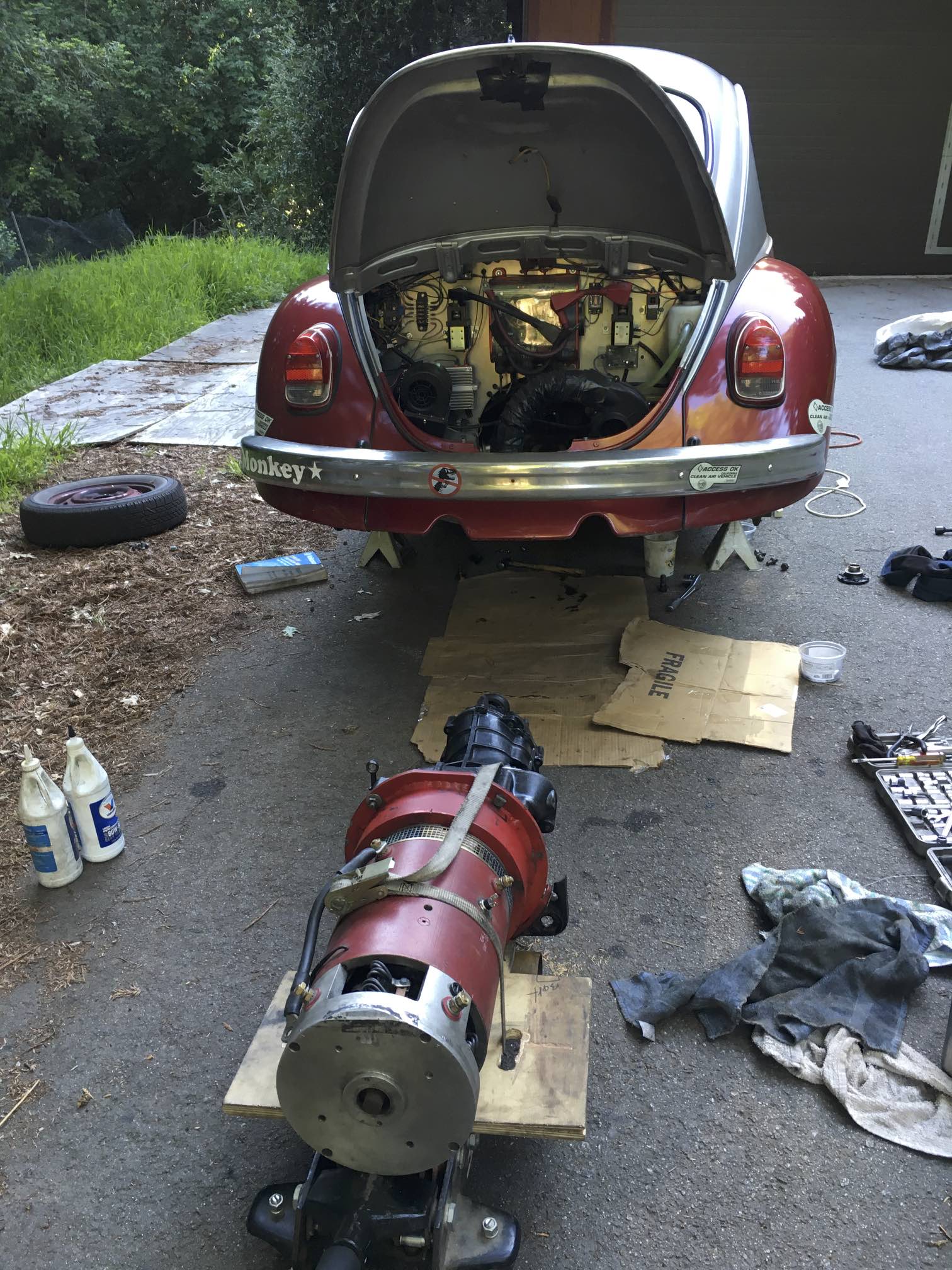 I had an idea that it might be the wheel bearing…and I tested the theory by grabbing the wheels and shaking it. The rear left rocked way more than it should have…so yeah, wheel bearing! I bought the inner/outer wheel bearings (and seals) and some new rear shocks. The rear end was just sitting on the bump stops and I think that was causing some noises (and it was..). I knew the shocks were dying, as the rear never used to be so low. The jack was much easier to get under the car at first, and now I had to squeeze it in on the edge. So coil overs would help with the weight: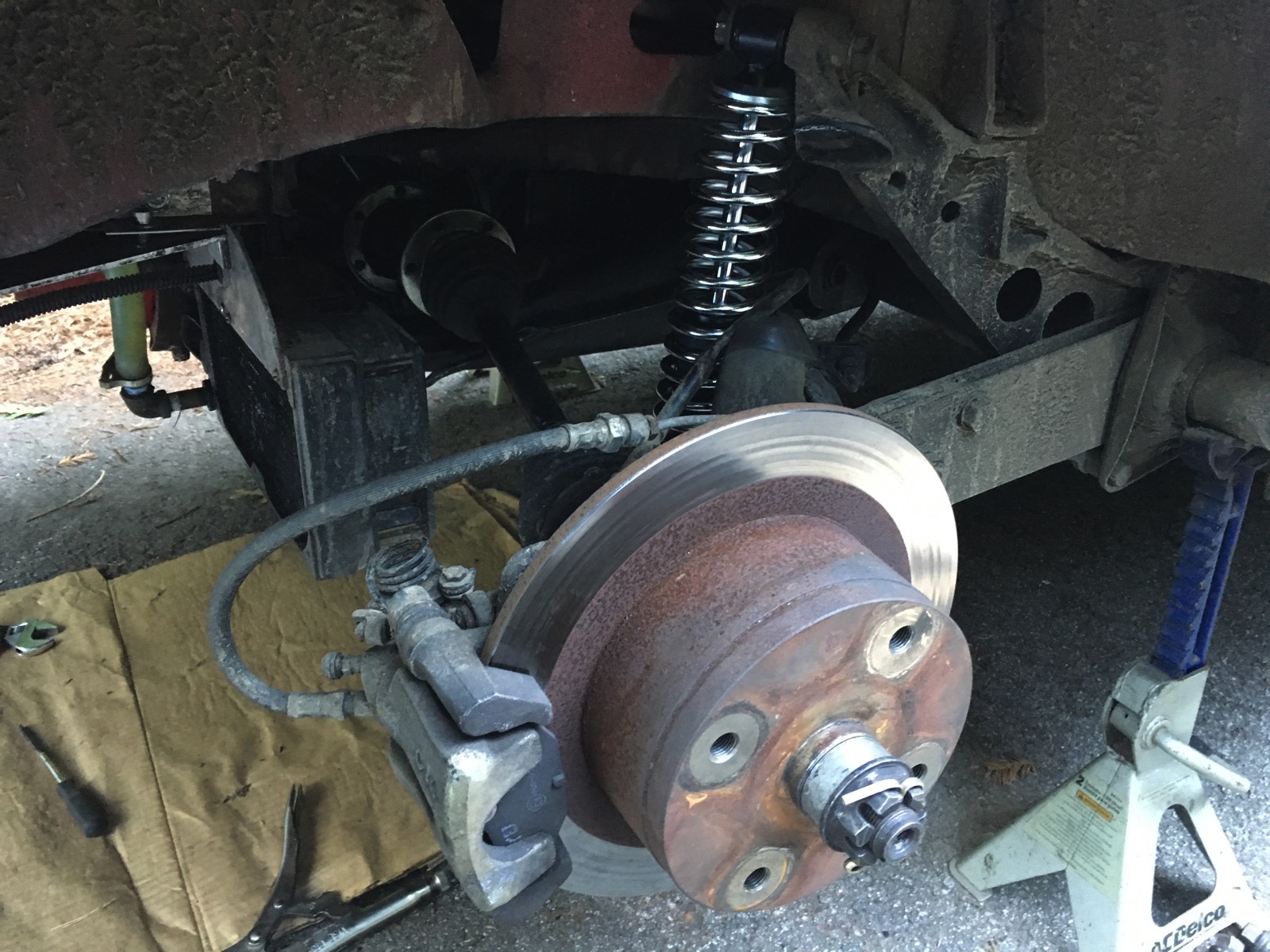 The shocks helped drastically with the feel and ride of the car. It removed a lot of bumping noises when I would go over rough roads…which is every day, as my driveway is pretty rough.
I put in the new bearings, and the "transmission" noise was then gone! But it came right back the next day. Apparently the main lug nut worked its way loose. That brings me to right now…I tightened it and I'll see how it goes tomorrow.
While I was at it, I also popped off the front brakes and re-greased the back of the pads. They have been squeaking a bit since I last replaced them.
---
Posted in
Electric Bug
|
Comments Off

on Plug Bug: Rear bearing replacement and updates
---
---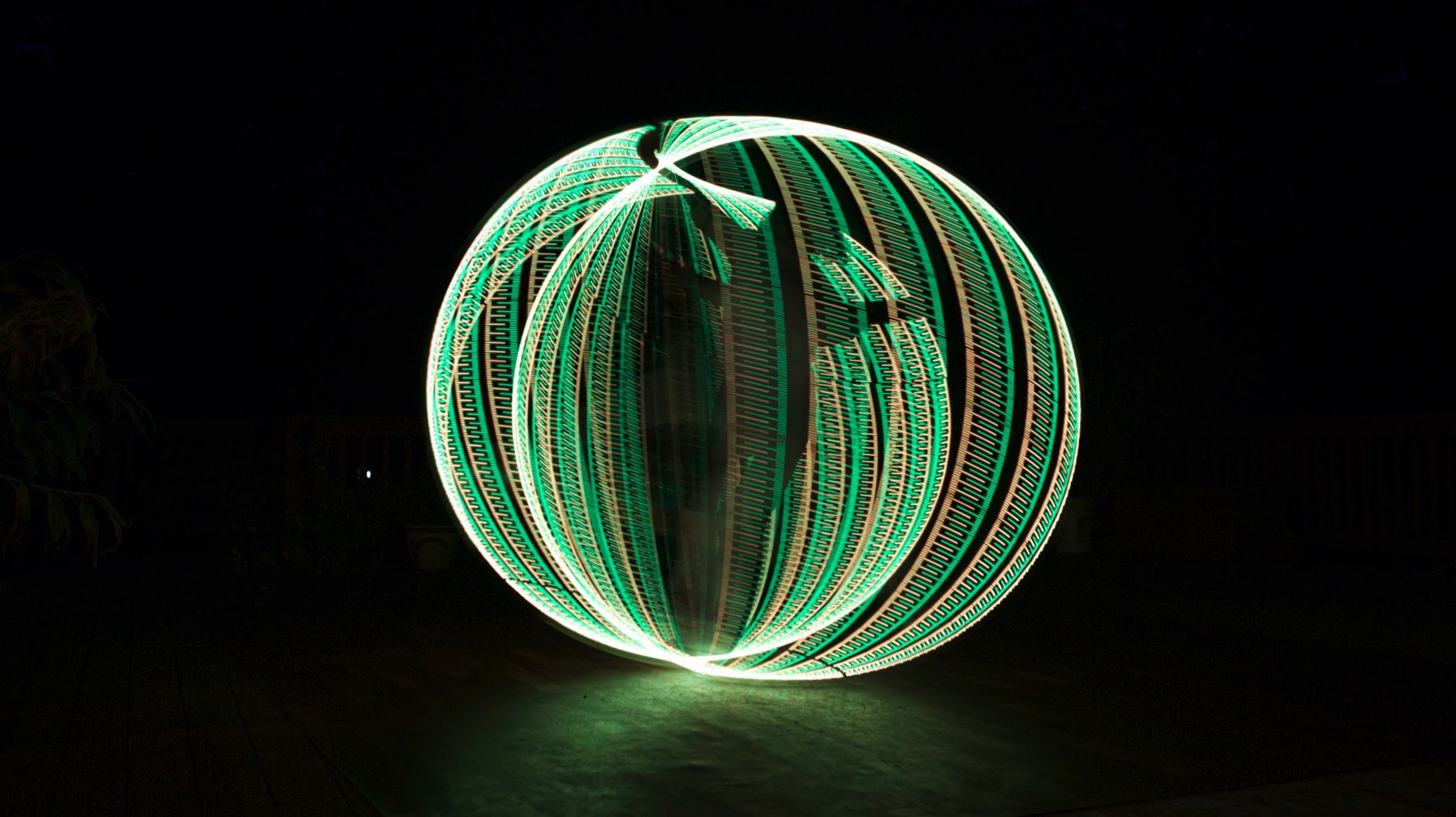 ---
Posted in
Circus/Cyr Wheel
|
Comments Off

on LED Cyr Wheel v3: Geometric Patterns
---
---
Spinning cyr wheel with my buddy mario.
0.4s exposure, f/2.8, ISO 100, and a light focused on me: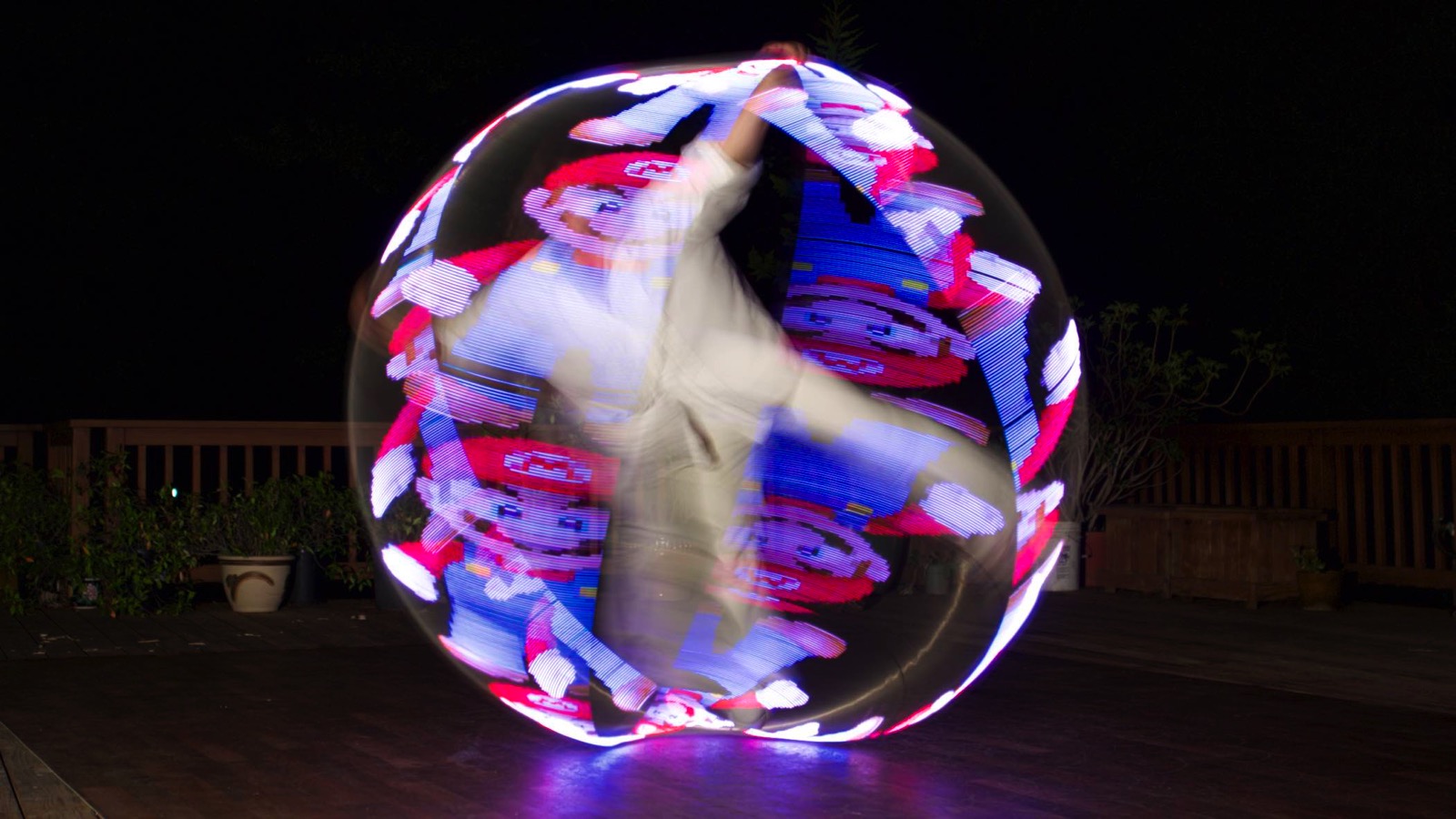 1/8s exposure, f/2.8 ISO100: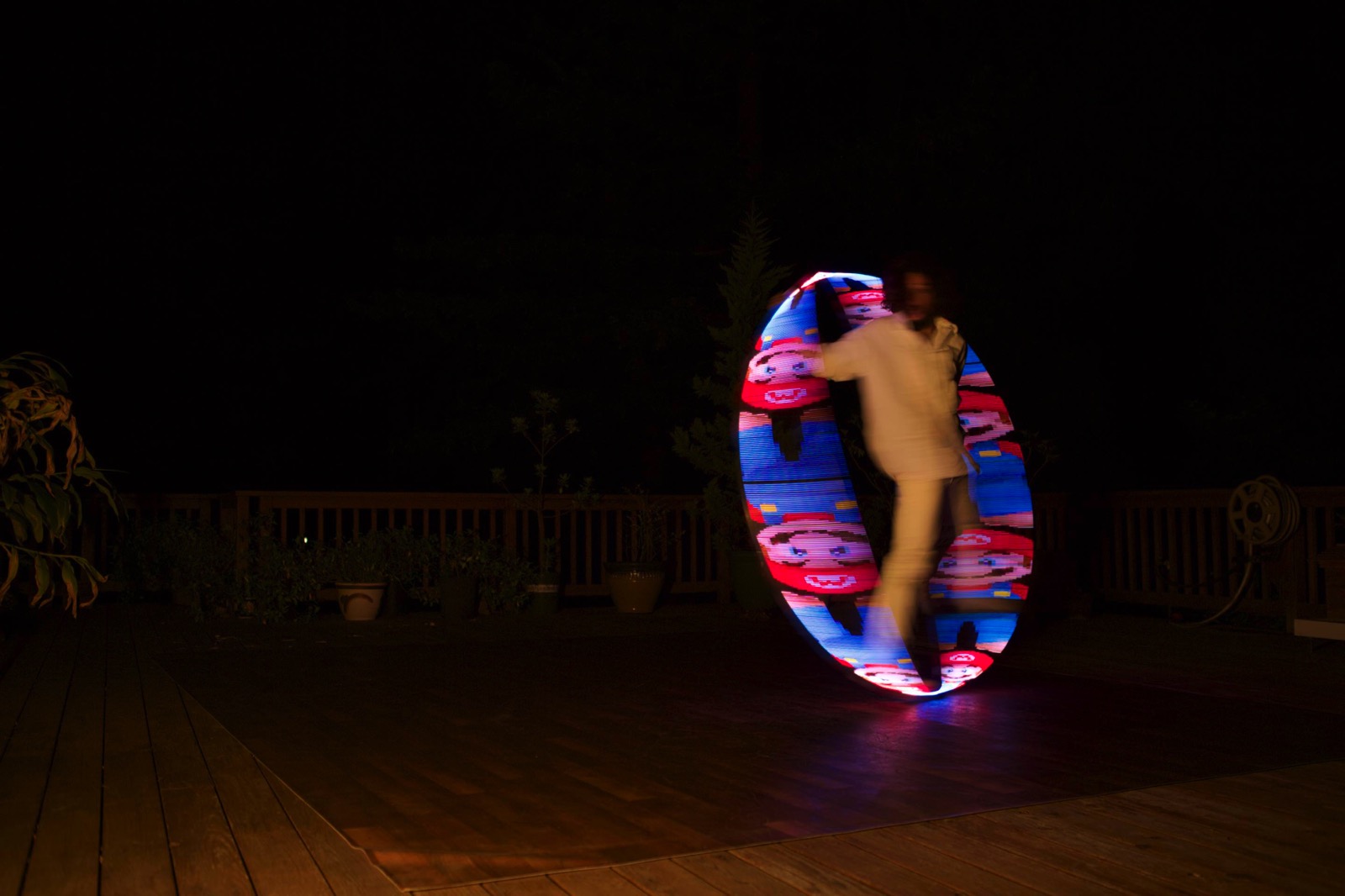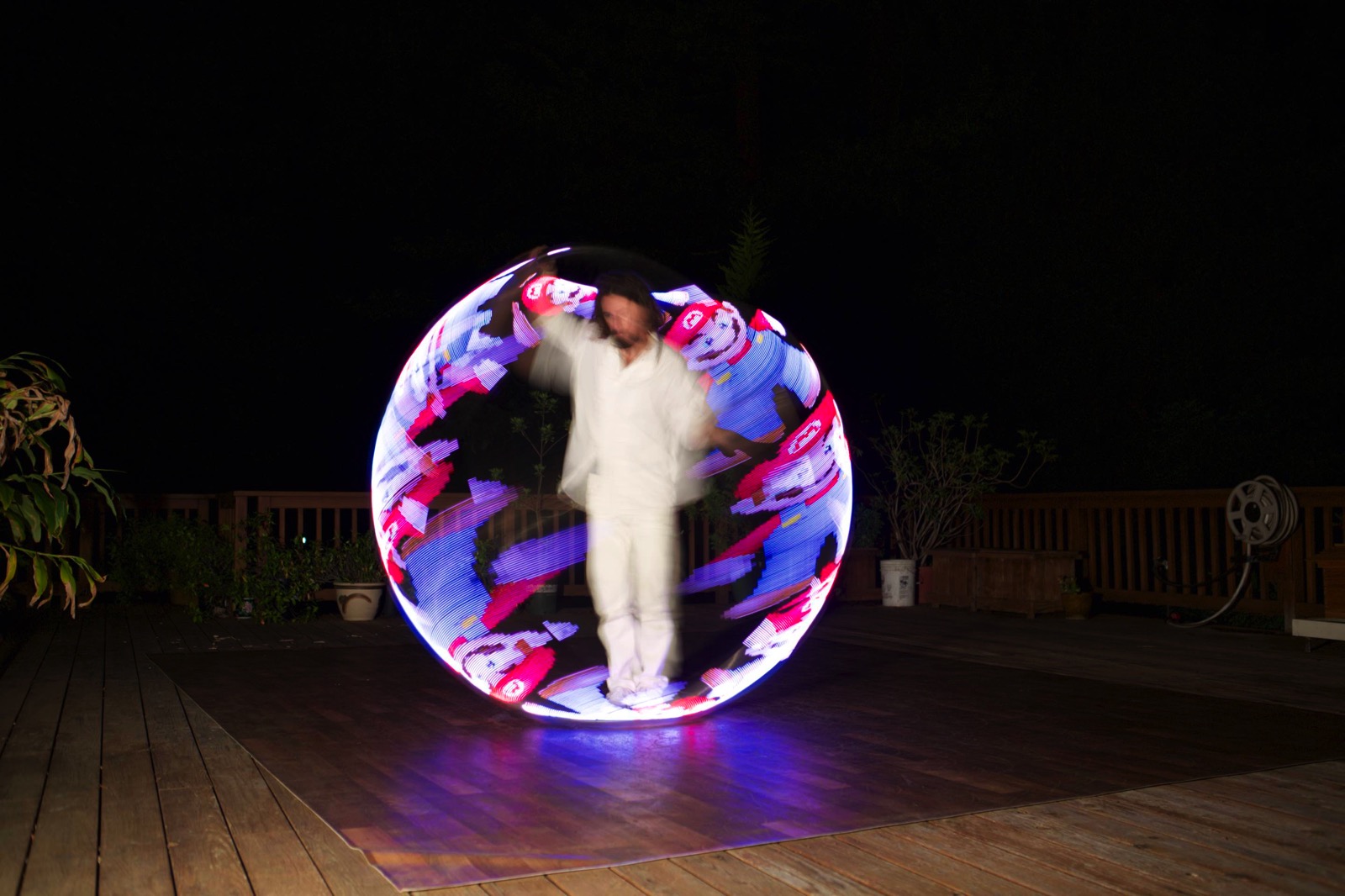 ---
---
Some more experimental pictures I took tonight with my new LED cyr wheel (version three!):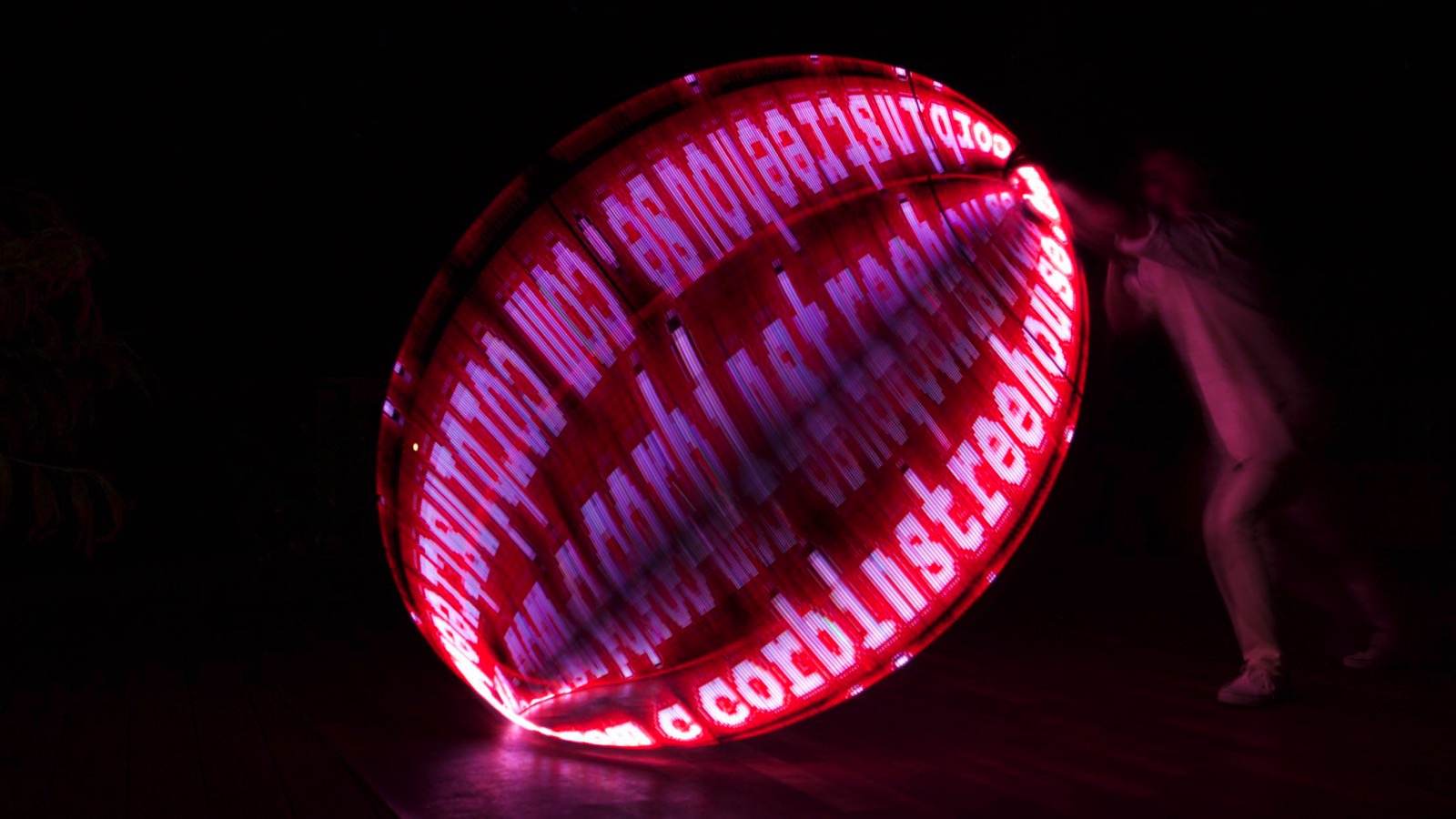 Original source image that I'm playing on the wheel:

The wheel has 806 pixels on each side, and the bitmap is 300 pixels wide, which is less than half the width of the wheel. Now I realize I need to keep the image width way less than this to be able to read text really well.
The next one is quite simple, and I just think it is funny!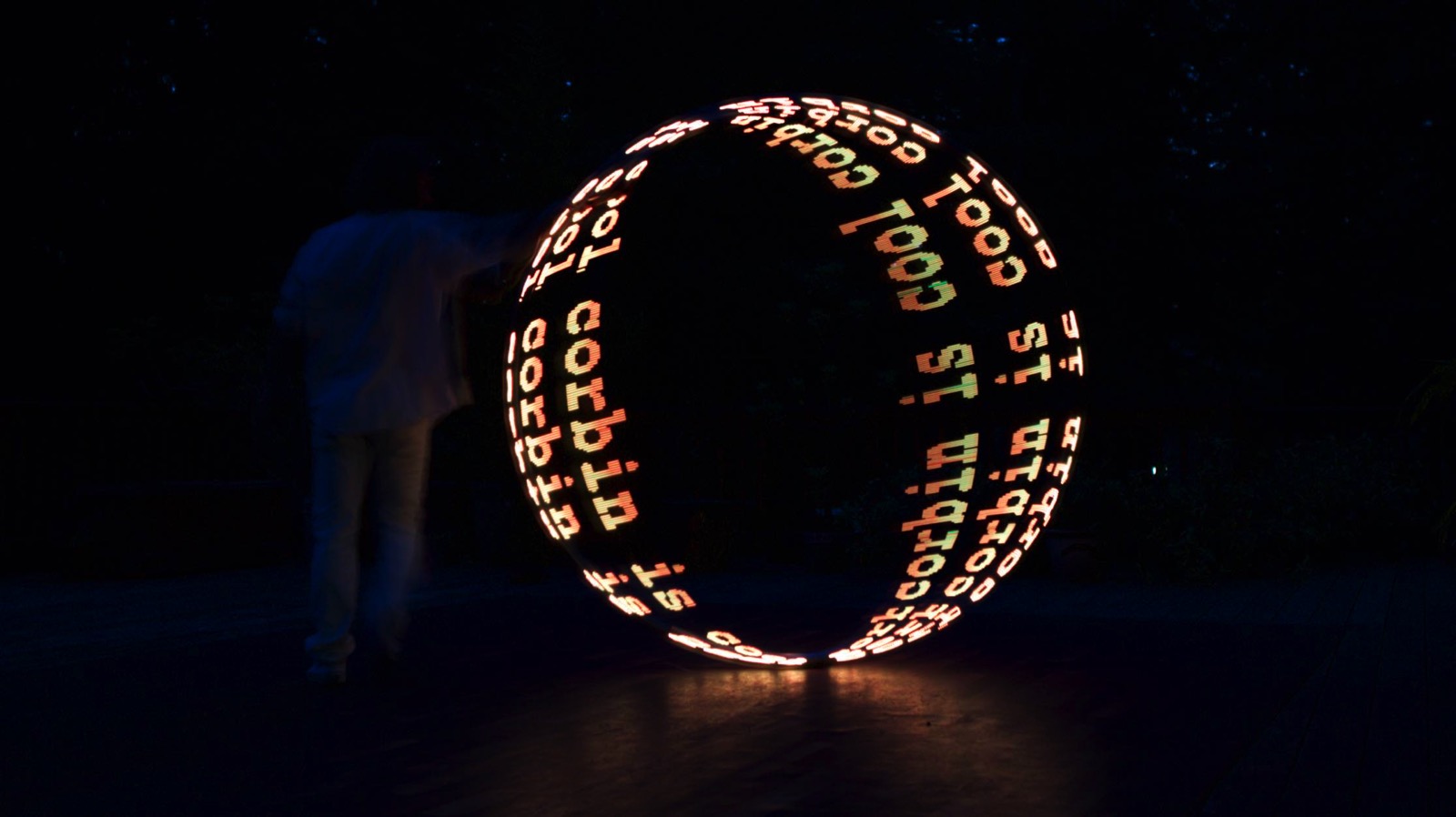 Source image:

 I was curious about more detailed images. They are hard to see in person, but can be captured in photography: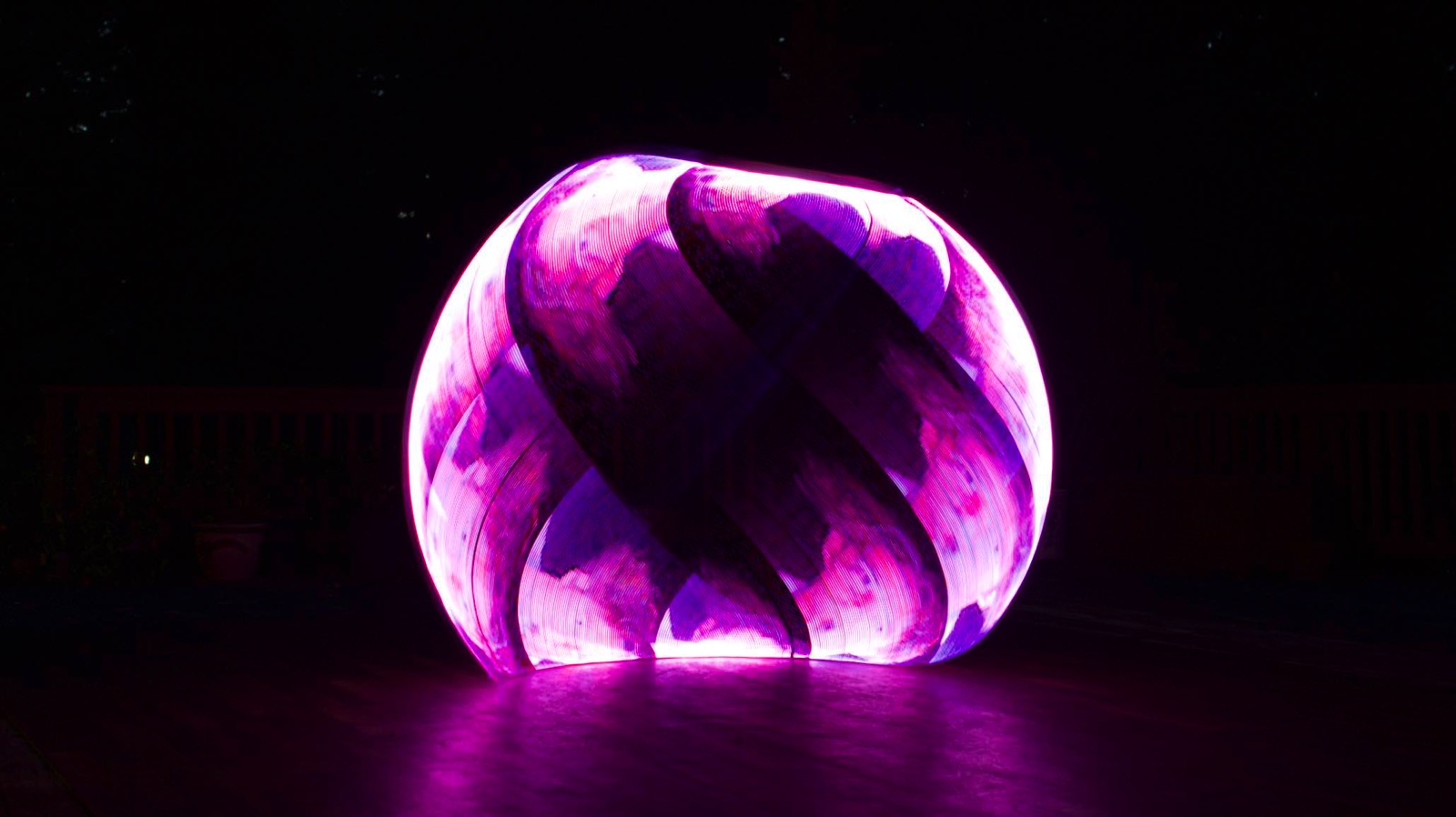 That's me!

---
---
---
Posted in
General
|
Comments Off

on Corbin's Treehouse on Facebook
---