---
Well, my bathroom remodel is coming along bit by bit.
I got a new cabinet saw to help with things. I went with the Saw Stop brand saw, which cost a ton, but will potentially save a finger if I accidentally touch the blade.
Most all my wood I purchased from Aura Hardwoods in San Jose. They have pretty decent prices, and a friendly staff. Although you sometimes have to ask for the good wood in the back. I was rifling through a bunch of pretty poor looking cherry plywood sheets trying to find a good one when a guy named Kirk came by and said he could go get a fresh stack with his fork lift from the back. So he pulled them out for me, and I grabbed 4 pristine sheets from the top of the pile. Thanks Kirk, I really appreciated that! I heard Macbeath may have better prices, but they are a bit further away and I haven't tried them out yet. Southern Lumber is way too expensive. Global wood source has some good selection of different woods. Unfortunately I haven't been able to find good A1 grade 1/2″ cherry ply, and could only find "Shop grade" (which I'm not sure exactly what that means).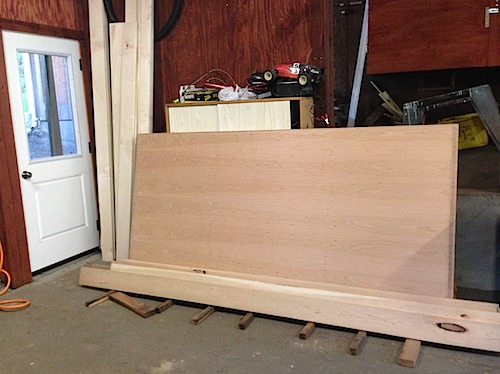 Here's some end panels for the bathroom sink cabinet: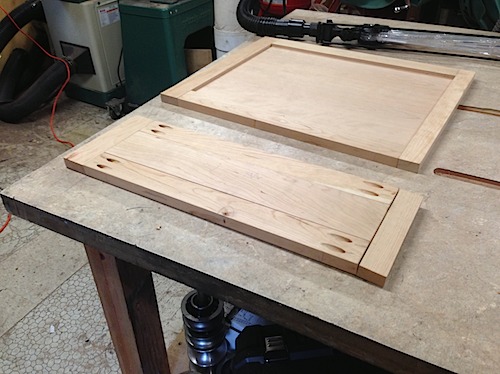 I'm not so sure I like doing pocket hole stuff for these frames, but it worked out "okay". I would have rather floated the interior panel inside of it..but I didn't end up doing that.
Cabinet face frame, showing the tongue and groove joints and pocket hole stuff: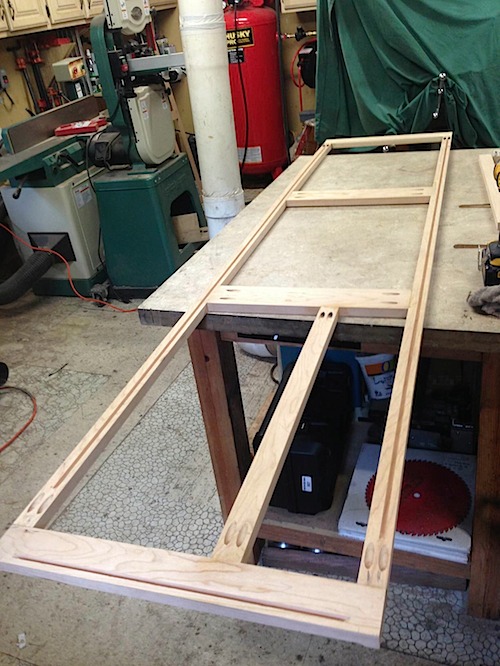 Top floating piece coming together: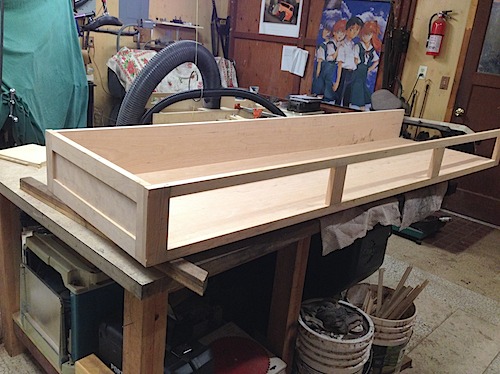 Glue-up was crazy. I learned that I should do it in small bits, and not go for all of it at once. It was too much, and I didn't have enough clamps! I bought 4 more good clamps once I went through this fiasco: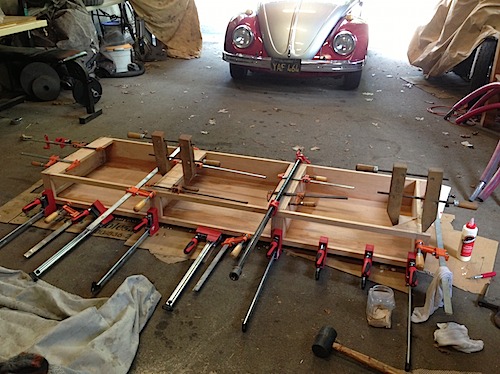 ---
---
---
---
---
---
Corbin Dunn – Roue Cyr for What is Erotic?
---
---
I have been working on a new design for my master bathroom for quite some time. I finished in Sketchup recently: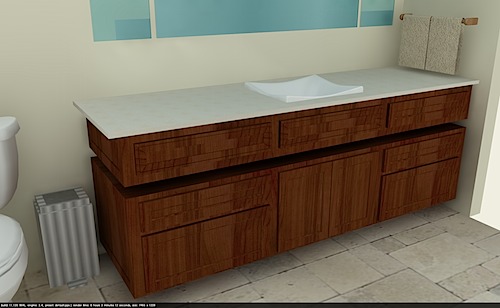 I'm going to be doing a "floating" design where the cabinets are supported by steel that goes into the wall. I hope it works out the way I think it will! The above is a rendering from sketch up. Below are a few of the raw SketchUp screen shots: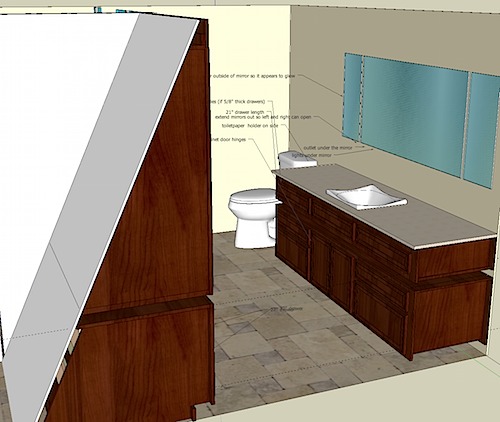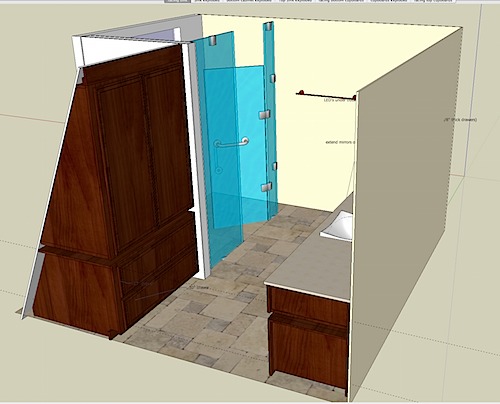 After I did the design, I used a Plugin called "Cut List" to get a rough estimate of how much wood I will need.
I went by Aura Hardwoods yesterday and actually got some wood. I'll have to go back for more (I didn't even get the sheets of plywood I need for the drawers), but now I can get started!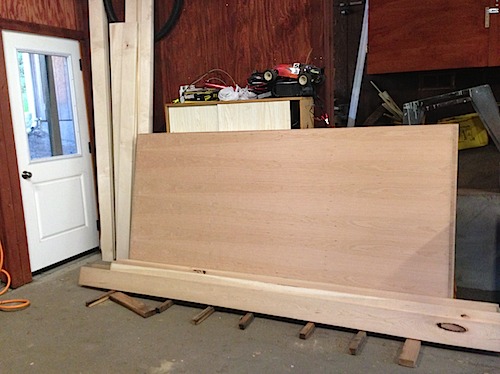 Mostly cherry, with maple drawers.
---
---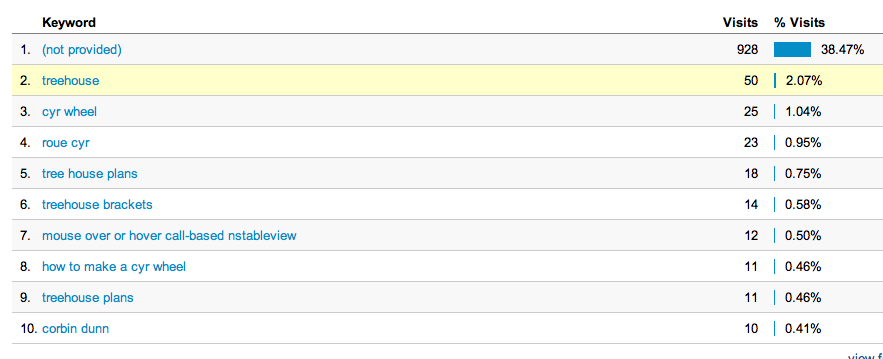 Lots of people search for treehouse, followed by cyr wheel / roue cyr! People are in particular interested in making these things themselves.
---
---
Tom Holub took this great picture from last weekend:

It was soo steep that I almost thought twice about doing it.
---
---
I was charging my car last week at home and started to smell some burning plastic. It was coming from my EVSE (the "charging station" which is a gloried relay with a few electronic smarts).
Popping it open revealed that my plug attachment was shorting out a bit: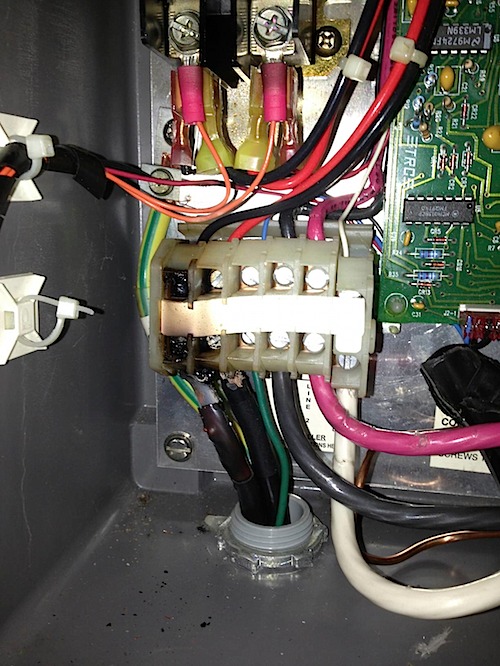 I now realize what happened; I had did the stupidest thing last summer and drove away with my car plugged in at home. I had shut the front trunk, and failed to unplug the car in some bit of absent mindedness. The cord got really taught as I was backing up and made a noise that alerted me to stop. It broke the J1772 inlet on my car, which I glued back together.I took a look at the EVSE and it seemed okay, but now I realized I had pulled the power cords out just enough to allow them to still work, but have high resistance.
I just hardwired them directly to the input wires with some electrical twisties.
---
---
Welcome to the EV Page of Shame!
The first victim.
This little lovely neighborhood EV was parked in the decided EV spots in the downtown Santa Cruz parking garage. But it was not charging! Shame on you. All the other spots were taken, and people could not charge because you took this spot! Please be courteous. (I would have left a note but I had no paper).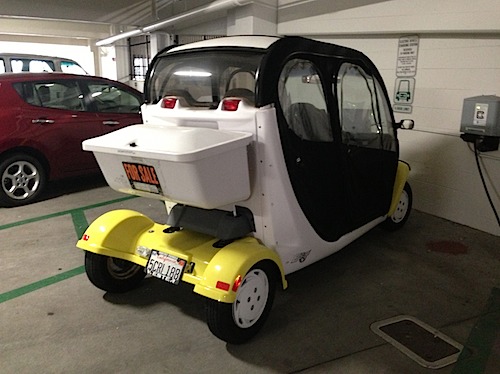 ---
---
Still working on "Project Hutchinson". Last saturday I put a coat of stain back on the deck to freshen it up.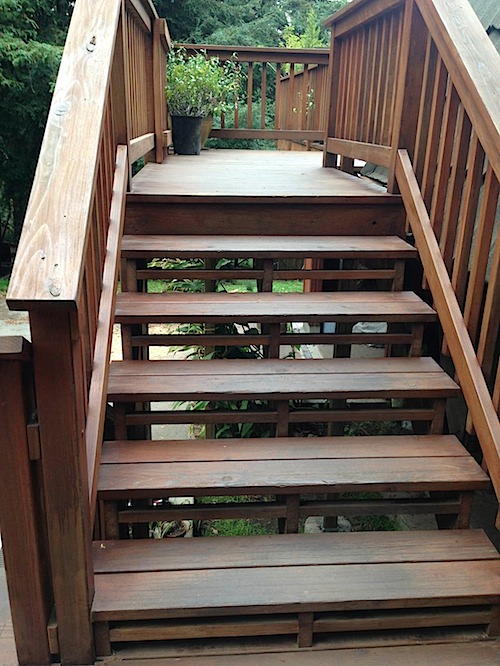 I'm working on designing a new master bathroom. I'm hoping to get working on it soon!
---