---
I finally finished my Kitty Cabinet. I had to wait for some more Water Based Poly finish to come; I had accidentally ordered "gloss" when I really wanted "satin", so it had to be put on hold until I got back from a vacation in Italy.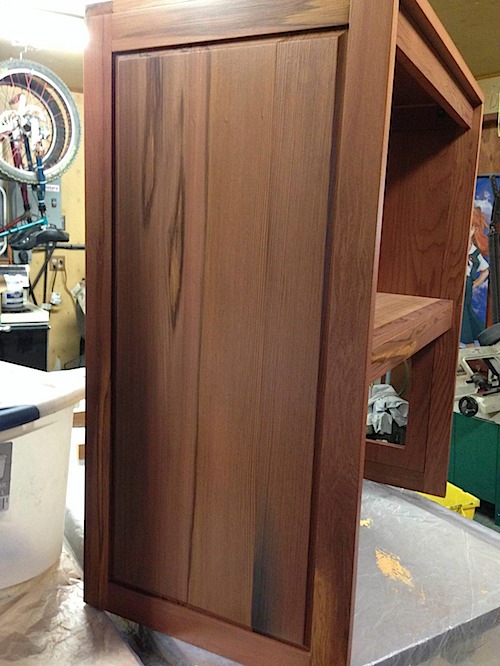 I use water based finishes from Target Coatings.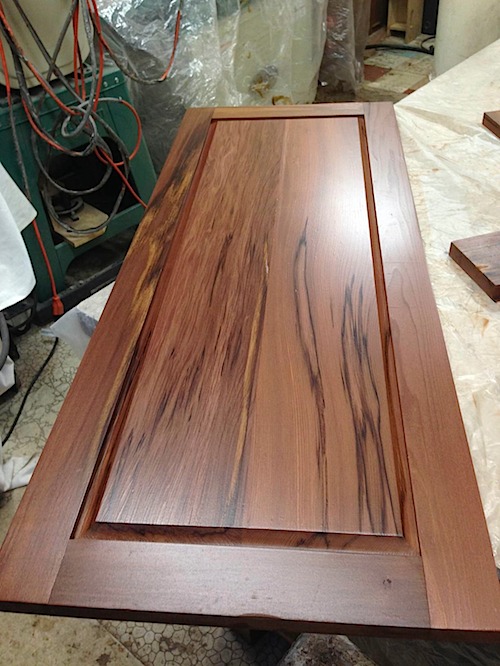 It looks rough in the picture, but it turned out quite nice. I put one coat of a shellac amber sealer on, followed by 4 coats of satin poly (water based).
Without the doors: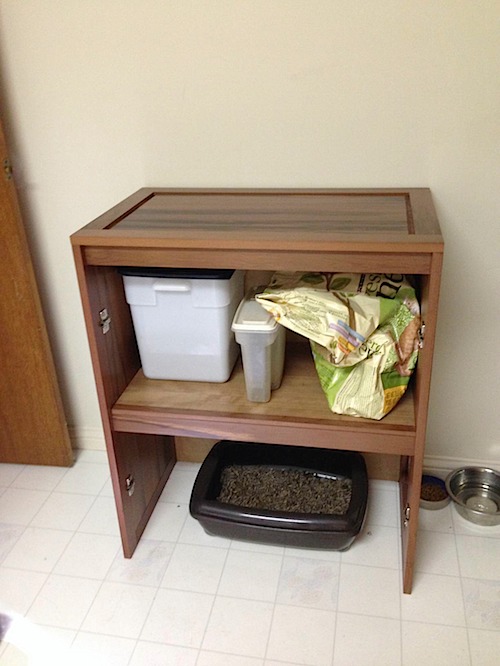 Doors: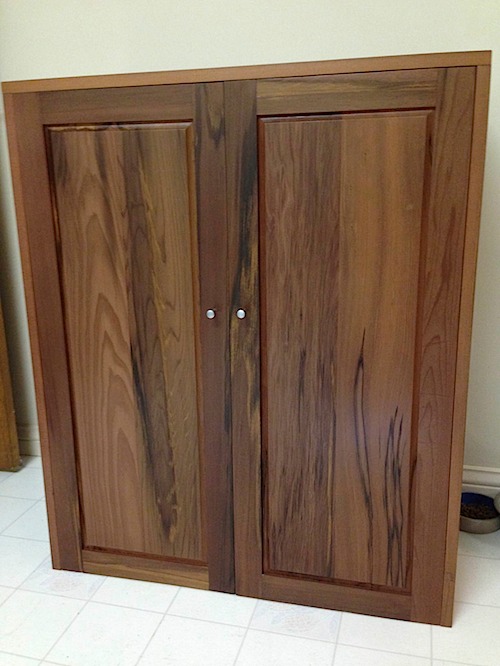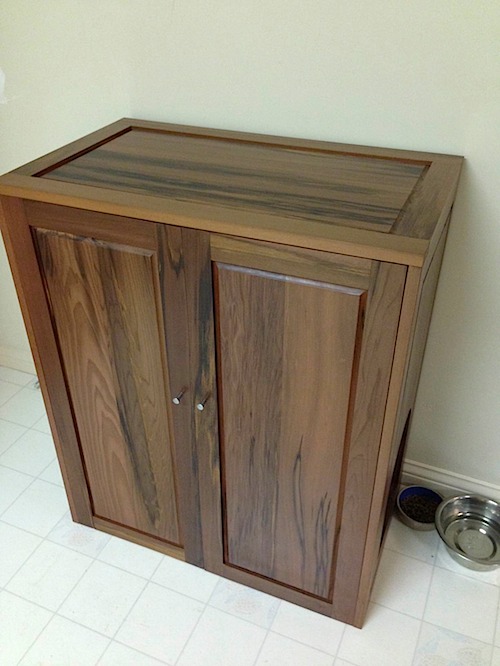 Kitty entrance: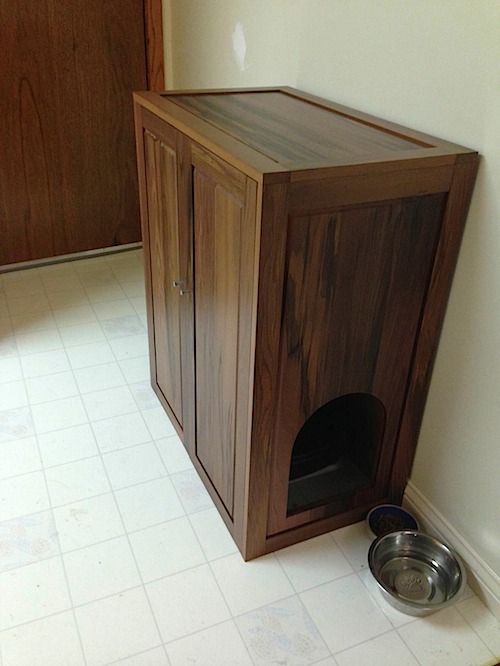 ---
---
Rome Street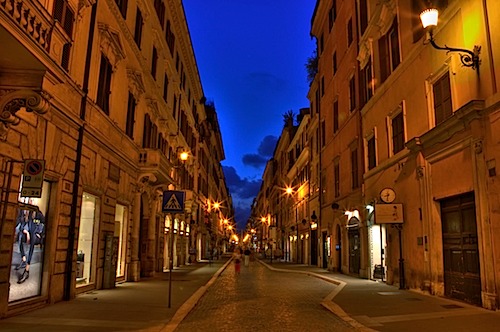 Camogli, Italy. August 2014. HDR from 5 exposures. Canon 5D Mark III, 24-70mm lens. No tripod; supported by a plant for a bit.
---
---
---
---
The rear end of my car has been making quite a bit of noise lately. It seems to only happen when I apply power, and I wasn't too sure of what it was. If I put the car in neutral or pushed in the clutch it would also go away, so it seemed to be related to the motor. I was guessing it was the brushes; on the two brushes per section, one seemed worn about 1/8″ to 1/4″ more than the other. The brush springs aren't worn out, but I figured they might need replacing: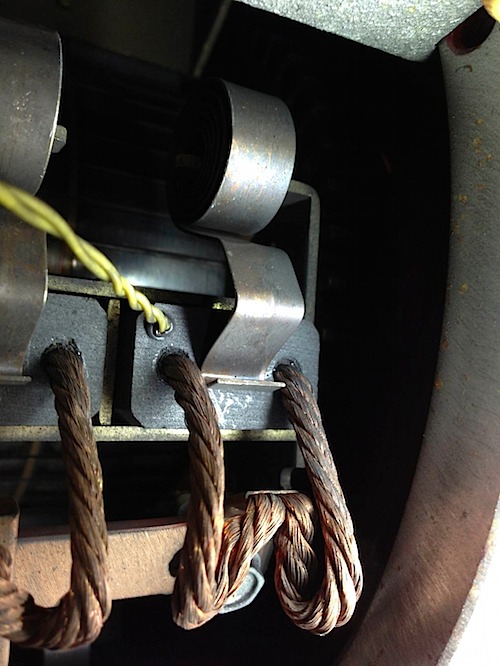 So, I got some of the newer better brushes (with 4 wires in the top) from EVWest.com .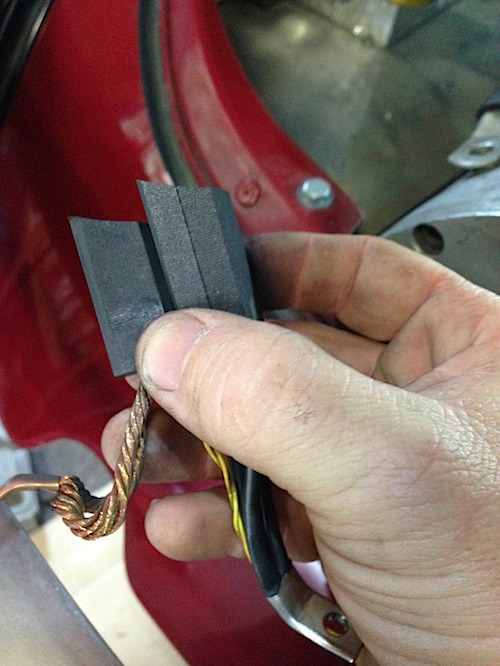 It shows how much wear has happened, assuming the original brushes started out this size. I put them in and ran the motor on a 12v battery for a while (not too long before it was dead…I'd charge it a bit and run it again). I then did some slow driving for about 80 miles…still lots of noise. So, it wasn't the brushes, but the new ones should work better.
Brush change electric mileage: 37,550.
So, I did some searching on bugs, and it seems to be the CV joints (Constant Velocity joints) on the old VW bugs. I pulled the CV Joint dust cover off, and a ton of oil poured out! I wasn't expecting this; they are supposed to be filled with grease, so now my ground has a big oil stain on it. It turns out the cap on the transmission popped out, and allowed transmission gear oil to seep into the CV Joint. This low viscosity oil is not good for the CV joint, and it caused it to wear away. I see visible grooves in the joint from the bearings, and lots of bits of metal. So, I got new ones from Bugformance in San Jose. I'm going to just replace the ones next to the transmission. HI bought the good german ones (more expensive).
Unfortunately..even after changing out two CV joints, it still is making quite a bit of noise. It is either the motor or transmission; I'm going to just drive it…
---
---
one coat of Target Coatings shellac (amber), lightly sanded and then one coat of their water based Polyurethene (9000). Time to order more….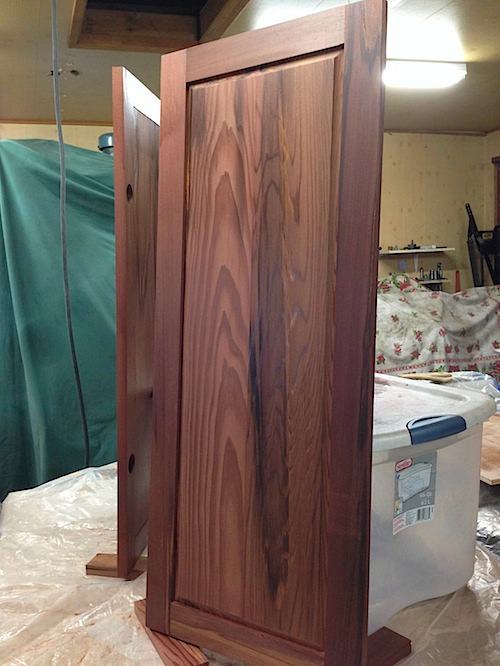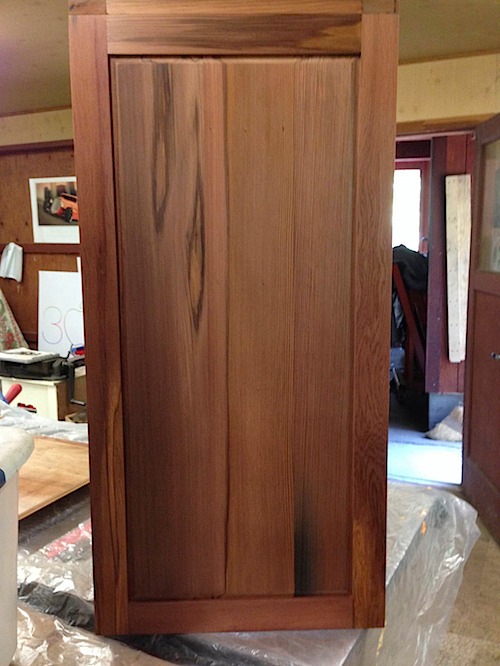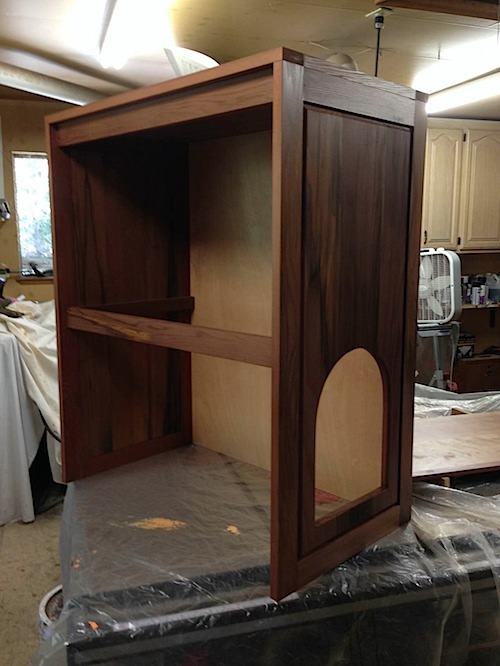 ---
---
I'm building a little cabinet to hold the kitty litter box, and some accessories. On top I plan to put the cat's food and water bowls, to keep them out of reach of bad doggies.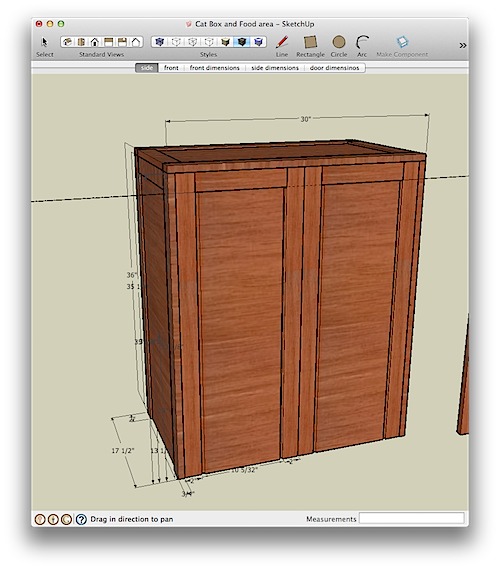 Download the sketch up file – Cat Box and Food area.skp
I have a bunch of old redwood from my water tank. I have been drying it out for years, and I just haven't had the right project for it. Redwood is really soft, and this stuff is partially rotten, so I'm not sure how well it will work out. Here's how it started out: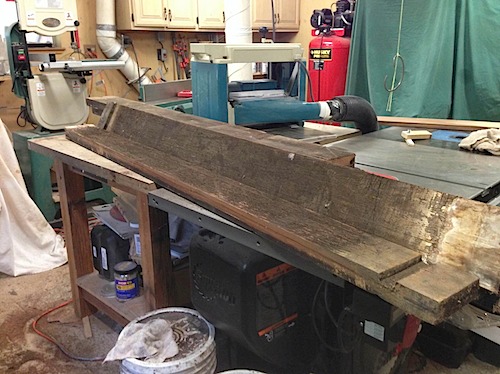 Jointing, and then planing to 3/4″ gives me: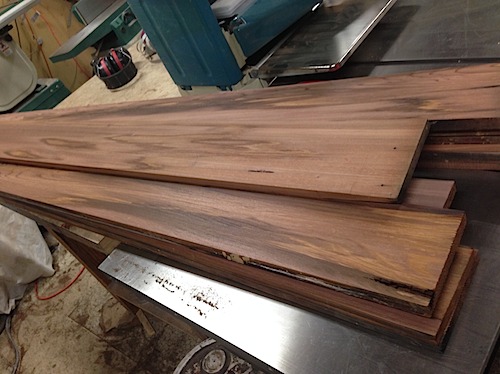 I call it "spalted redwood", and it is quite beautiful, but really fragile.
Several pieces biscuit jointed together: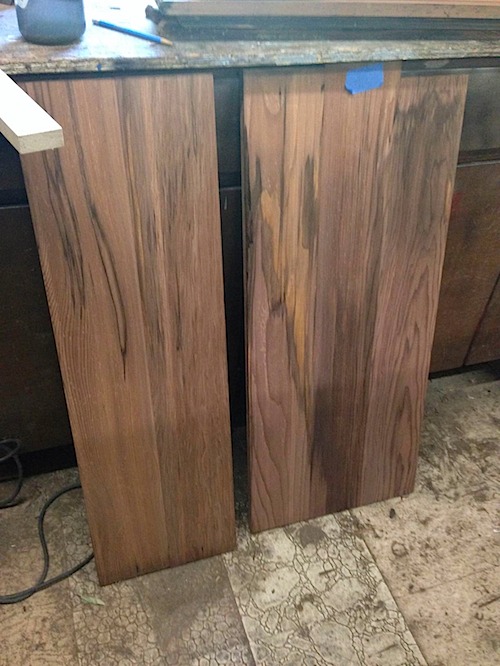 Face frame setup sample fitting: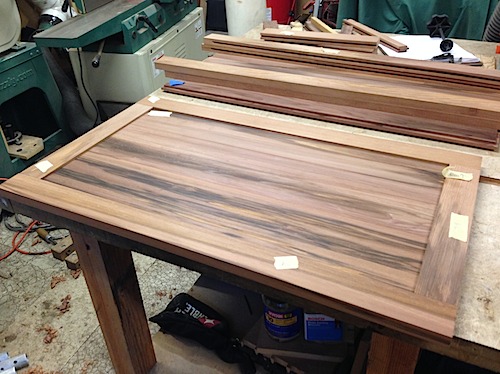 I need to buy smaller biscuits and a smaller blade for my Porter Cable plate joiner. The 0 size are too big; I need FF, which requires a special blade: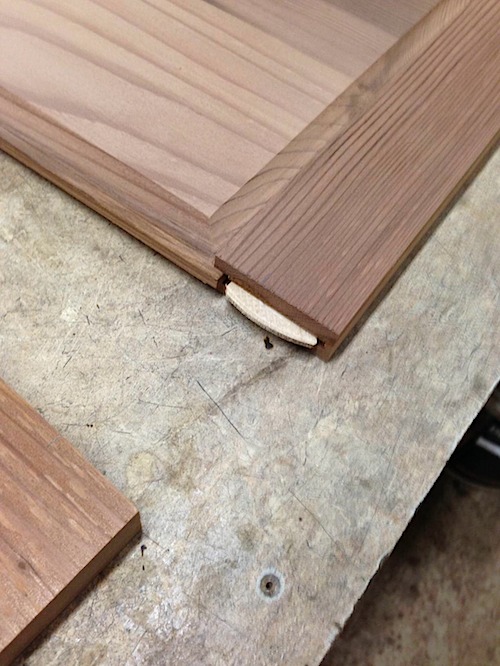 Clamping: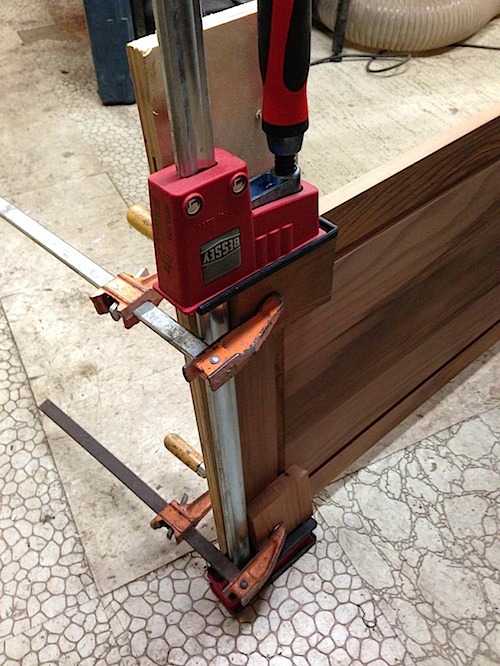 ---
---
I made a new handlebar for my geared KH26. I was using the KH T-bar, but it feels really flexy and it feels like the seat will eventually break from the pressure I put on it. I had already made a slightly longer and slightly wider T for it out of CroMo steel, but it was just as light as the aluminum original.
Here's the new bar, completed and installed: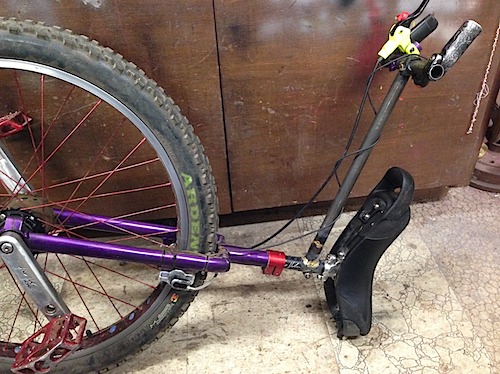 New bar, 352 grams: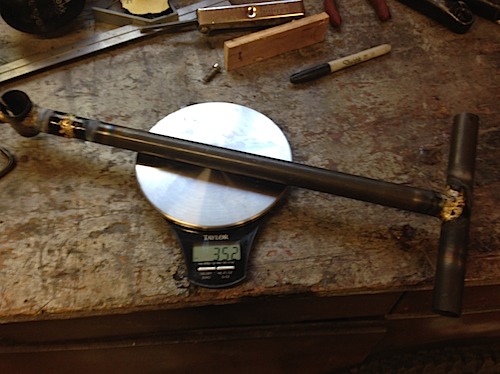 Old bar plus the seat strengthen plate (not needed with my design):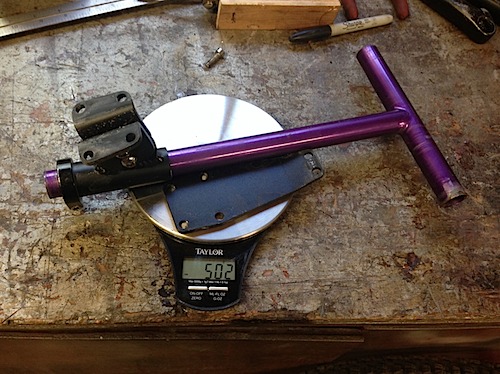 So, 150 gram savings in weight by using CroMoly steel. And it is a lot less flexy!
Building process:
1. Fabricated a lug: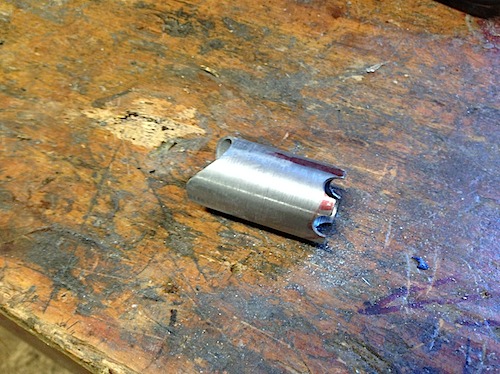 2. Brazed it onto the seat tube attachment: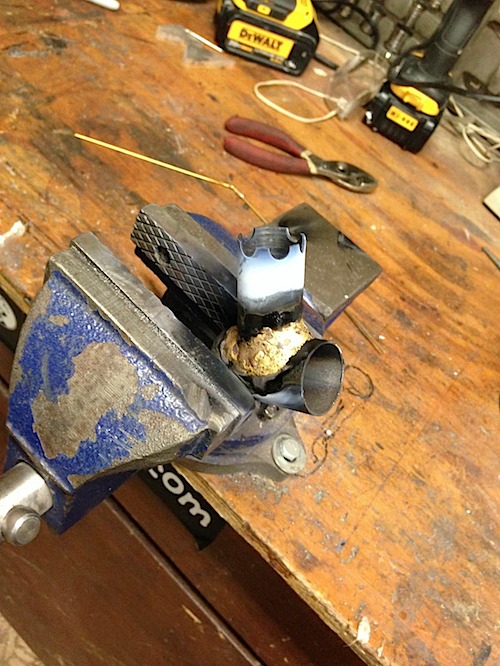 3. Not shown, brazed on the back tab for the bolt/cincher
4. Cut a T, made a fish mouth in the end, and brazed on the top: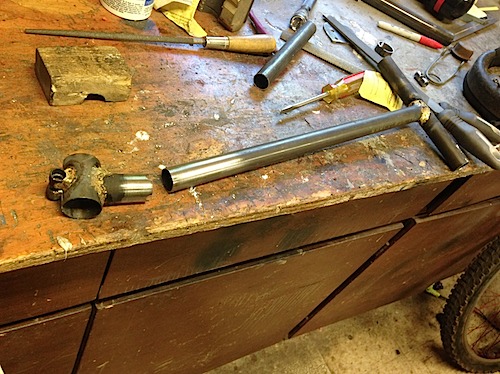 5. Inserted the 22.2 tubing into the "lug" and brazed it together. The lug adds strength; I've broken handlebars at that location.
---
---
I took some demo code and modified it to do a fire pattern in the cyr wheel:
---
---
This is a plot of the angular velocity vector when spinning in my cyr wheel. I took the gyro x/y/z value and created a vector (squared each value, added them, and took the square root).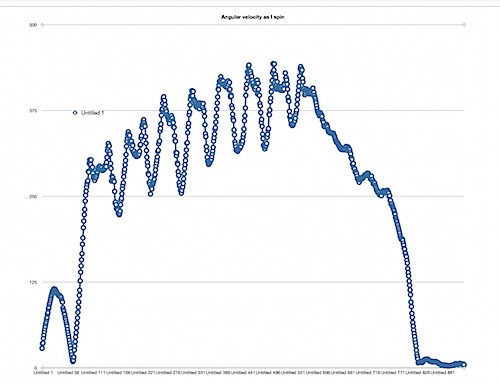 The downward start was from back spin "wind up" hat I did. I then increased velocity to a high speed, and you can clearly see when I give it an extra "umph" each revolution around. It was probably about 7 revs I did in the wheel. Values are (apparently) degrees per second. So, I spin about 1.5 times every second.
---
---
I have a accelerometer/gyro/compass combo in my wheel LSM303DHLHC, data sheet: http://www.pololu.com/file/download/LSM303DLHC.pdf?file_id=0J564 found via Pololu's link: http://www.pololu.com/product/1268
It has been tough to figure out consistent data. First of all, I realized the compass has to be calibrated. There is a sample app included with the LSM303 Adruino code called "Calibrate". It just reads the compass/magnet data a keeps a running max and min value of what it sees. First off, I kept getting strange values out of it; specifically -4096. I later learned from the Polo website that this is an overflow condition in the chip and it is documented on the data sheet. First of all, it is documented on a data sheet, but not the one for the LSM303DHLHC. I'm sure they use the same accelerometer chip though. The fix according to Pololu is to adjust the gain (and that works). Here are possible values: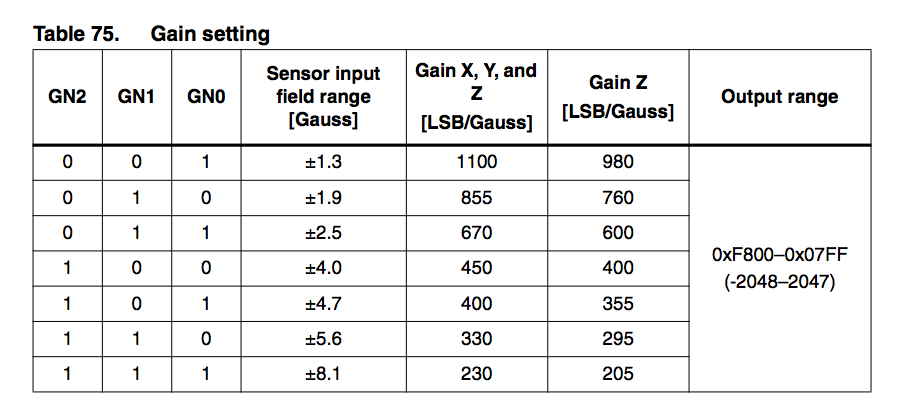 The default is 0,0,0 which means a "Sensor input field range" of +/- 1.3 Gauss. I don't really know what a gauss is, and I'm not sure why a higher or lower gain is important. But with the default value it was overflowing the buffers in the accelerometer chip, so I changed it to: 1, 0, 0 with this:
_compass.writeMagReg(LSM303::CRB_REG_M, 0b10000000); // gain: ±4.0 Gauss (see datasheet)
Which is +/- 4.0 gauss. The gain reading values are lower, and don't overflow anymore. That's a plus. I'm using the Pololu modified sample "Pololu MinIMU-9 + Arduino AHRS (Attitude and Heading Reference System)" to get cool graphs/pictures:
.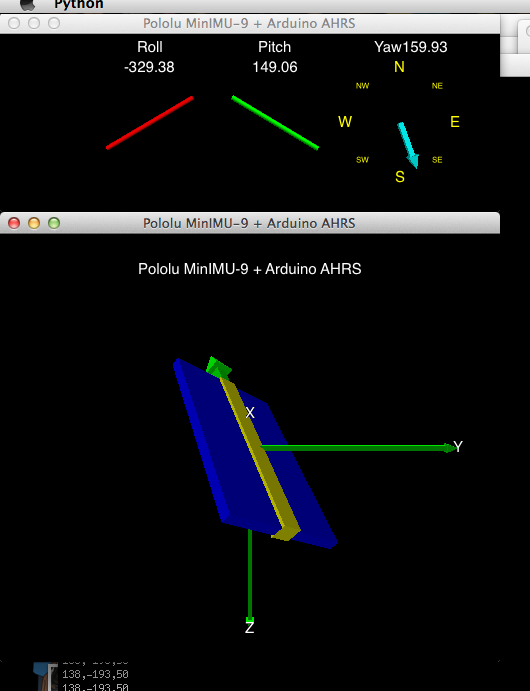 It is a python script, and has a bunch of dependancies, but they are easy to find and download for the Mac. I had to tweak the script to get it to run:
1. Fix the serial port:
ser = serial.Serial(port='/dev/tty.usbmodem23981′,baudrate=115200, timeout=1)
2. Toss in a "rate(100)" in the while loop:
while True:
rate(100)
It took me a while to discover that last bit, and I only figured it out after reading a demo script.
I still was getting strange results; not quite an accurate position. So, I outputted the raw x/y/z magnet data to a comma delimitated file and opened it in Grapher: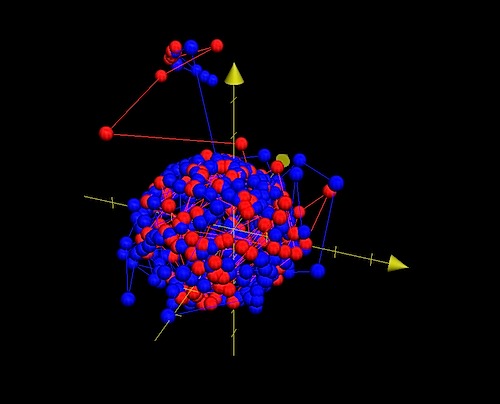 You can create a Grapher.app doc on the Mac (the app comes with OSX) and do a 3d graph. Add a Point Set, and at the top of the window click Edit Points…and import a file. I imported two; one is red, one is blue. Notice I have some rather odd stray points; I think these are causing part of my problem.
I might try to do some type of better averaging of the min/max values and through out the highest and lowest absolute values. More fun math to figure out….but that might correct my problems.
---