---
After a bunch of research, and making a new handlebar, I decided to start up on some prototype unicycle panniers and bags.
First I just strapped my tent under the front bar; this was a quick hack: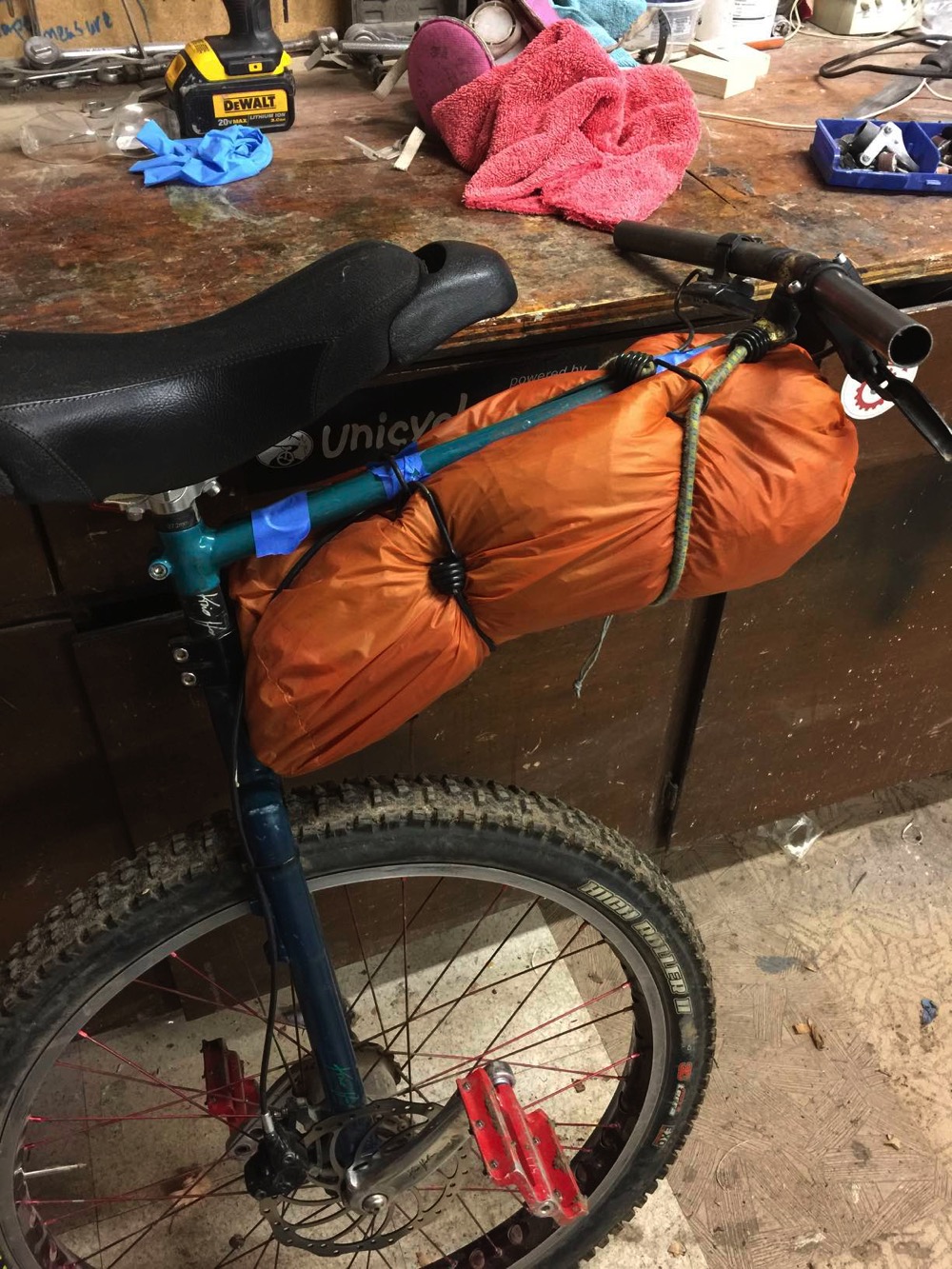 It won't work at all as it rubbed way too much on my legs.
Next came some cardboard prototypes: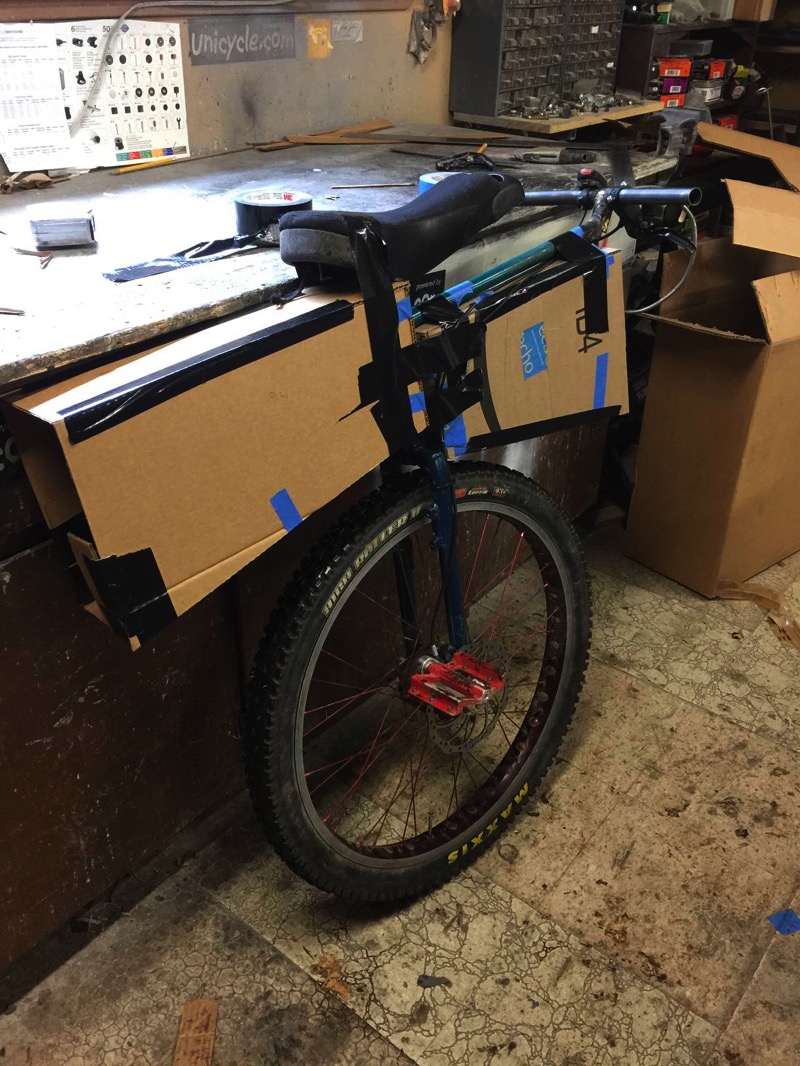 This allowed me to get a general feel for what sizes would work. 
What material should I use to make the bags? At first I went to a local Beverley's Fabric store, but this left me empty handed. I did some internet searching and realized that most bags are made out of a waterproof canvas and is rated via a denier. A 600 denier fabric seemed to be tough enough based on what I was seeing other bags made out, so I bought some on eBay for about $32 (with shipping). I got a TON of fabric; enough for 4 or more bags.  Once I got the fabric, I started cutting it out and sewing it together roughly based on the size of my cardboard boxes: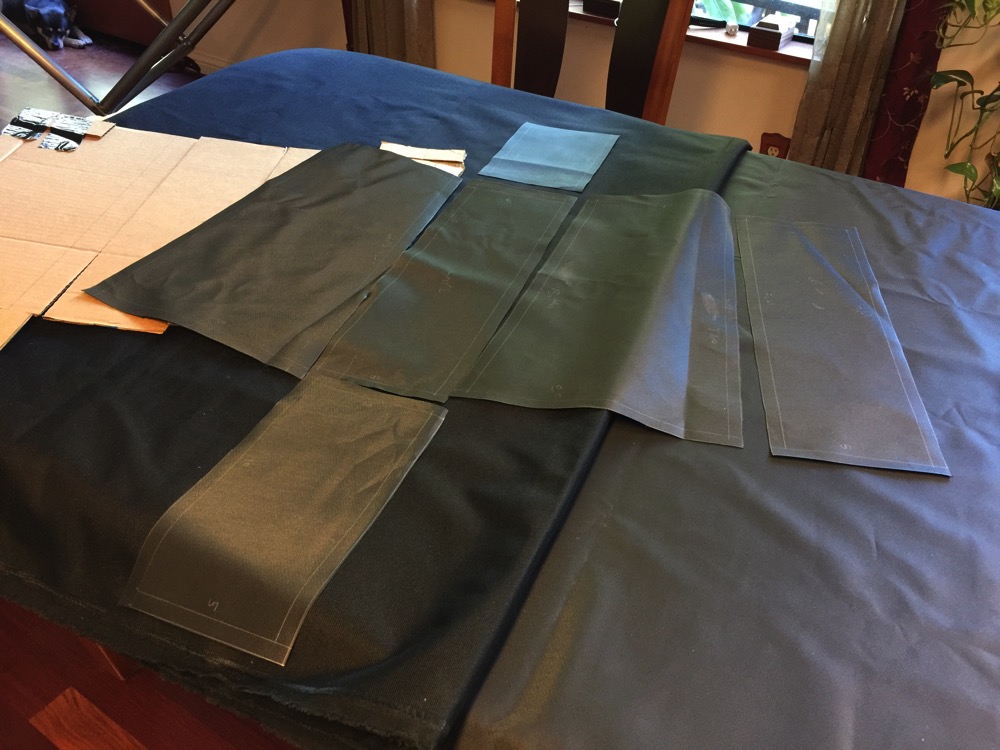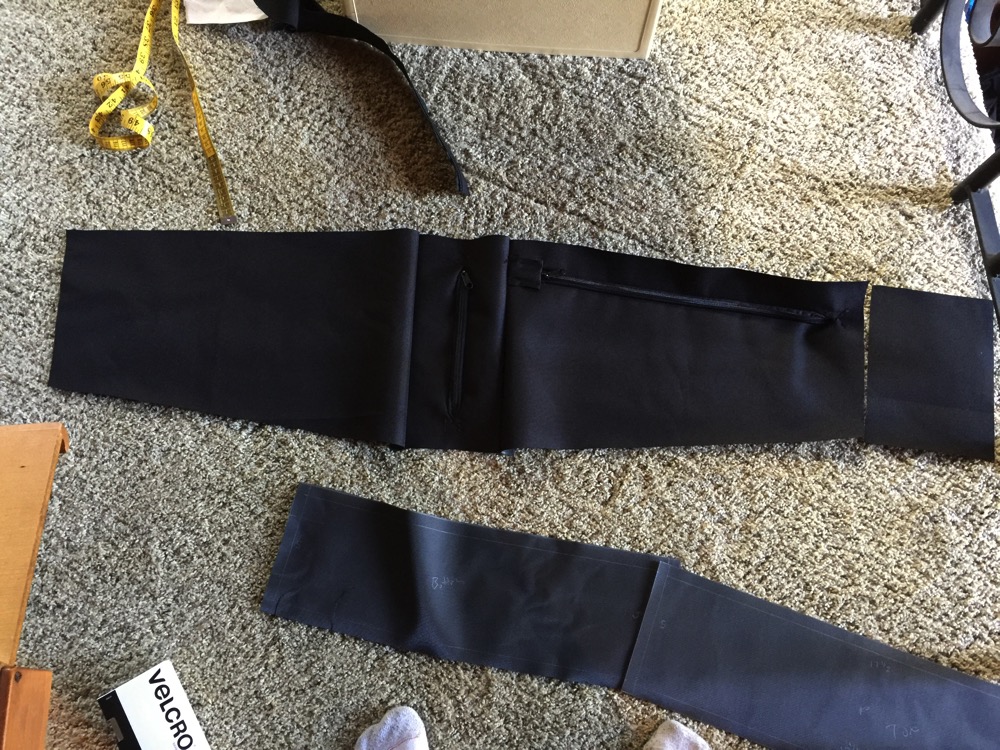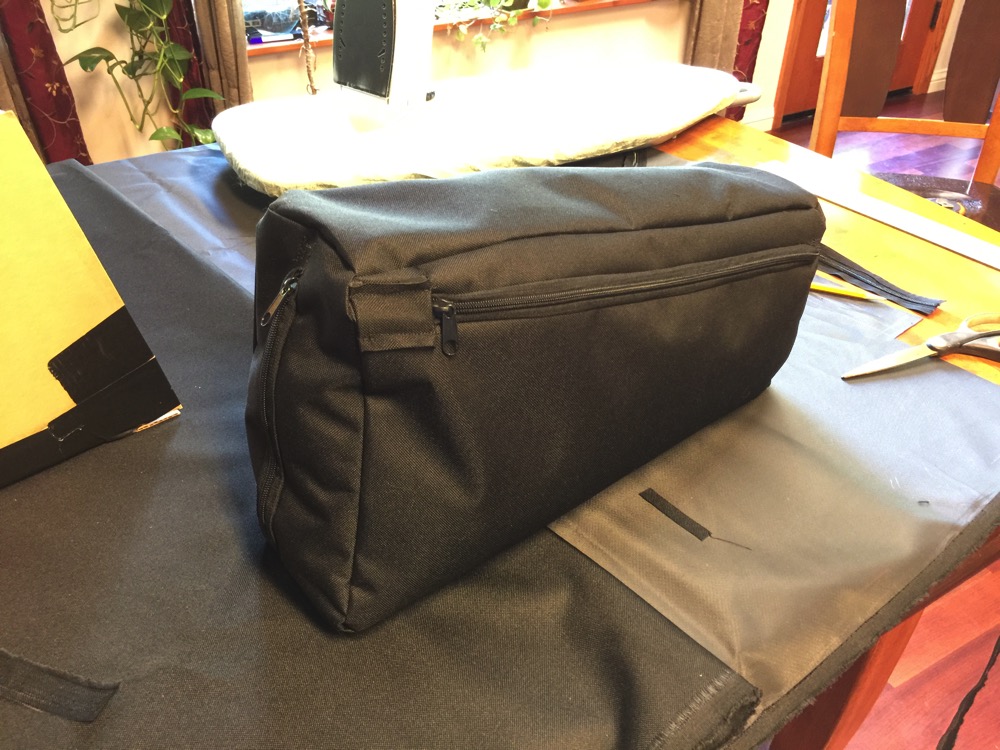 I had decided to make the larger rear bag first. The next part was to figure out how to hang it behind the unicycle. I was planning on welding up a rack, and I started down that process but quickly realized it would take me too long. I wanted to get going soon! So I went to REI to scope out what they had and ran across some racks: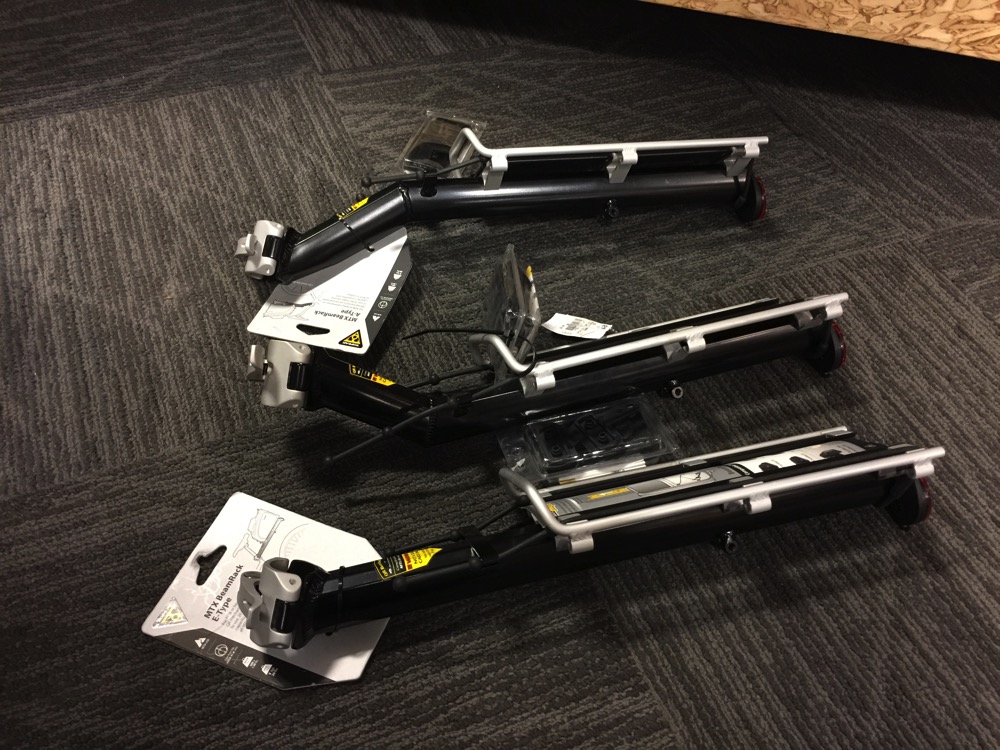 I initially bought the first one, but it was angled too high. I then went with the 3rd one (E-type) which has no angle at all. In hindsight, the second (A-Type) might have been "just right" as it would have dropped the sack a little lower. I later learned that Jamey also has the same rack! You can easily buy a variation of these racks on Amazon: 
While I was there I also bought the Topeak MTX Trunk Bag: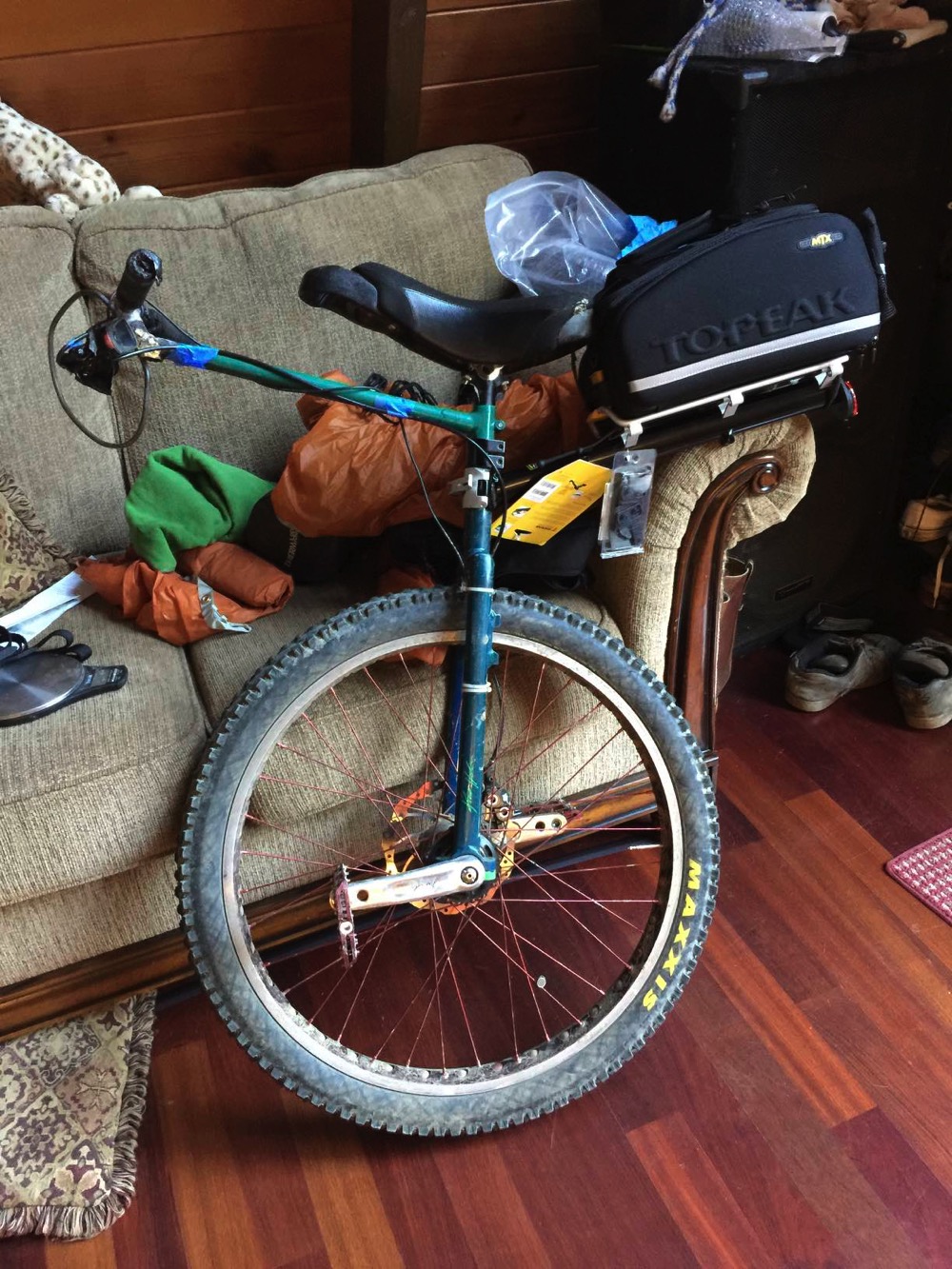 The cool thing about this bag is that it has both a top section and panniers that drop out: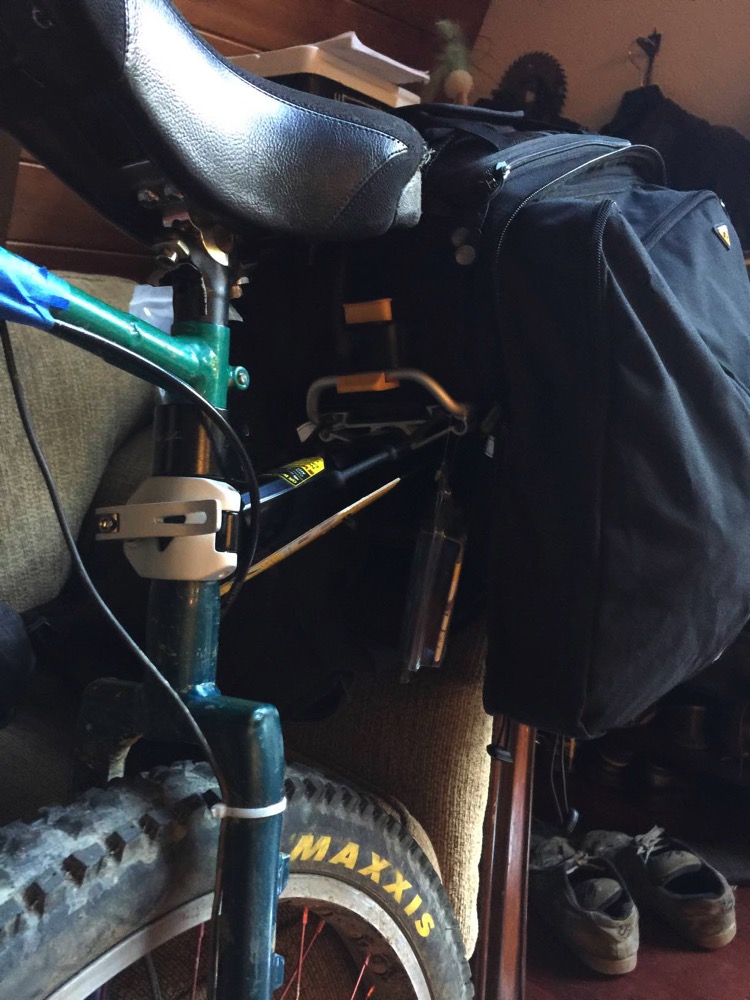 However, my test riding around my deck proved that this wouldn't work. The panniers pulled the unicycle back too much, and swayed side to side. The sway made the uni really hard to ride. I ended up returning them to REI. The Topeak rack is nice, and I'm sticking with that. You can see how it is attached in the above picture; right below the main seat post clamp. I had to push the seat post clamp up a bit to allow it to fit; I might trim it a bit to make it fit better, and get a thinner seat post clamp. But for now, it is working pretty well.
So, my text feat was to figure out how to load it up. I initially went with this approach: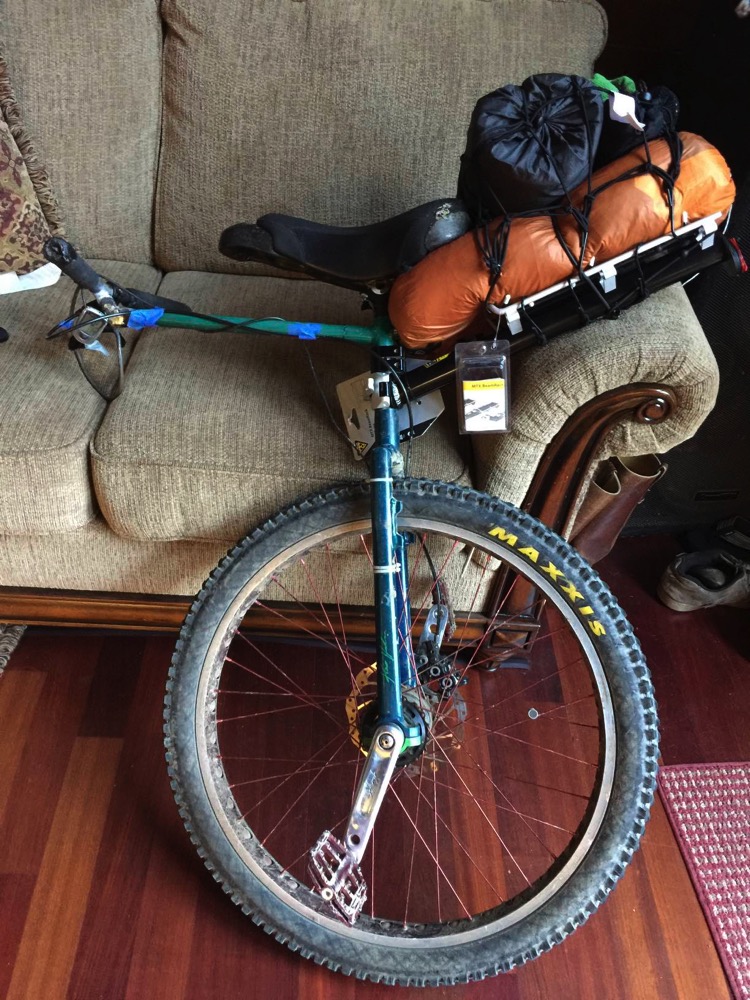 On the rack is my tent (orange), sleeping pad (black), towel (green, mostly hidden) and water filter (black, top rear). The rack is pointing too high; I really would like it to be more horizontal to keep the weight lower to the ground. The high angle might actually be okay if I eventually go with the underneath mounting system with the sample pannier I made. Some practice riding around my house proved the this is a viable approach to unipacking. It wasn't too hard to mount, although a touch rear heavy. I really needed a front pack to help balance it out.
So, I sewed together a front pack that would velcro to the handlebar and frame: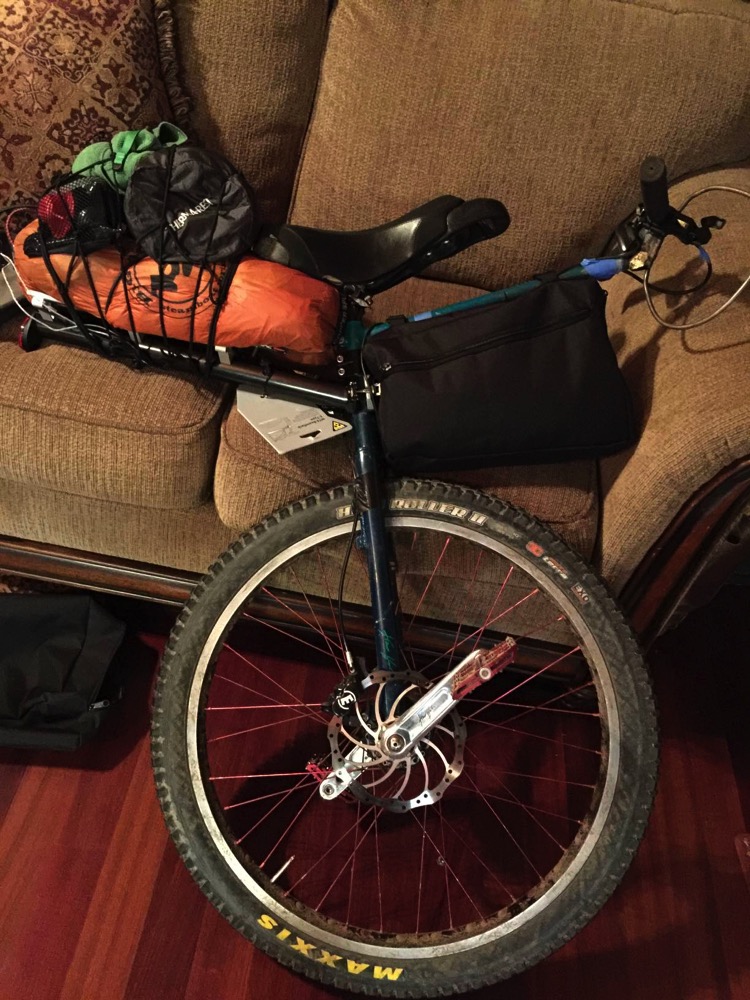 I stuffed it full of clothes and did a test ride of around 7 miles on the Jones Trail in Los Gatos while wearing my backpack: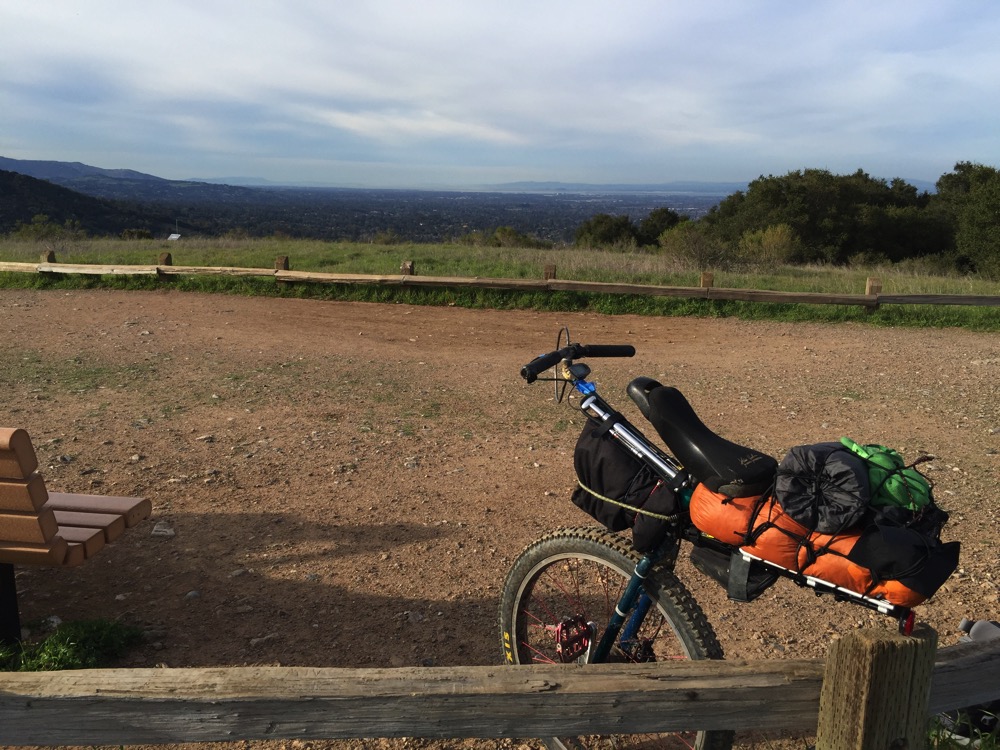 I quickly realized that the front pack was too wide; my legs rubbed on it and it wasn't pleasant. I looked around my house for something to make the bag stiff on the sides. If it held its shape it wouldn't rub so much on my legs due to bulging outwards from clothes. I had an old piece of laminate kitchen tabletop veneer laying around; it was thin, strong and easy to work with. So, I cut out some sides to make the bag stiff: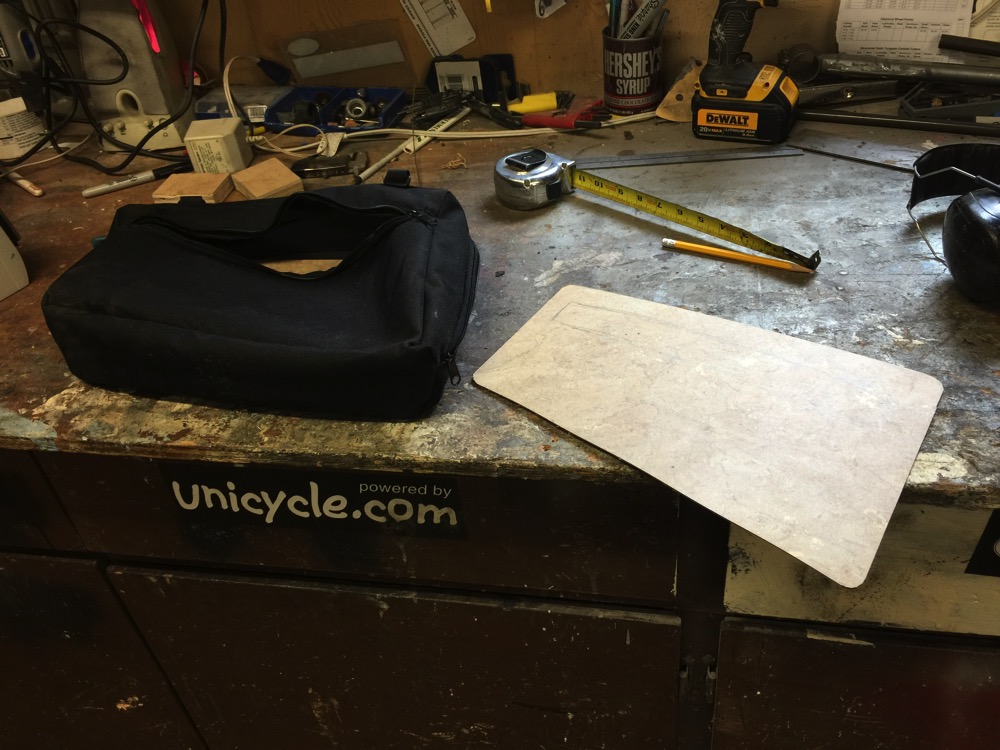 This stuff works great! Later I cut out some holes in it to save some weight. 
The next thing I was worried about was my tent bag getting scuffed up. It is a lightweight bag and would easily get destroyed if I crash a few times. I'm bound to crash, and I want my tent to remain in one piece. Lexi had a great idea: Just sew a round bag replacement out of the 800 denier material!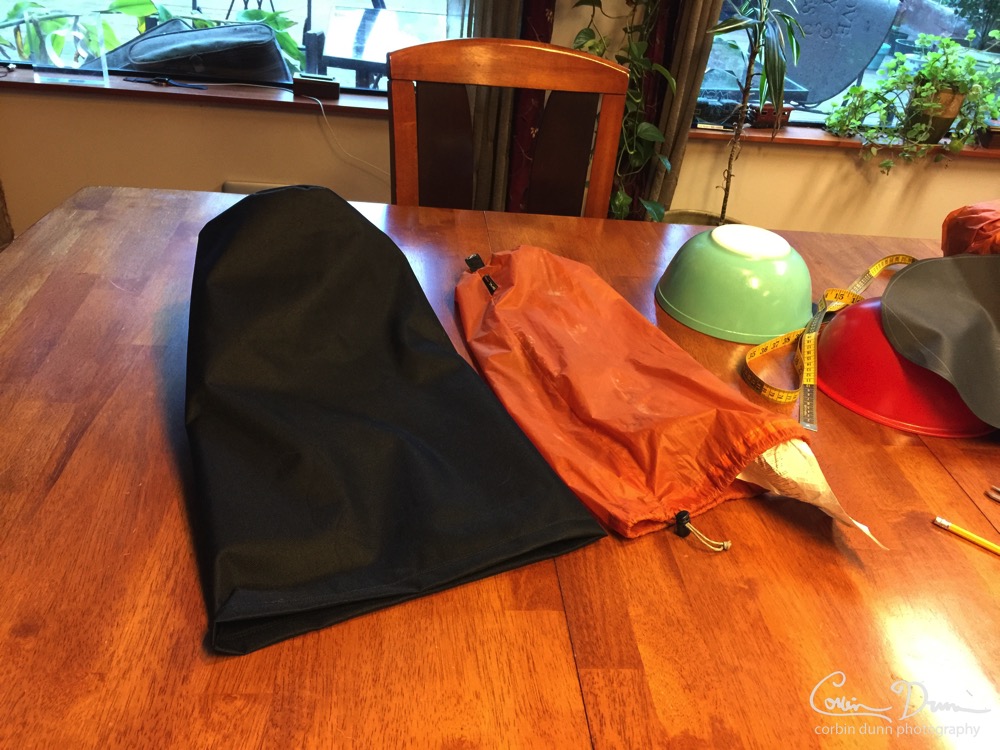 The black bag has a nice cinch strap just like the old bag. It weights quite a bit more, but it is a LOT more durable. I stuff the tent into this bag, along with my sleeping bag, sleeping mat, and some clothes! Unfortunately, I realized that running it lengthwise against the rack was making the unicycle too rear heavy. So, instead of strapping it parallel with the rack, I strapped it perpendicular: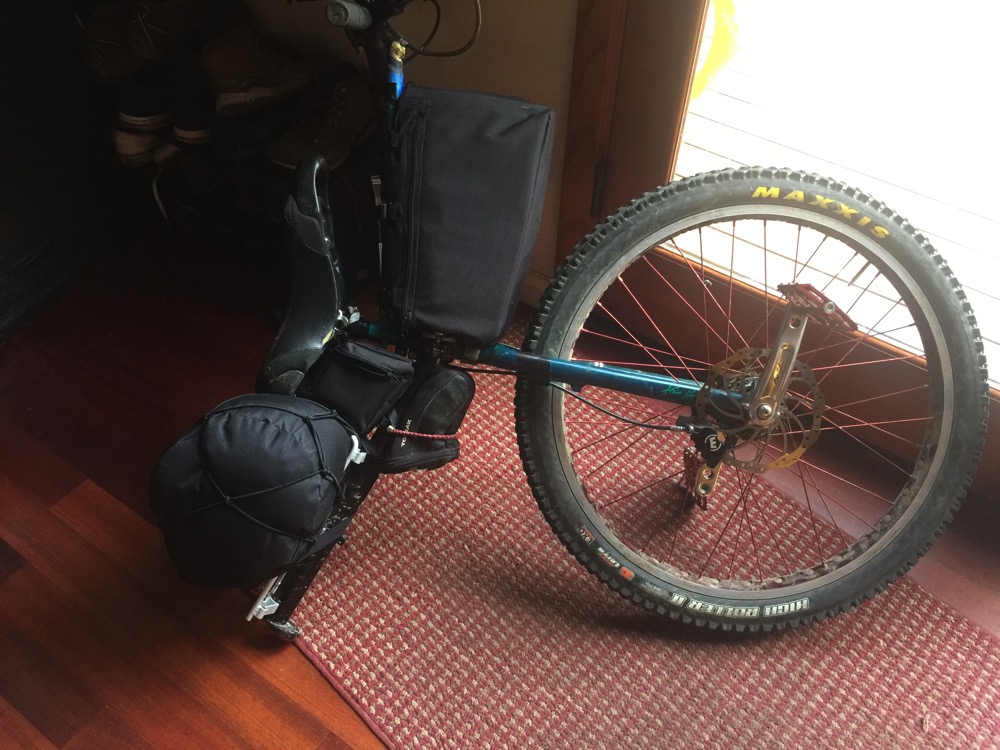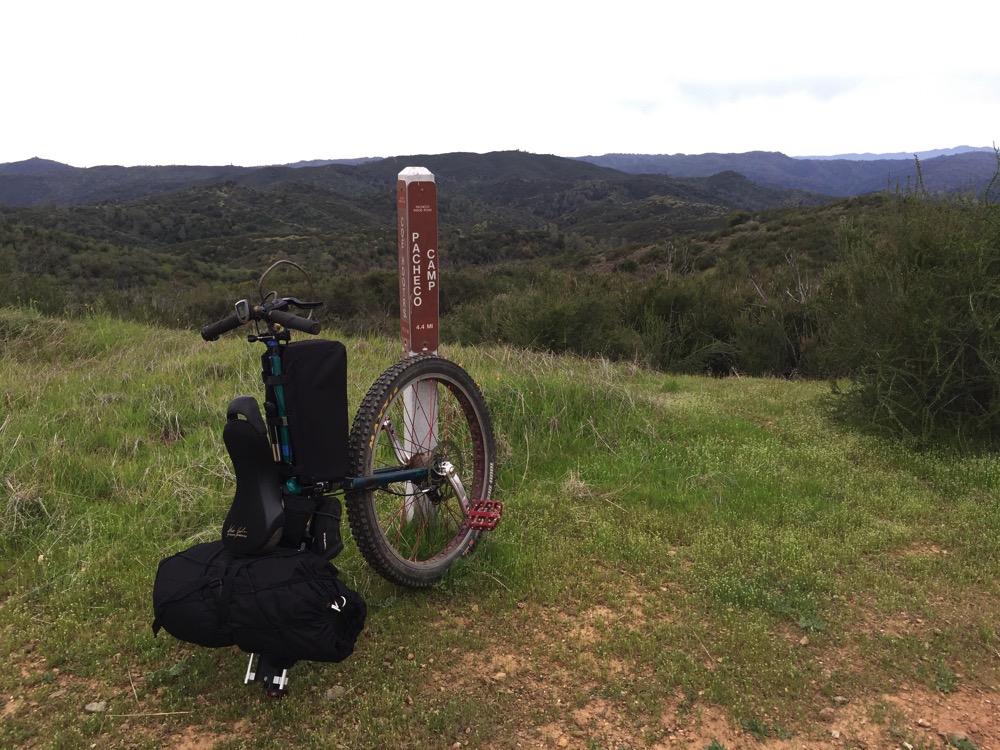 This pulls more of the weight closer to the center of the unicycle and makes it a lot more stable. It is more difficult to mount, but I quickly adapted to doing a slight side push. Eventually I'll make some videos of me doing this…
The last bit I did was to sew up a tiny little bag to take up some empty space under the seat: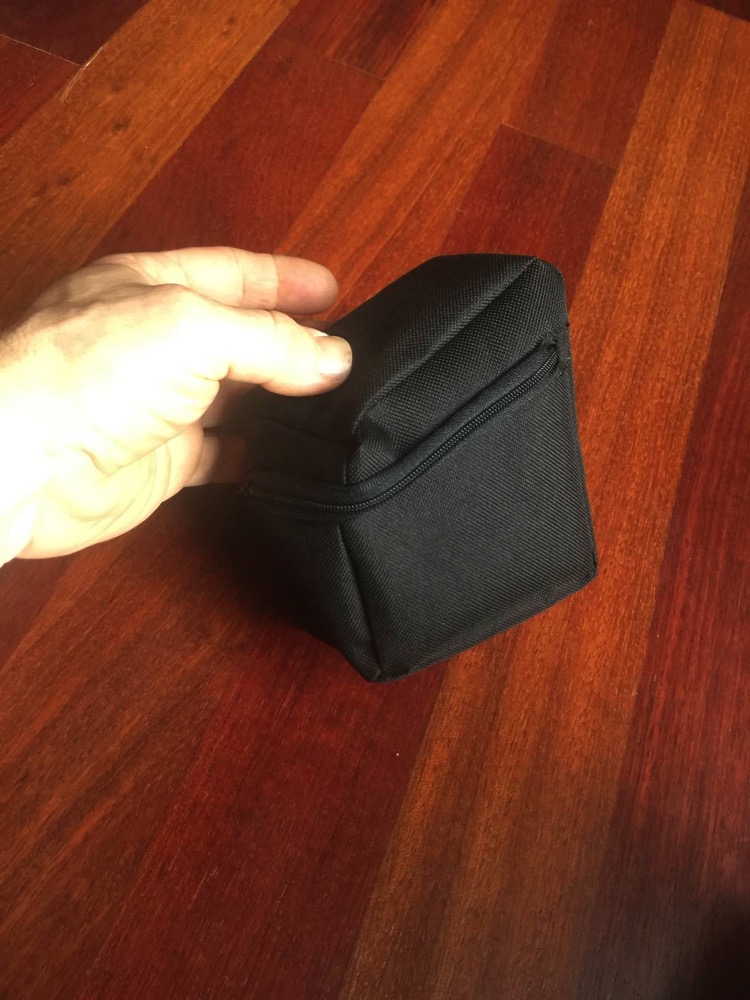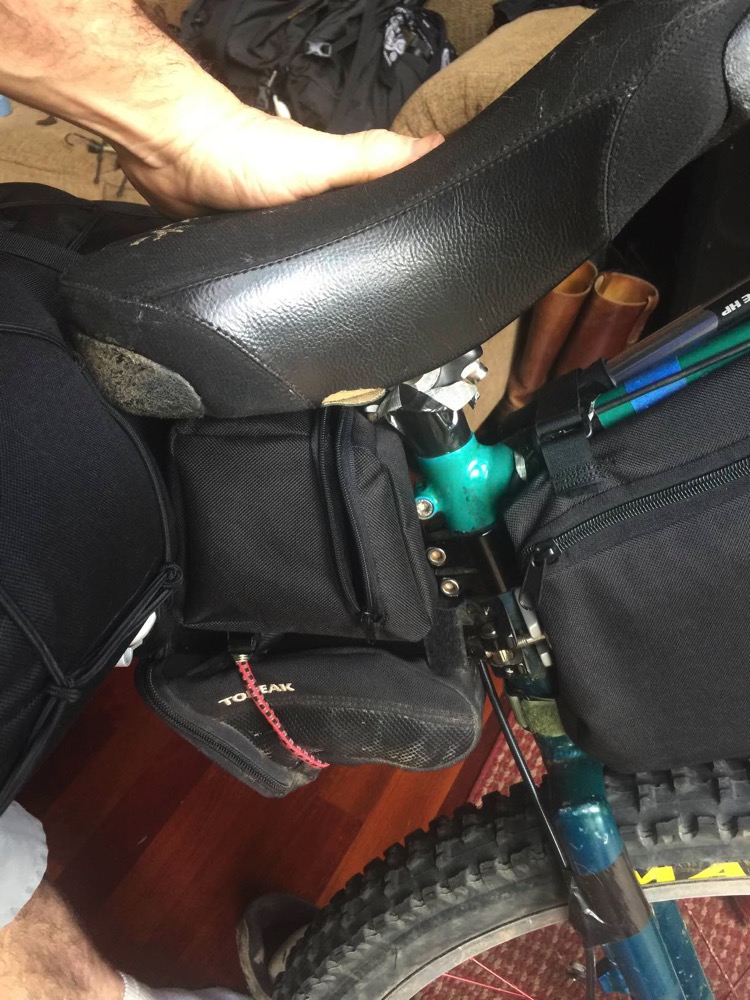 The little bag is big enough to stuff a spare tube and a few bars into it. In the above picture you can also see a standard Topeak under-seat bag that I had on my road bike; I just sewed on an extra strap and put it underneath the uni to hold my basic tools.
That is it! This is my current setup for the Arizona Trail via a KH26 mountain unicycle: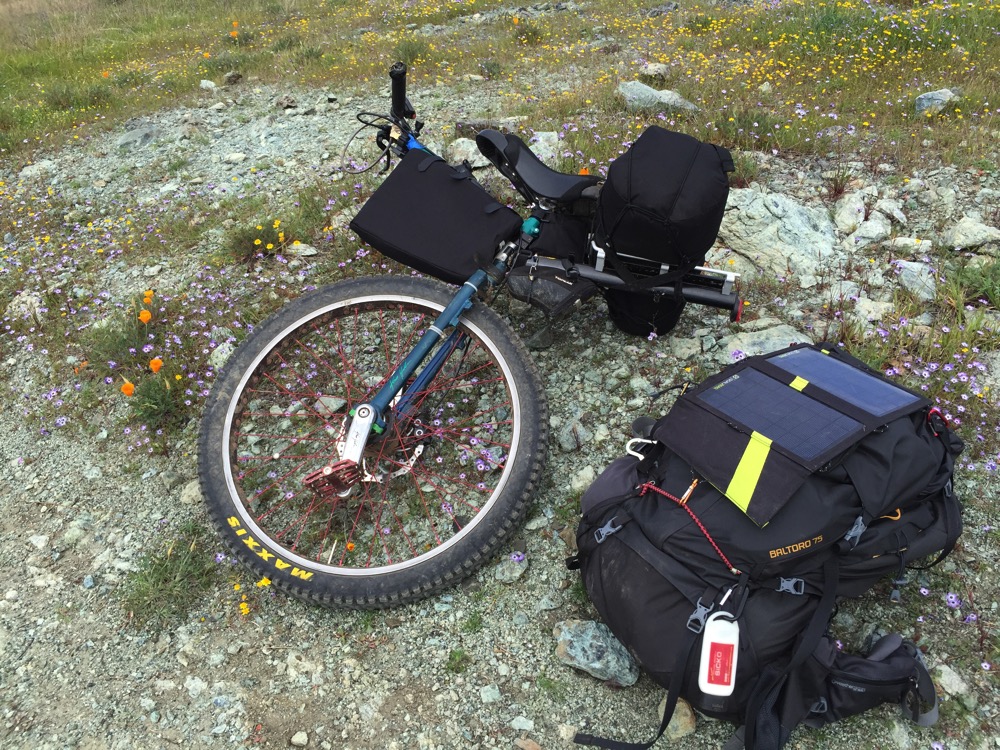 ---
---
In April 2017 I'm planning on riding the Arizona Trail via my unicycle. This will involve unipacking: carrying all my supplies for a self supported off road adventure over the course of hundreds of miles. First I needed a better custom handlebar that is more comfortable for long distance muni riding. In "Creating a Custom Unicycle Handlebar Part 1" I talk about my goals for the handlebar and compare it to some old designs. In Part 2, Fabrication I have a video of me fabricating the new handlebar. Definitely watch that if you are interested in creating your own designs. I encourage you to copy what I did and expand upon it to make it better for you!
Now, it is important to never ignore what other people have done before you. There have been discussions on unicycle panniers from as early as 2003.  Back in 1992 Mark Schimmoeller road across the country on his unicycle and wrote a book, "Slowspoke: A Unicyclist's Guide to America." I'm not the first person to do unipacking or unitouring, and there are a few notable people out there that have done awesome trips. Unipacking is doing an offroad unicycle trip on a smaller wheel; usually a 26" or 27.5" mountain unicycle. Unitouring is a mostly on road tour on a 36" unicycle. The setups need to be slightly different, as a mountain unicycle will encounter more rough terrain, steeper terrain, and difficult tight switchbacks. 
Cary Gray and his massive unitouring.
He has taken his 36" unicycle over 15,000 miles, so he definitely knows what he is talking about. Check out his unicycle details page and the video below detailing his unicycle setup:
I first learned about Cary Gray back in 2013 when he won the Kris Holm Evolution of Balance Unicycle Grant. One of my close local friends, Nathan Hoover, helps support the grant, and I recall him talking about this crazy adventure that some guy proposed. Check out details on the grant at http://evolutionofbalance.org
Cary is one of the first people to create unicycle panniers, having done so in 2012. His panniers are massive, but allow him to take all weight off of his body and put it on the unicycle frame: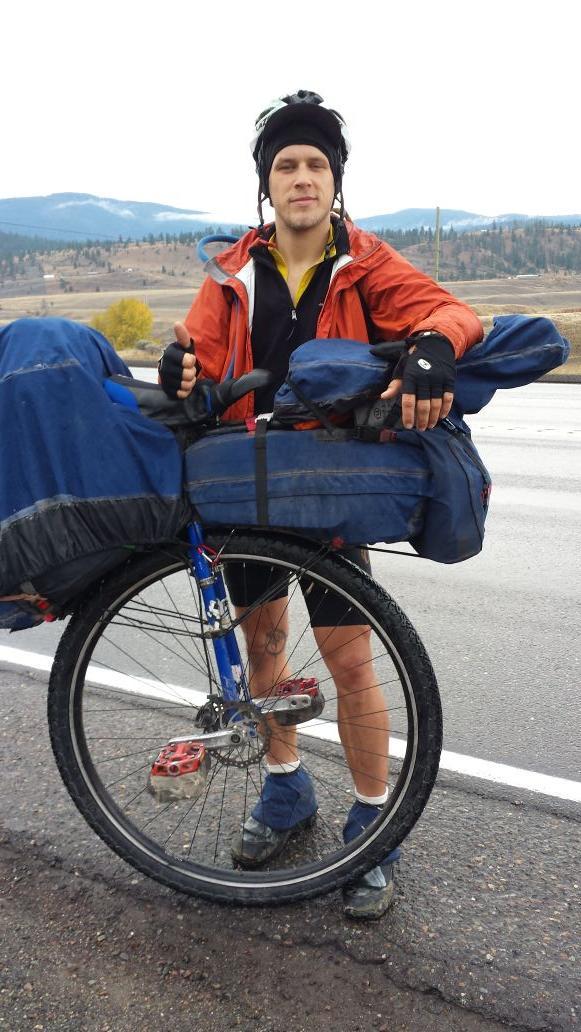 The general idea is to strap on some custom panniers to the front and rear handlebar that can distribute the weight. The front panniers have to be thin enough to not rub on your legs, and the rear can be larger but might make it more difficult to mount.
Having weight off your body is a huge win: you will get less "saddle sore" and less overall fatigue. I know this from personal experience: if you have a heavy backpack, then any additional pedal effort is multiplied as you stand up on the pedals and take your weight out of the seat. When your weight is in the seat, it is a TON more than usual, and over time this wears down your buttocks and crotch.
Also be sure to check out Cary's older wordpress page on "My Gear". It has a lot more details and pictures on exactly what he has done. Cary: Thanks for sharing! It is inspiring. I hope to meet you some day.
Check out Ed's Facebook page and Ed's YouTube channel. He also has a page highlighting his unicycle kit. I'm going to copy a few pictures here in case the site ever goes down. Ed got ahold of Cary and had him make some custom unicycle panniers: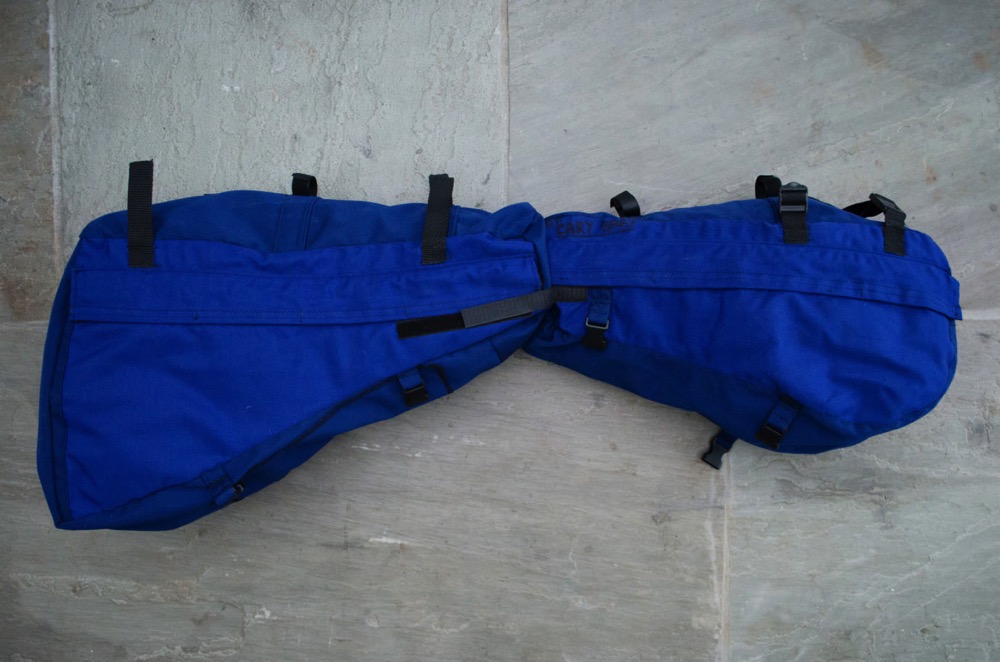 Cary's sewing skills are lightyears ahead of mine, and they they are packed with a ton of great ideas on how I should make my own. The attachment mechanism can be seen below; a straight bar that supports the main weight of the bag with a fender to prevent it from rubbing on the tire, along with maximizing vertical space.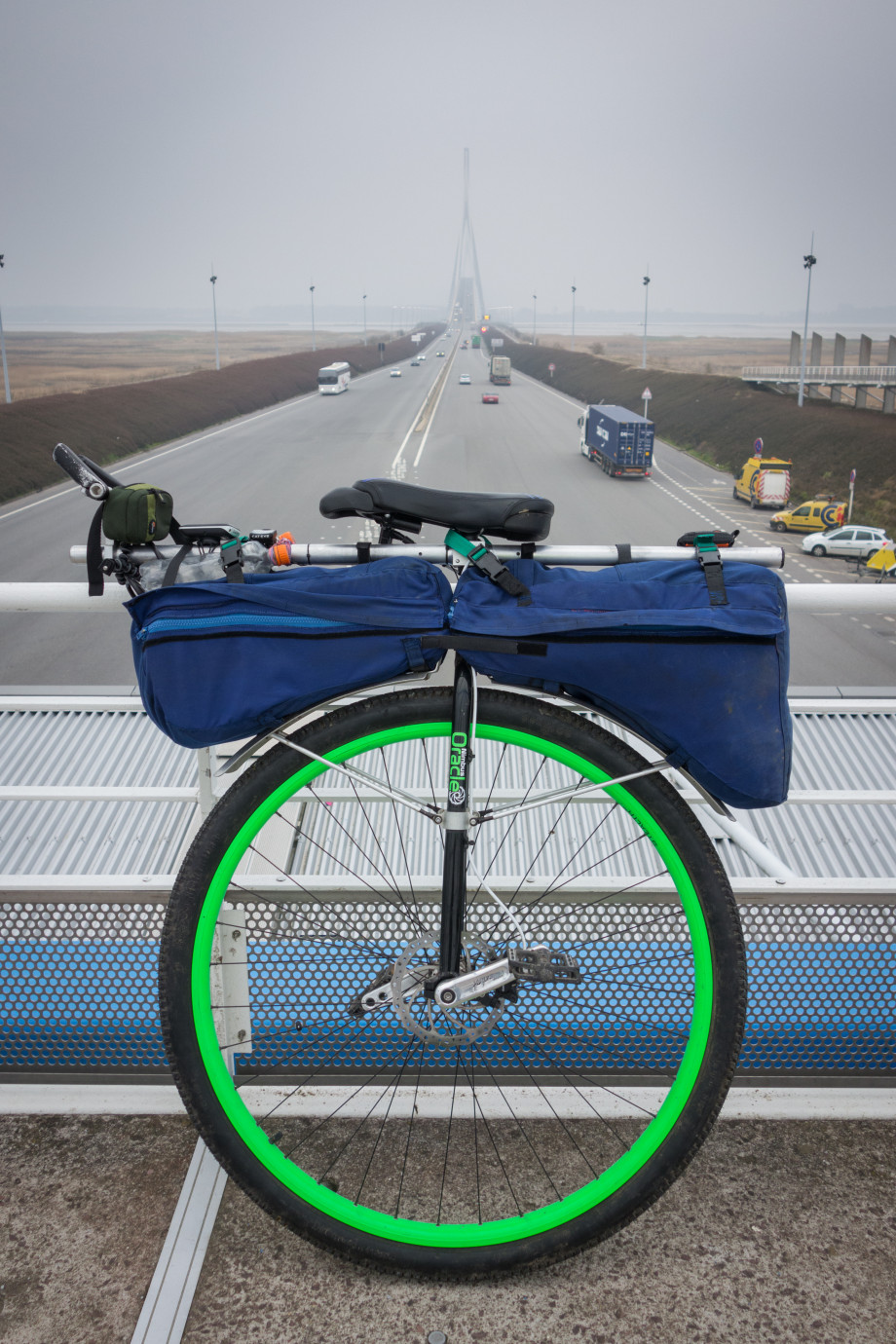 This type of setup seems to work pretty well for people. It does require a taller person to be able to ride it; you can't lower the seat anymore than shown in the pictures, so a person of my height at 5'6" wouldn't be able to ride it. If you are taller it will also waste some space under the seat.  
I hope to try and meet up with Ed once he reaches North America.
Divide By One: Gracie Sorbello and Matt Burney
Website: http://divideby1.blogspot.ca
Back in 2009 Grace and Matt did the Continental Divide on unicycle. This is an awesome self supported adventure that preceded Cary's efforts but were also supported by the Kris Holm Evolution of Balance award.  They choose to go on ungeared 29'er mountain unicycles, and carried most the weight in traditional backpacks with a few bits of water bottles attached to the frames: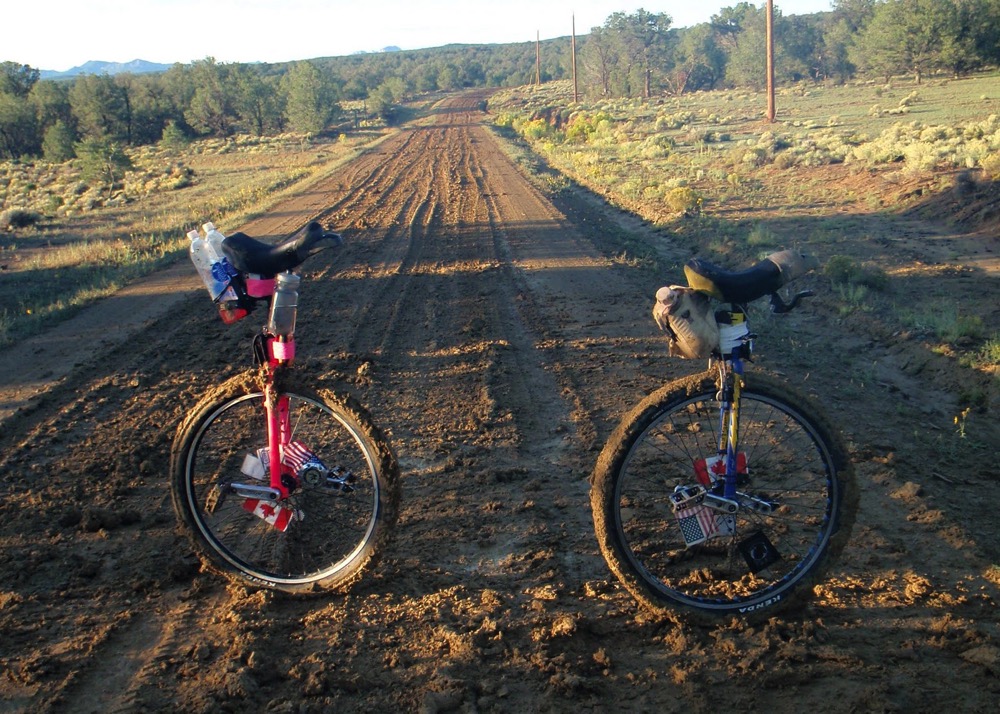 This was an incredible feat of strength and endurance and goes to show you that you can do long distance mountain unicycling adventures without heavily modifying the unicycle itself. 
Matt's video below shows a lot of awesome shots of them riding and their setup:
I'm going to opt for more weight off of my body and onto the unicycle; it is way more comfortable. 
I met Matt and Gracie in Berkeley a bit after the adventure. 
Sid and his 3000 miles from Northern Alaska to Montana
Check out Zero Point Sid's Facebook page. I met Sid back in 2008 the we did "Uninam": A supported 500km unicycle tour through Vietnam. Sid has consistently done insanely long adventures since 2006. His last adventure is along the historic Dalton Highway.  Sid is mainly doing what I consider unitouring. Check out one of his first few pictures: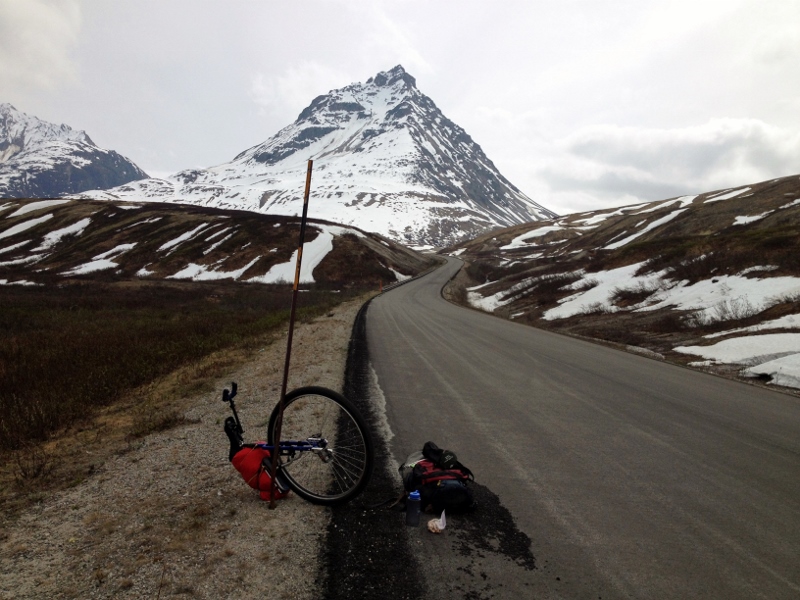 He has a rear rack that allows strapping stuff on top, along with a typical backpacking backpack for carrying the rest of the stuff. The video below shows him in action along the highway:
Anne-Sophie: Monocyclette – One Wheel Across Patagonia
Anne So's website used to be at http://monocyclette.ca but it seems to currently be down. Luckily you can still go to https://www.facebook.com/Monocyclette.ca/ and find a lot of cool stuff about there 2013 4600km trip through Patagonia. Anne So is one of the first people I know of to do true unipacking. A lot of the paths she did through Patagonia were on paved streets, but a ton of it was also offroad and required a wheel smaller than the standard 36. She went with a 29er, which is a nice alternative to the 36 for steeper off road climbs and also provides a ton more tire options.
You can also find her on twitter.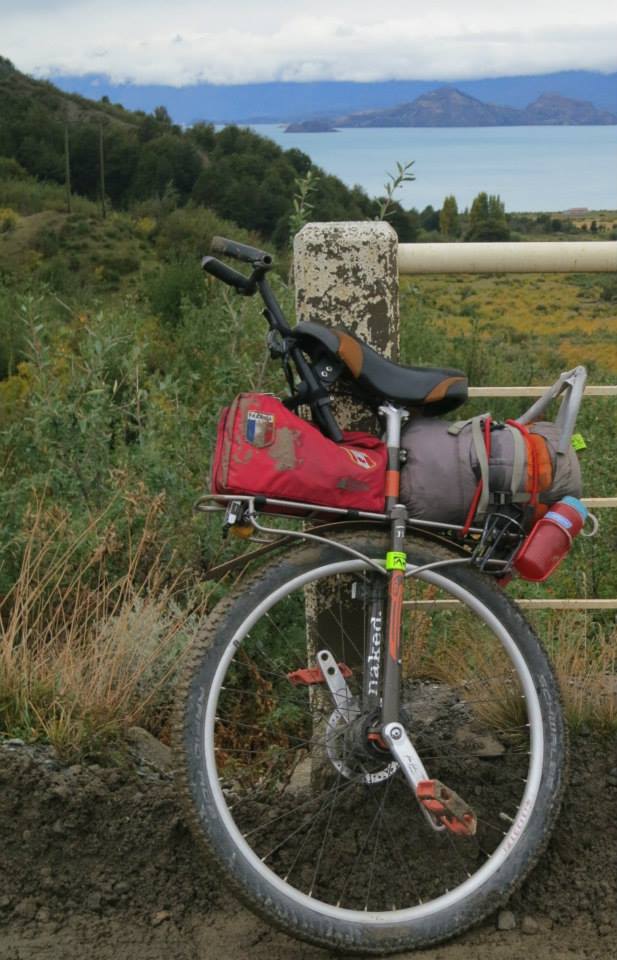 She had a custom frame made that goes with a front and rear rack system. This is actually a great idea, and I have plans to make a dedicated custom unitouring frame that incorporates some of these ideas.
An iconic picture of her on the start of the adventure illustrates how hard it is to ride with a full pack and strong headwind: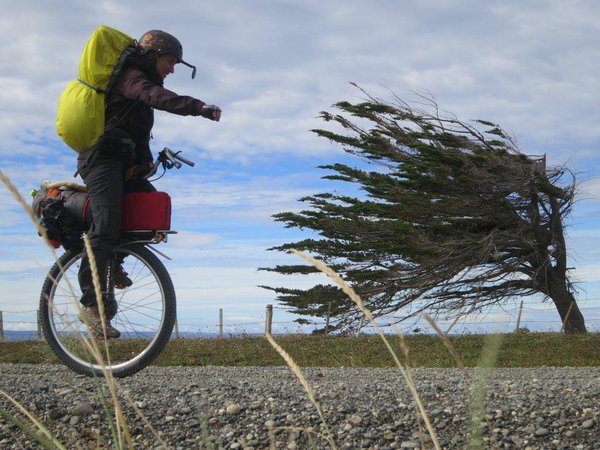 Last year in 2016 Anne-Sophie Rodet joined forces with Kelli Jenkins Carley and did a true lightweight unipacking adventure through the Swiss alps.  In 2016 they won the same grant that Carry won.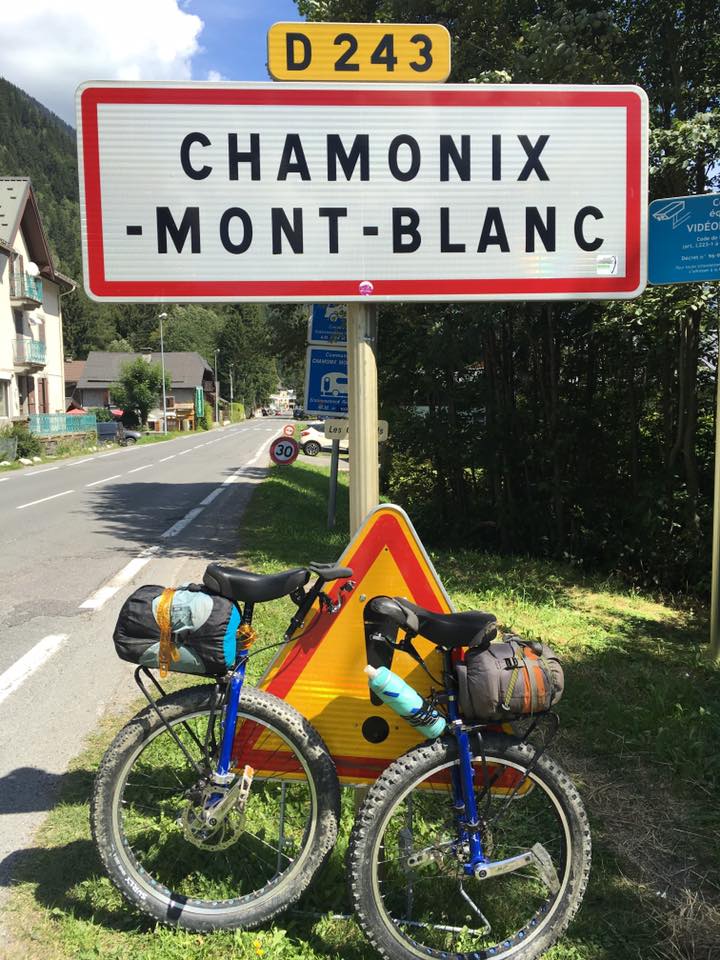 They went super lightweight by dropping down to the bare essentials, but went with the rear mounted rack system on (I think) 26" unicycles. This is one of the first true unipacking adventure: small wheels, self supported, weight on the frame, and all insane off road without hardly any pavement.
I've been friends with Anne-So for many years, and it is always a pleasure to hang out with her. 
Jamey Mossengren and the Colorado Trail
Jamey is the reason I'm going to do the Arizona trail and he is spearheading the effort. Back in 2015 he unicycled the entire 500 mile Colorado Trail; all self supported and a lot of it by himself.  Check out Jamey's Blog for some great details on the adventures.
His unicycle has a rear rack supporting the weight, and a front bag that fits underneath the seat: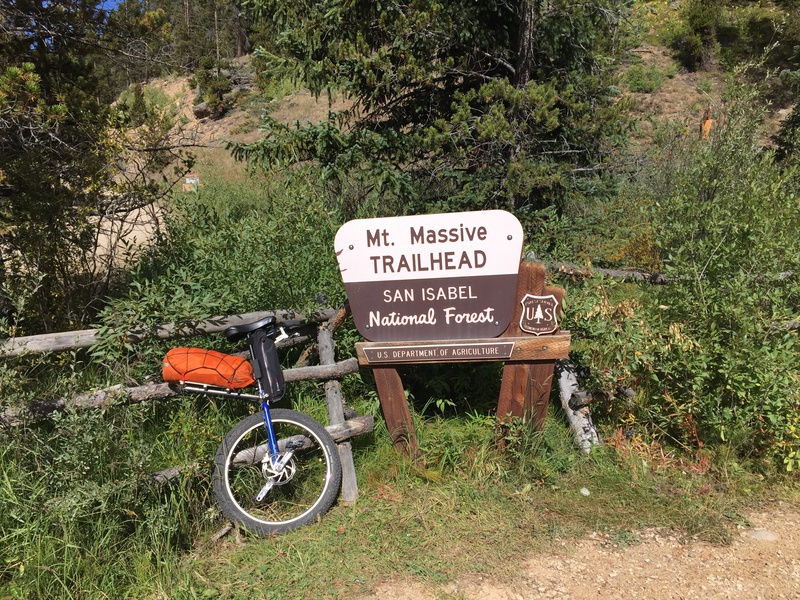 Jamey is tall, very tall. That allows him to run a handlebar bag vertically under the seat post. There is no way that someone of my height could do something like this. This is some true unipacking: lots of weight on the unicycle, and out on the trail for long periods of time.
I've known Jamey for many years, and I'm looking forward to doing the Arizona trail with him!
Others
I know a lot of other people who have done supported and unsupported unitouring and unipacking, but the above people have more of an internet presence and press coverage.
Next, we will see my designs and efforts!
---
---
In my last post, I talked about the setup and why I want to make a new handle bar for my KH26 geared mountain unicycle. Here's a video detailing the construction of it:
---
---
Here's a few pictures that go with my last video and post:
My previous KH26 handlebar that I had made: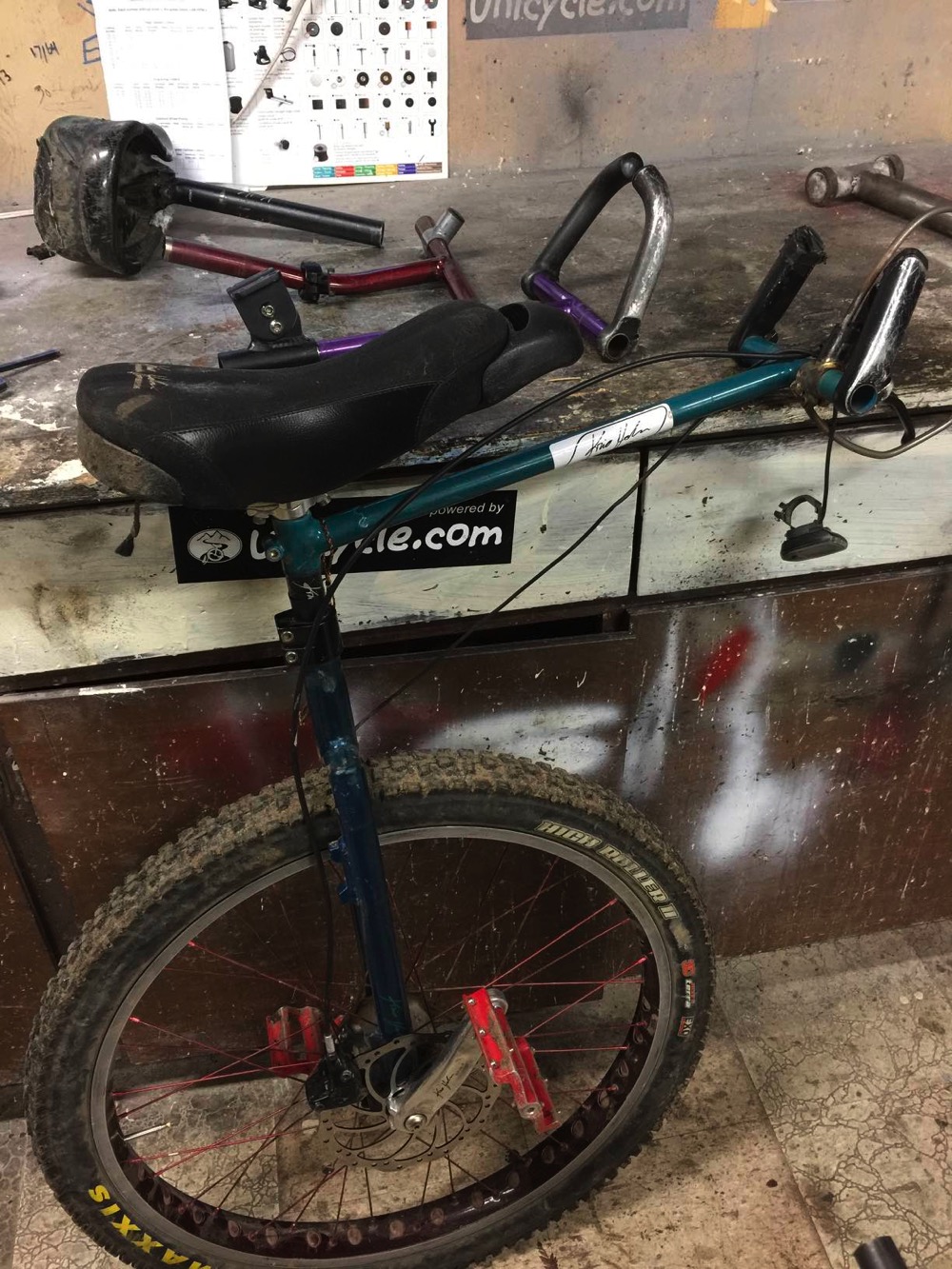 Older handlebars: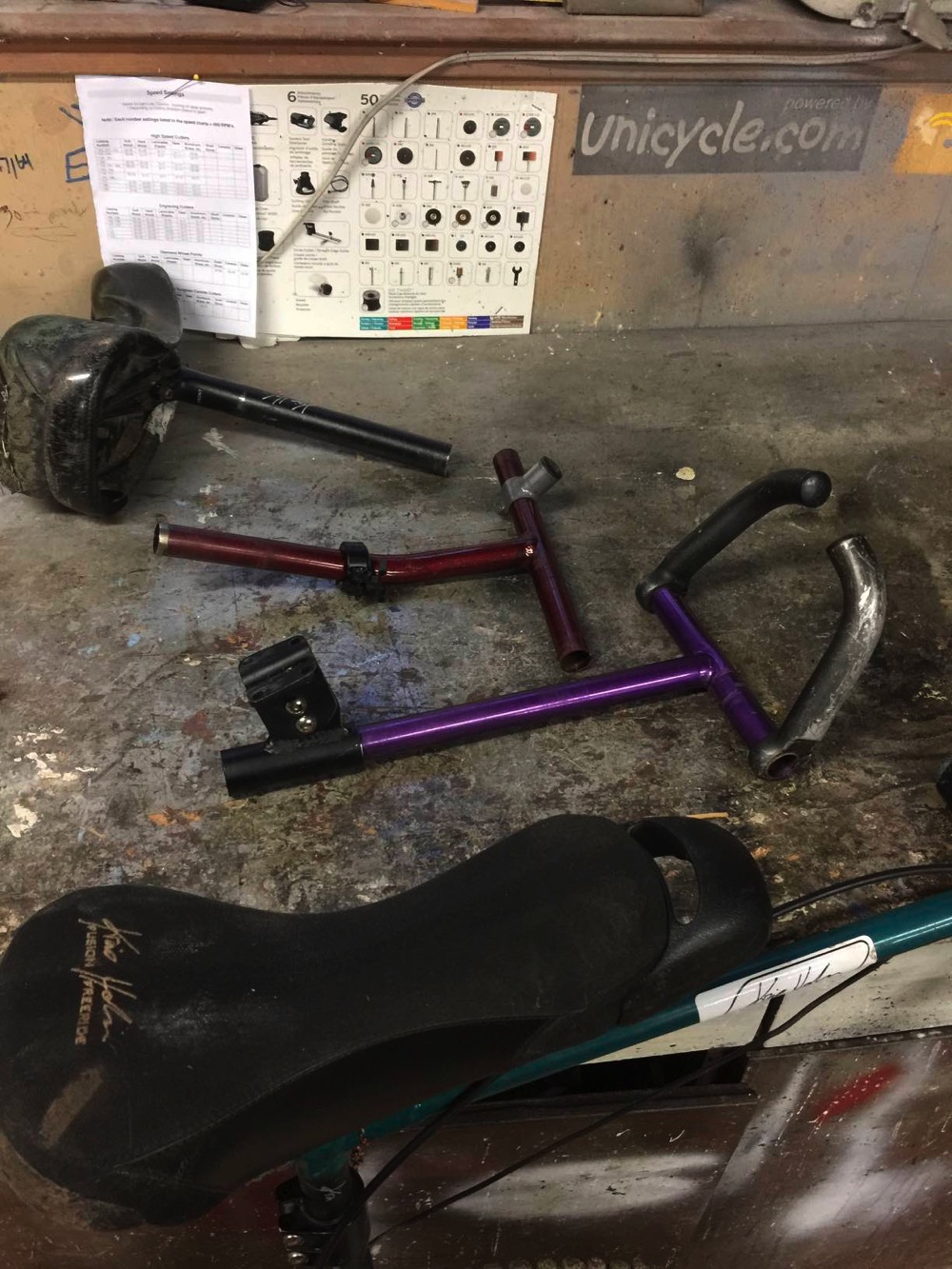 Post modifications, and experimenting with strapping a tent under it: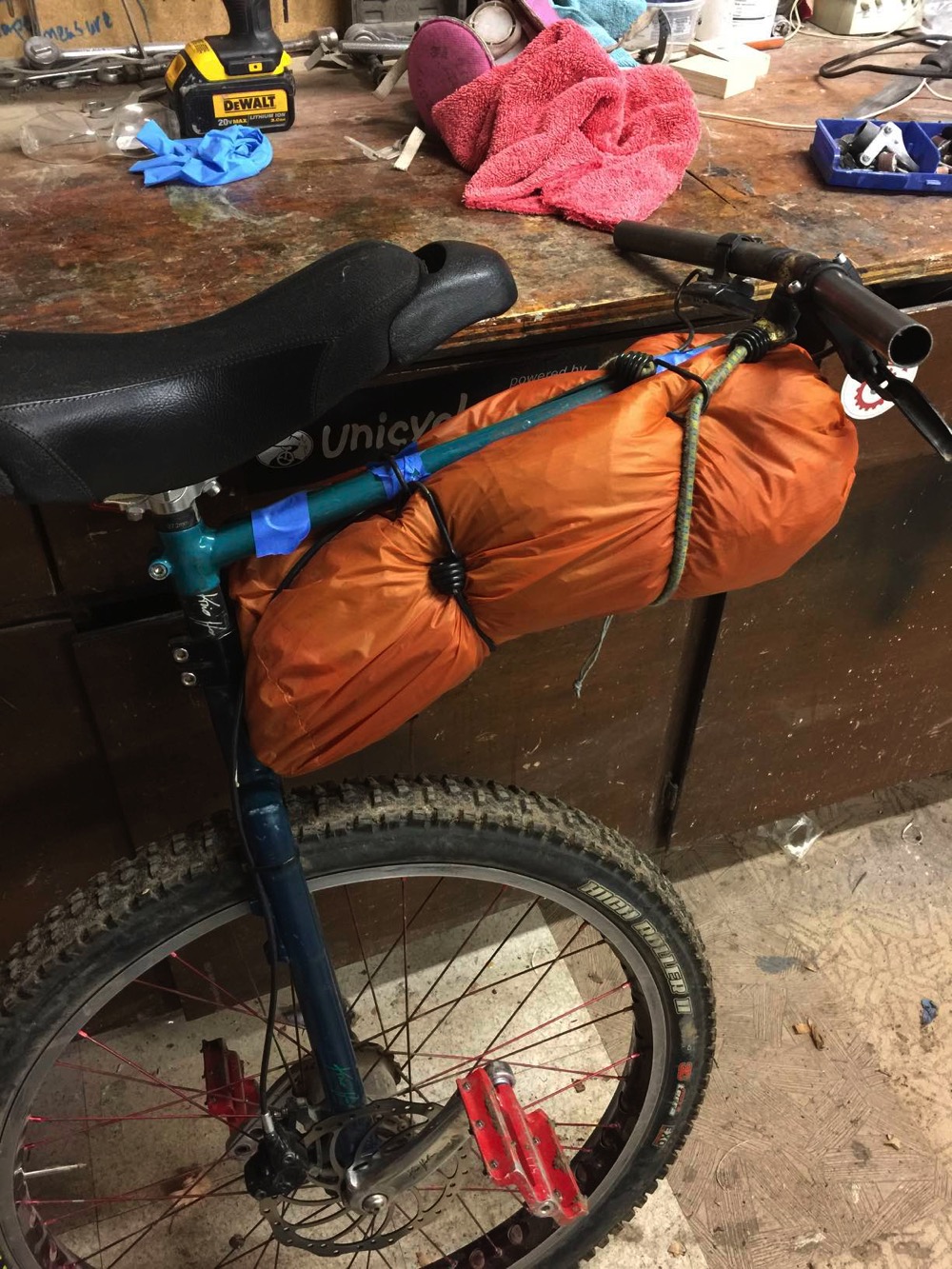 The tent here doesn't work; it is too large and rubs on my legs. Continue on to newer posts that will talk about a custom bag I'm making!
---
---
I've been making custom unicycle handlebars for over 10 years. I've refined the shape quite a bit over the years and I always have been tending to go wider and wider, and more mountain bike in style.
Some of my original designs include the "Unibar", which I fabricated from old bicycle handlebars: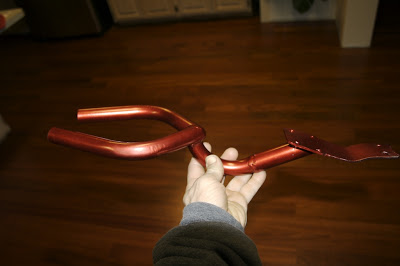 The old bike handlebars were really strong, but the metal base plate added a lot of weight to the overall design. I also didn't really like the angle very much. Check out a few more pictures and the Sketchup 3D file: http://www.corbinstreehouse.com/blog/2007/12/unibar-version-3-sketchup/
Some other experiments I've done (this isn't all of them!):
* Basic T shape for my Corbin V36 unicycle. I didn't like the angle (there was none!)
* V-Shape for the V36 – my current preferred handlebar.
* Brake Protector for the V36; a modification to protect the brake; it works pretty well.
* Munibar: A custom close handle muni specific bar. I liked the comfort, but it was too heavy. 
* 36er initial handlebar: This put too much stress on the seat and flexed too much.
* 36'er adjustable handlebar: This let me figure out what geometry I liked. I rode this for a few years.
* First basic T-Bar: The first of my design that is a basic T for bar ends and attaches to the frame. Made from old bikes.
* Basic T-bar: I started making this "basic" shape that allows attaching bar ends. I made a few of these, and they work pretty well.
* Brake adapters: These allow the brake to be inline with the bar ends.
The "basic T" shape became a standard for what production handlebars have become. However, most production handlebars still attach to the seat, such as the KH T-bar. I dislike this, as it flexes too much, and requires your seat to be extra beefy and reinforced to avoid breaking. Instead, attach it to the frame and start making the seats lighter. 
 I made the original handlebar for my KH26 back in 2014: http://www.corbinstreehouse.com/blog/2014/07/new-corbin-unibar-unicycle-handlebar/ and now it is time to hack it up into something new!
Enjoy the first video in the "making of" series:
---
---
I'm in the process of preparing for my next big trip: The Arizona Trail on Unicycle.
The Arizona Trail splits the state almost in half with an 800 mile vertical line from Mexico all the way to the top of Arizona. My friend, Jamey Mossengren, spearheaded the idea to do the trail. I've always loved doing adventures, and this sounded absolutely epic. 
I'm going to coin a new term: unipacking. Unicycle + Backpacking = Unipacking. Biker's already have a similar term: Bicycle + Backpacking = Bikepacking.  This differs from bike touring in that it is all offload, and the setup is usually slightly different. While bike touring (or uni touring) you generally have the advantage of riding on roads and going through lots of towns. This makes it relatively easy to find food and shelter, and pretty easy to load the bike down with heavy panniers that contain all the essentials. With bike packing and unipacking you have to carry with you everything you would need: tent, food, clothing, and people usually go minimalistic with just essential gear. You will forgo the normal panniers and opt for tricking out the frame with small auxiliary bags to carry the essentials. And you will get to ride awesome trails, without having to deal with cars and modern civilization. There are tons of great resource out there on the subject; one easy example is http://www.bikepacking.com
So, follow along on my blog as I document my adventure and setup my unicycle in just the right way!
The map below is a copy from aztrail.org showing the overall route: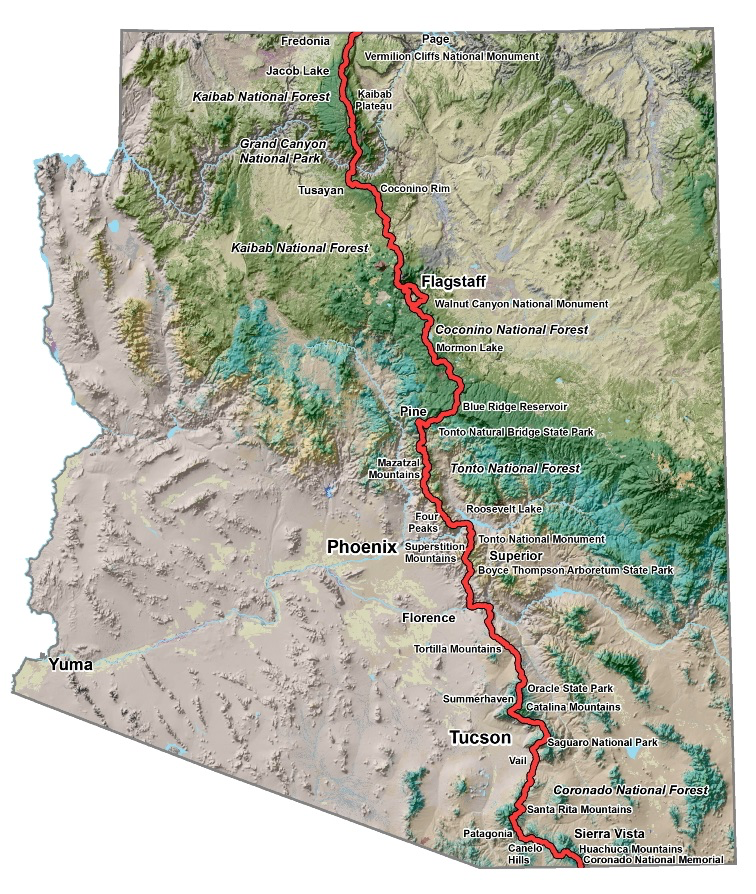 ---
---
I took this picture back in April of 2015 when I was in Nepal on a unicycle tour through the Annapurna mountain range.  Vendors with portable shops would setup their items to sell alongside the main pathway in the little villages. The night before it had snowed a ton, and we had to turn around and head back down the pass instead of completing the entire circuit. I remember the morning in great detail as it was my birthday. This picture was taken on the way back down to lower elevation. 
I hope to go back one day to finish the entire pass. The scenery is amazing and worth a second trip.
Camera: Canon 5D Mark III
Lens: Canon EF24-70mm f/2.8L USM — if you only get one lens I highly recommend this one.
Settings: 30mm focal length, f/3.2, 1/800s, ISO 100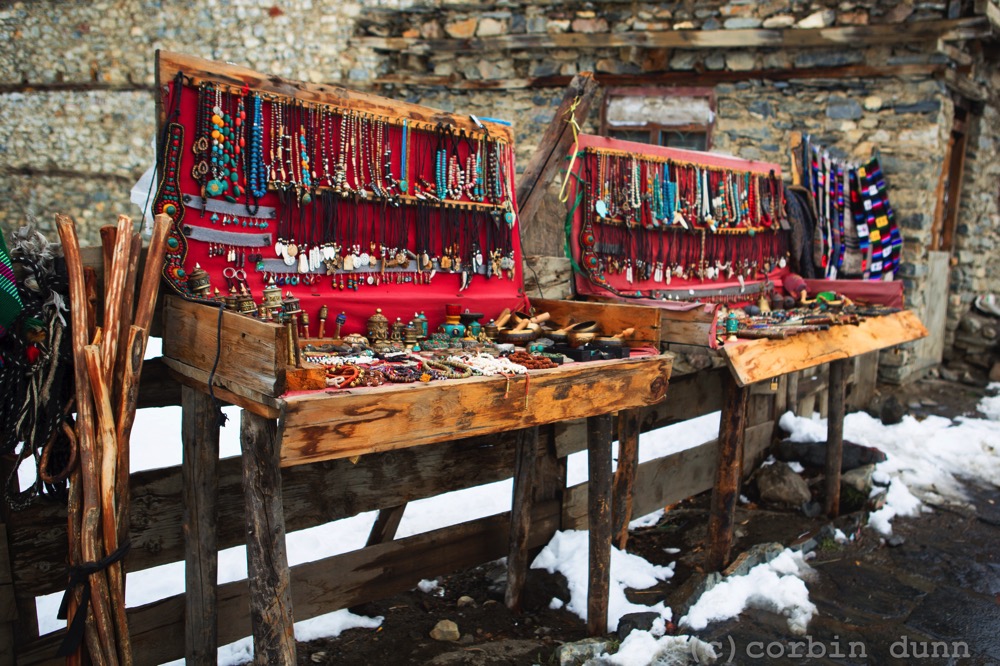 ---
Posted in
Photography
|
Comments Off

on Photography: Nepal Wares
---
---
Late last year, Lexi told me that she wanted to go to Japan. I've always wanted to go to Japan and I figured this would be an awesome opportunity for me to go check out the country. I imagined I would eventually go with a my friends Nathan and Grace, who have a strong connection to the country and would love to do some type of cycling adventure (particularly, uni!). But that hasn't panned out, and this was a great time to go. Lexi had images of skiing in super light powder in Hokkaido, and that was her primary goal. She asked me what I wanted to do there, and my response was "I want to see the snow monkeys that sit in the hot springs". Lexi did all the planning for the trip, and figured out that the snow monkeys are near Nozawa Onsen. Luckily there was some skiing in that town, and we spent a few days there. I think that town was one of my favorite part of the trip. Originally our plan was to just "play it by ear" and book things a few days in advance, but we were going to be there during New Years, and that is a primary travel time in Japan since New Years is a big deal. So we had to pre-book places to stay, or we wouldn't be able to go anywhere. I'm super grateful for her doing so much planning and work. I created a short video highlighting our favorite parts of the trip.
---
Posted in
General
|
Comments Off

on Adventures of Corbin: Japan, Starring Lexi
---
---
---
Posted in
Electric Bug
|
Comments Off

on Plug Bug: Crash update.
---
---
In October 2016 I got a wooden kayak kit. In February 2017 it finally hit the water! It took a little longer than I expected, but I'm happy with the result!
Here I am taking it in the water for the first time. I worked from home this day and quickly left for the Santa Cruz harbor as soon as I was done. It was a dark and stormy day, but I still wanted to try paddling in it. Lexi gave me a hand getting it in the water, and I took off. The kayak handles awesome. This is the first time I've ever sat inside a kayak; all other times I've been on cheap plastic kayaks that are a sit on top style. This machine moves fast, and cuts through small waves without any effort. The storm was brewing a little too strong for me to leave the harbor, and I can't wait to take it out again.
---
Posted in
General
|
Comments Off

on Chesapeake 16LT Kayak: It hits the water
---