---
In my last unicycle handlebar experiment I did a simple T, slightly bent forward. This design was too close to my knees, didn't feel very good on my hands, and felt a bit unstable.  I made a new handlebar with a slight inverted V, and a more forward position. I also put some comfy handlebar grips on them from REI, sort of similar to these ones from Amazon for $6. I think I paid more at REI, and next time I'll get a set from Amazon as I can get free Prime shipping. Here are a few shots of the setup on my V 36 unicycle.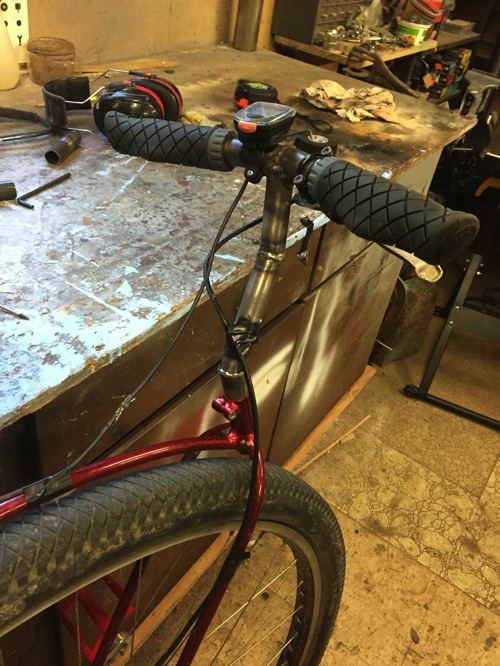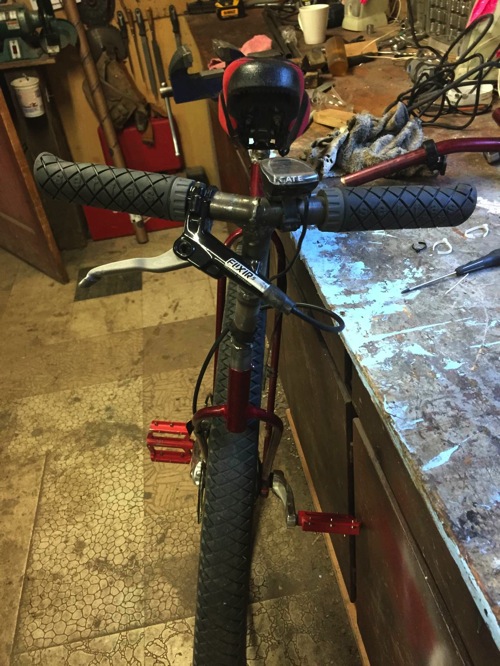 The V has some extra cuts and re-welds, as I experimented with different forward positions. I settled on pretty far away and up high enough so my knees have plenty of clearance. This also makes for quite a comfortable riding position! I like it a lot. So far I have about 50 or 60 miles on this setup. My first setup was giving me some hand and wrist pain. This has been super comfy with zero riding pain (so far!).
It is hard to get a good feeling for it from the pictures, so here's a walk around video:
---
---
House in Nepal, Himalayas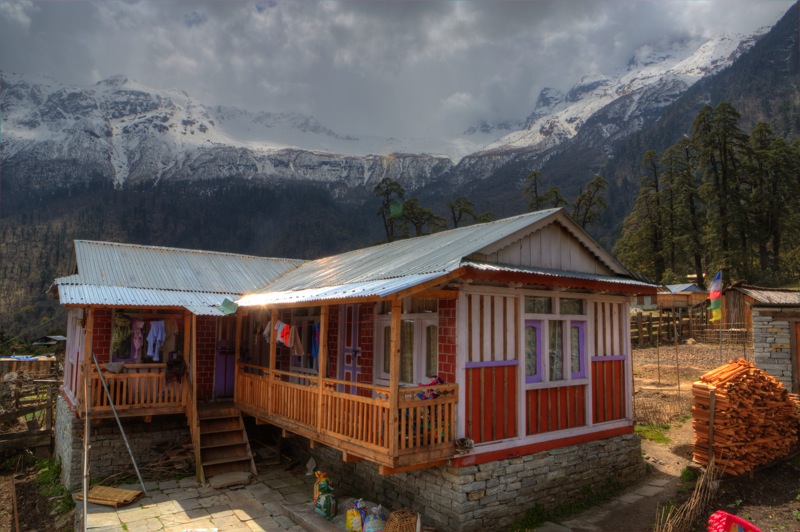 Nepal. April 2015. 5 exposure HDR Canon EOS 5D Mark III
, Canon EF 24-70mm
lens. No tripod; supported on the edge of something.
HDR image made with Photmatix. Buy it on Amazon: Photomatix Pro 5
on an Apple iMac.
---
---
I occasionally want to download all my blog posts from WordPress. This is easy to do in the web config – go to Tools -> Export and "Download Export File".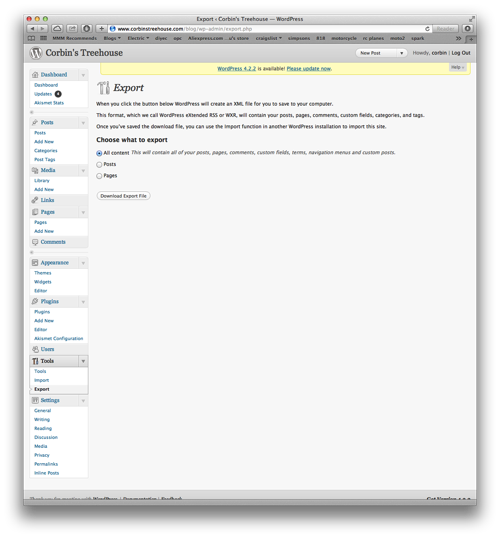 The download would max out at about 8 MB and just stop, probably because I have a relatively slow connection at home. I'd get a fatal error at the end of the file:
Fatal error:  Maximum execution time of 30 seconds exceeded in... on line ...
To fix this, I need to change the "max_execution_time=30″  to something higher (like 500), and then lower it back down to make sure the server doesn't do something bad (timeouts are good for general blog work!).
I use dreamhost, and here is how to set the value in the PHP.ini: http://wiki.dreamhost.com/PHP.ini
Note that the best way to find what PHP you are running is to login and do a "ps aux" to see what PHP processes are actually running. My dream host page says I was running 5.4, but apparently I'm stuck on 5.3!
---
---
I do a lot of adventures. My last adventure was unicycling the Annapurna Circuit in Nepal. I wasn't planning on having a lot of access to electricity, so I wanted to get a portable solar panel for the trip.  I'll share my notes and research in case you are looking to do the same.
Goals: 
12 volt output (for my DSLR batteries)
Minimum 5 watt output (7 watts or more ideal)
Fairly durable
Ideally regulated voltage (but not essential)
Ideally waterproof, or weather resistant
Some type of battery system would be nice
Optional: USB outputs
The lighter the better
The cheaper the better
I bought the Goal Zero Guide 10 Solar Panel Kit — in the end, I decided on this one because I could buy it in person at REI and use a 20% off coupon and dividends to make it really affordable. Several of my friends on my Nepal trip also had Goal Zero panels and we could chain them together (I did this once — so, that wasn't all that useful of a feature). The Goal Zero Nomad 7 solar panel (which is what is in the kit) is small enough to strap to my camelback and ride with it on – this worked out quite well to charge my phone while riding. I found the USB battery pack was essential for charging it; otherwise it wouldn't work all that well directly off the panel. The battery stabilized the power output. 12 volt charging of my DSLR batteries didn't work all that well; I needed a lot of direct sun, and a lot of time to do it. Instead, I found power outlets to top them off (and bought two spare Wasabi power 5d battery packs)
Monocystalline vs Thin Film cells: Thin film seem to be much better suited for indirect sunlight, and are usually really light weight for the same wattage as monocyrstalline. However, they require at least twice the surface area! For deploying while riding, this won't work. But for deploying while stationary, that is totally fine.
 My research led me to the following:
---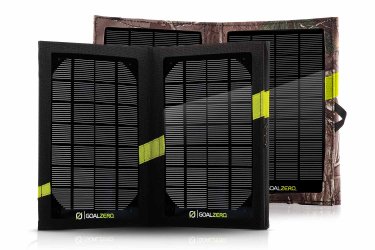 Goal Zero Guide 10 Solar Panel Kit (What I bought)
$111 on Amazon — Amazon prime shipping (a plus!)
7 watt solar panel
Guide 10 battery pack — 11Wh, with 4 replaceable AAs. Can charge AAAs too! This is an added bonus for me
Nomad 7 panel size:  9 x 1.5 x 17 in (22.9 x 3.8 x 43.2 cm)
Nomad 7 weight: 0.8 lbs (363 g)
Monocystalline cells (relatively heavier, but smaller surface area)
 Notes: Small in size, but heavy. Could easily be strapped to my backpack.
---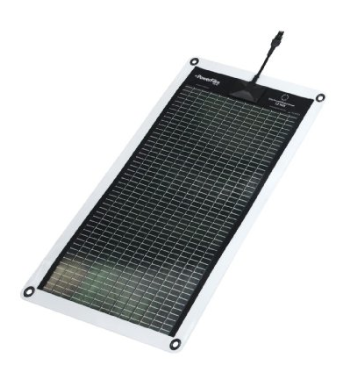 PowerFilm R-7 Rollable Solar Panel Charge
 $132 on Amazon – has Amazon Prime shipping
7 watts
no battery
368.3 mm / 14.5 inches Length: 584.2 mm / 23 inches
Weight: 0.27 kg / 0.6 lbs
Waterproof, rollable to a small size
Notes: This one would probably be better at charging my DSLR off 12 volt, but I would also have to buy a 12 volt USB charger to charge my iPhone. And no battery backup, for a higher price!
---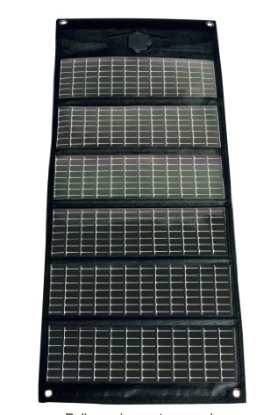 PowerFilm 5W F15-300N Foldable Solar Charger
$112 on Amazon, also has Prime
5 watts (a little on the lower side)
no battery
not waterproof (I think that would be fine…do you really want to charge stuff when it is raining?)
6 onces / .17 kg (very light!!)
Folds to a very small size
I think it's output is unregulated; so you need a 12v to <something> adapter that regulates the charging
Notes: There is a cheaper PowerFilm USB that would work nicely if you don't need 12 volts. 
---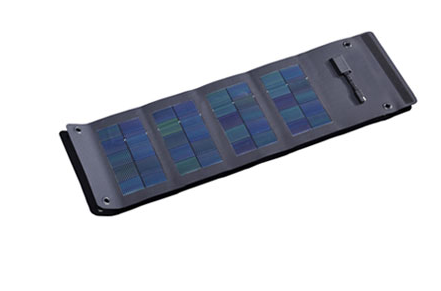 $94 (plus shipping) – available on Go Green solar or California PC  Couldn't find on Amazon.
6.5 watt (15v at 433mA)
Unfolded: 9" x 29" (229 mm x 736 mm), Folded: 9" x 5" (229 mm x 127 mm) (small!)
Weight: 7 oz (198 gm) (very light!)
Notes: This is what I would have gotten if I had more time. I would have tested it and gotten some 12V USB chargers, and a small lithium battery (and charger) to go with it. I just didn't have time, and in the end, my Goal Zero was cheaper with the coupon at REI.
I was going to pair it with a Voltaic battery system
---
 Others: http://www.voltaicsystems.com/7-watt-kit - looks good, $112, but I wasn't sure about it..and about getting it in time for my trip. The voltaic systems ones look MUCH cheaper than goal zero, and more power or more storage.
---
---
I have a Neato XV-11 Vacuum that I bought quite a few years ago when it first came out. The initial version had quite a few glitches and bugs, and I had it replaced a few times within the first few years. Neato is a great company in how they support their product, and they offered free shipping and returns of the vacuum. I really liked this kind of top notch support.
The XV-11 is now superseded by the Neato XV-12 and costs around $270 on Amazon (you can also find it on Ebay). Overall, I've been pretty happy with the vacuum as it does a great job. I'd probably buy it again, as it seems better than the competition (mainly Roomba).
However, it does have problems. The XV-11 needs its batteries to be replaced every one to two years; this isn't difficult, but they are expensive. You can easily buy and replace the batteries: XV-11 batteries
— about $30 to $50 each, but it adds up to the costs of owning the machine. It also tends to loose its set time every time the battery goes completely dead; this is annoying, and I stopped using the pre-programmed cleaning feature because of this. I hope the XV-12 fixes that problem.
Another bigger problem is a "stuck brush" error that may come up constantly, even with a good cleaning of hair and gunk from the vacuum bottom. The only sure way I found to fix this is to take the machine apart and clean the motor.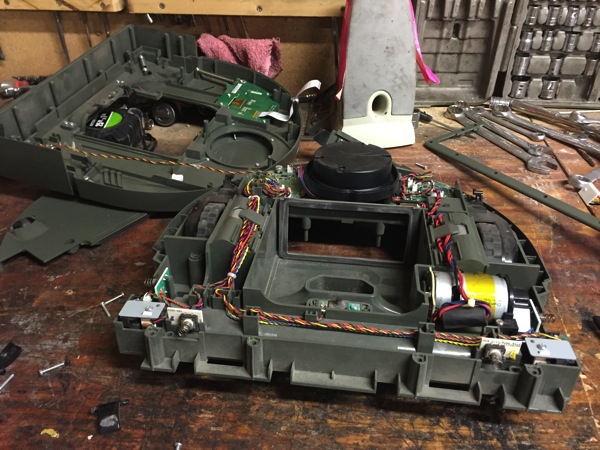 It isn't too hard to take it apart. Flip it upside down and first remove the springs on the wheels; otherwise, they pop off. Then take the front bumper screws off, and all the screws on the bottom. Flip it over (right side up) and take off the two screws by the suction intake hole and it should come up and off.  Don't pull off the LCD wire! You can remove it from the circuit board by pulling up the circuit board insert and removing the wire (but be careful). The motor is held in by a few more screws (three if I recall right), and comes out. 
The motor gets a ton of hair stuck around it and inside the rotor. I just cut it out with a sharp exacto and pull the hair out with tweezers. Then re-assemble and it will work again.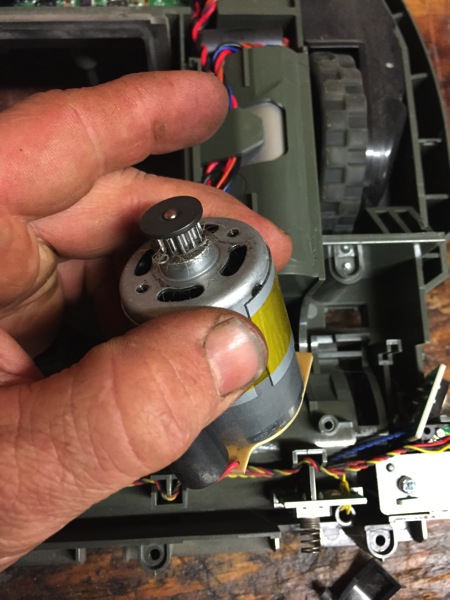 Feel free to email me questions! corbin at corbinstreehouse. 
---
---
Here are my website statistics:
http://www.seethestats.com/site/corbinstreehouse.com
I just ran across SeeTheStats — a site that imports Google Analytics data and turns it into some cool graphs that anyone can see. I'm hoping to slowly grow visitor growth on my blog by providing some sort of useful content. 
Here's a screen grab of my current stats today: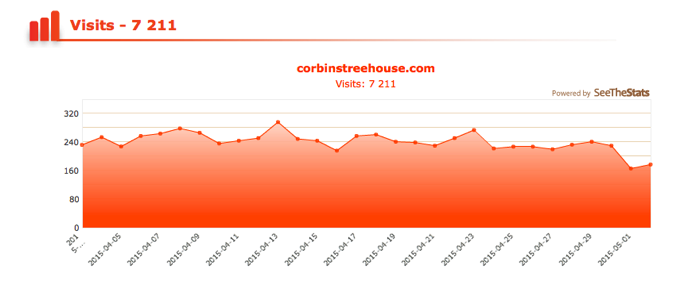 ---
---
Himalayas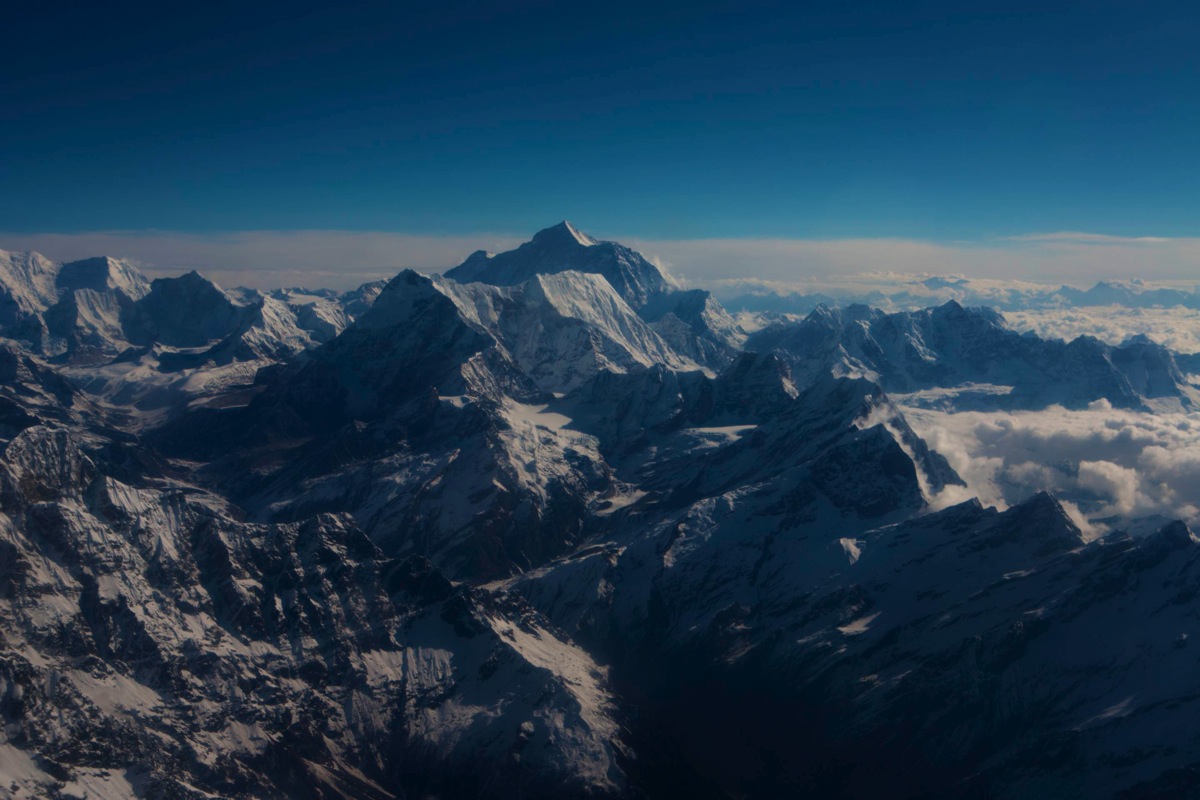 Nepal. April 2015. Taken from the air. Canon EOS 5D Mark III
, Canon EF 24-70mm
lens. No tripod; supported on the edge of something.
For cool HDR images, use Photmatix!. Buy it on Amazon: Photomatix Pro 5
on an Apple iMac.
---
---
Nepal Mountains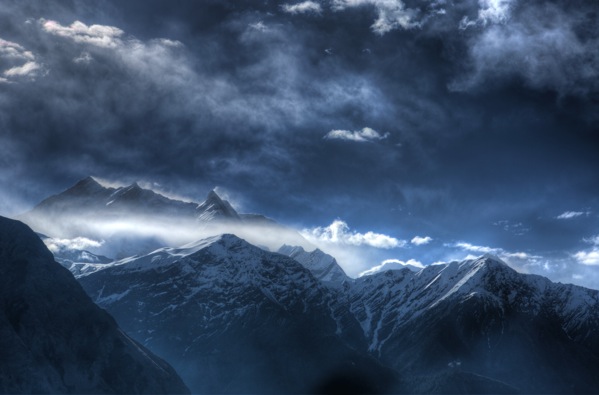 Annapurna Circuit, Nepal. April 2015. HDR from 5 exposures. Canon EOS 5D Mark III
, Canon EF 24-70mm
lens. No tripod; supported on the edge of something.
HDR image created with Photomatix Pro 5
on an Apple iMac.
---