View on YouTube: Making the Butterfly Bowl
This thing is awesome! This is my first complex bowl shape. It took a lot of careful design to make sure everything would work out, and even after three or four bowls I'm still refining the CNC operations.
It started off in Illustrator designing the basic butterfly shape. I then created the 3D shape of the bowl in Fusion 360 by using the Form tool. I used Fusion for both the CAD and CAM work.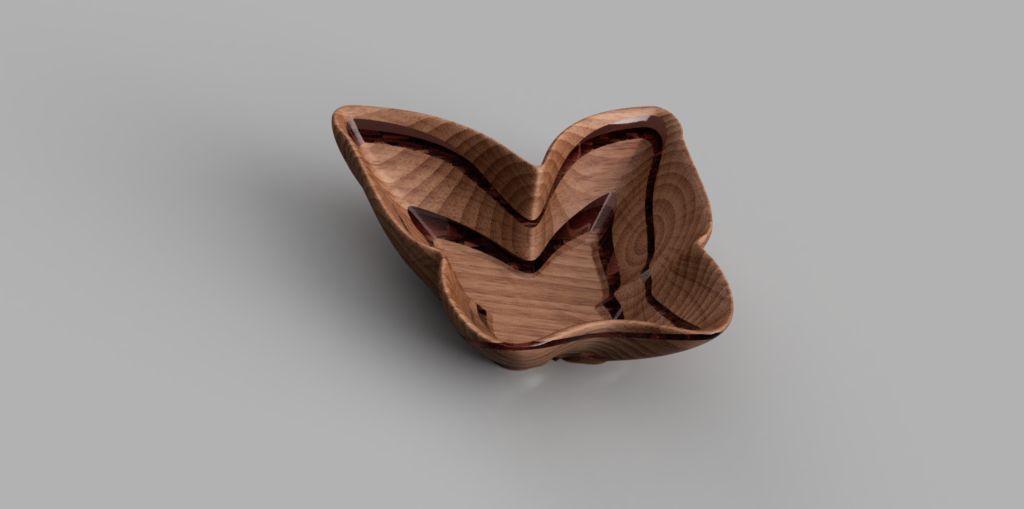 It was machined on my Tormach PCNC 1100 milling machine primarily using two bits; one 3/8″ bit for roughing, and a 1/4″ ball end mill for the finishing operation. I did also use a large bit for flatting the top, but this could have been done with the 3/8″ bit; just a bit slower. The time lapse is my favorite part of this video! Be sure to watch it. For a how-to on my general CNC bowl process, check out this detailed video:
The first bowl was done with a "sandwich" mold. Subsequent ones were done on the side; I'll probably make a video documenting that process, as it was an idea that suddenly came to me, and doesn't make much sense until you see the mold.
Bowls 1 and 2 are almost identical, and are made of: cherry wood on the bottom, purple epoxy, madrone in the middle, blue epoxy, and finally cherry on top. The madrone is a little darker in the second bowl.
The third bowl is all madrone wood. I glued up a blank to the size I wanted and then cut out some slots on the band saw. I designed the slot locations in my model to make sure it would look good. The epoxy on the third bowl was a little light on the tinting, and looks more washed out than I'd like. Still, it is one of Lexi's favorites!
I've got a few more in the works that look even more amazing than these. I can't wait to share those photos!
---
---