Finishing Options for River Tables & Other Epoxy/Wood Projects
I'm on a quest to find the best finish for epoxy river tables and similar products, such as my wood river placemats. No product is perfect, and here are my opinions on various options, ordered by preference. I prefer a satin finish, and my recommendations are based on that.
Notes: Oil based finishes are incredibly easy to apply; spray-based finishes require more equipment (like an HVLP); prices are based on March 2020.
---
Osmo PolyX Oil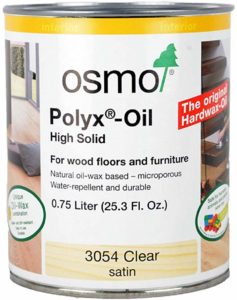 Osmo oil is easy to apply; just rub it on and wipe it off. Apply two coats; some people say three. Optionally buff it. A little goes a long way. Requires about 8-10 hours of drying between coats.
Pretty water resistant. I've been using it on a lot of boxes. I'm not sure how well it does against scratches; for most tables I've been using the next product (conversion varnish). A lot of people use it for table tops, and it is good for floors and must be very durable.
Not necessarily food safe; I'm not sure I'd use this where food would be touching it, since it is an oil.
---
General Finish Conversion Varnish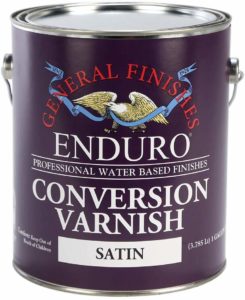 Purchase: Amazon Prime – $120/gallon
Purchase catalyst: Amazon Prime – $13 / (enough for 1 gallon)
Note: you can possible find this in other places for cheaper with the catalyst included
Very durable. I've used it for some tops, such as my black river bar top and epoxy river placemats. It will show scratches after a while due to dragging stuff over it.
Difficult to apply: requires a spray gun. However, you can apply 3-4 coats in 3-4 hours and be done with it, whereas some other finishes require 12 hours of drying in between. You do have to sand before the final coat, which takes more time.
Requires mixing with a catalyst, which has a specific pot life.
Very water resistant. Not "officially" food safe, but I have eating off it when food falls on my placemats.
This is my preferred finish for tops; it can be difficult to get it to lay without any defects. When spraying you have to wear a respirator.
---
Target Coatings (Various Options)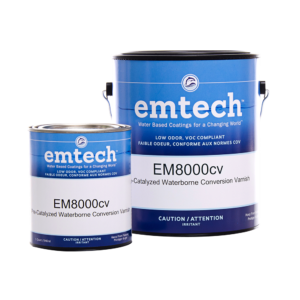 I've used Target Coating's water based finishes a lot for general woodworking projects and kitchen cabinets. They require you to spray them, which is a non-starter for some people.
Overall, I love the finish for most woodworking, but I don't like it on epoxy. However, I want to try the conversion varnish!
Spraying on epoxy is tricky: the first coat usually looks really orange-peel like on the epoxy, and has adhesion problems. If you sand it with 400 grit and spray again you'll get better adhesion. You need to do 3-4 coats, which takes time.
The advantage of this spray over the conversion varnish is that you don't have to mix any catalyst, and can pour any unused finish back in the can.
The disadvantage is that the finish isn't quite as durable as the two-part finishes – I can usually dent it with my fingernail. I want to try their Conversion Varnish with CL100 CrossLinker, and I'll probably purchase it when I run out of the General Finish conversion varnish that I have on hand.
---
Rubio Monocoat Oil+2C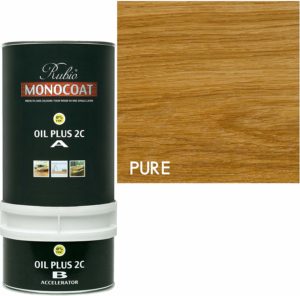 Incredibly expensive for the amount you get, but a little does go a long way and it only requires one coat so you might use half as much. However, you have to guess how much you need and mix it with the accelerator, and once you do this you have to toss any extra that you have.
The oil has quite a strong smell to it when you apply it, but it apparently low VOC. It is really easy to apply.
The biggest disadvantage to this product (especially compared to non-mixed oil products, such as Osmo oil or Odies oil), is the containers. The container for the accelerator is hard to open. It is a small paint-can style container. The lid is hard to put back on, and any extra product left on the lid makes it even harder to open the next time. Eventually you will distort the lid and not be able to get it back on securely enough, and the accelerator will dry out. This will waste a lot of the oil (I lost about 1/4 of a can). Because of this, I do not recommend Rubio Monocoat! I emailed Rubio to tell them about this problem; I'll update my review when I hear back from them.
However, Rubio does have a lot of stain options. If you are looking to stain your wood then this might be an awesome finish to use.
---
Countertop Epoxy Finish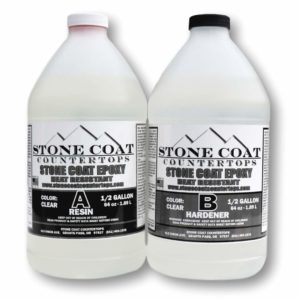 You can simply do three coats of a countertop grade epoxy onto your project and call it done. However, I've noticed that I sometimes have to do 4 (or more) coats to get it perfectly even. I did a high gloss epoxy finish on my Blue River Spalted Oak Coffee Table. It looks great! I didn't personally use it, and sold the table. I know a lot of people use countertop epoxy in their kitchens, and they say it is pretty durable but will eventually get scratches.
The biggest disadvantages: requires a min of three coats, and each coat takes a day to dry. You (probably) have to sand between coats. The finish will be glossy, which can be a plus or minus. You can "hone" out the gloss with fine sandpaper (1000+ grit) to make a satin finish, but this requires a lot of time.
The epoxy is also quite expensive compared to other finishes, and takes a lot more time. I don't like doing an epoxy finish, and probably won't do any more of them.
---
Walrus Oil Brand – Cutting Board Oil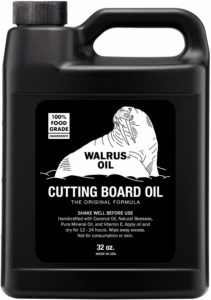 Food safe! I used this on my last wooden bowl and some wood spoons.
Easy to apply; spread some on, wait 12 hours for it to absorb, and wipe off any excess. You can apply on a wax on top for more waterproofing.
Quite waterproof when you use their thicker wax on top of it.
Definitely not scratch proof. I wouldn't use it on something that I want to be more durable, like a table top.
---
Odies Oil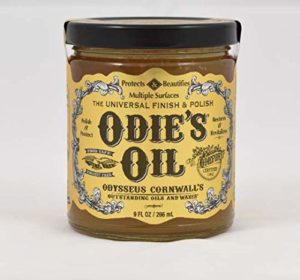 I haven't used this product yet, but a lot of people swear by it so I'm including it in my list. It is quite expensive.
People say a little oil goes a long way, so it may be worthwhile.
Pro: Food safe! Good for cutting boards and bowls.