Unipacking: Creating a custom unicycle handlebar, part 1
I've been making custom unicycle handlebars for over 10 years. I've refined the shape quite a bit over the years and I always have been tending to go wider and wider, and more mountain bike in style.
Some of my original designs include the "Unibar", which I fabricated from old bicycle handlebars: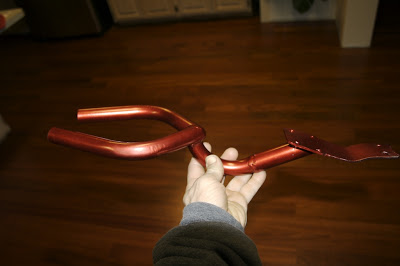 The old bike handlebars were really strong, but the metal base plate added a lot of weight to the overall design. I also didn't really like the angle very much. Check out a few more pictures and the Sketchup 3D file: http://www.corbinstreehouse.com/blog/2007/12/unibar-version-3-sketchup/
Some other experiments I've done (this isn't all of them!):
* Basic T shape for my Corbin V36 unicycle. I didn't like the angle (there was none!)
* V-Shape for the V36 – my current preferred handlebar.
* Brake Protector for the V36; a modification to protect the brake; it works pretty well.
* Munibar: A custom close handle muni specific bar. I liked the comfort, but it was too heavy. 
* 36er initial handlebar: This put too much stress on the seat and flexed too much.
* 36'er adjustable handlebar: This let me figure out what geometry I liked. I rode this for a few years.
* First basic T-Bar: The first of my design that is a basic T for bar ends and attaches to the frame. Made from old bikes.
* Basic T-bar: I started making this "basic" shape that allows attaching bar ends. I made a few of these, and they work pretty well.
* Brake adapters: These allow the brake to be inline with the bar ends.
The "basic T" shape became a standard for what production handlebars have become. However, most production handlebars still attach to the seat, such as the KH T-bar. I dislike this, as it flexes too much, and requires your seat to be extra beefy and reinforced to avoid breaking. Instead, attach it to the frame and start making the seats lighter. 
 I made the original handlebar for my KH26 back in 2014: http://www.corbinstreehouse.com/blog/2014/07/new-corbin-unibar-unicycle-handlebar/ and now it is time to hack it up into something new!
Enjoy the first video in the "making of" series:
---
---