About

I'm currently 40 (late 2018). For 13 years I worked at Apple on Cocoa, mostly doing UI implementation in AppKit, such as NSTableView, NSWindow, NSVisualEffectView.  I also did quite a bit of work in UIKit – mainly on the early iPhone releases, but also helping with the first few versions of the public SDK after that. I wrote and worked on the base classes, such as UILabel and UITableView. You may recall seeing me at WWDC in the labs, or up on stage giving a talk. Before Apple, I worked at Borland, primarily on Delphi.
Lately I've been posting videos on my YouTube channel.
I enjoy unicycling a lot, and seem to be somewhat decent at long distance unicycling. There is an international competition (UNICON) every two years, and in 2010 I became the Marathon Unicycle World Champion! In 2012 I went to UNICON in Italy; I got 3rd in the marathon, 10km and 100km races; the competition was much tougher!
For the past few years, the Cyr wheel has captivated my interest. It is a circus art, also known as roue cyr, simple wheel, or mono wheel (which is an incorrect term – a mono wheel is another device). I enjoy making my own wheels, including the LED cyr wheel. I have a cyr few tutorials, and a page for where to buy a wheel for people who want to get into it.
I really like traveling and seeing the world. I've been to Europe, Vietnam, Indonesia, Africa, Madagascar, India, Nepal, and New Zealand. I'm hoping to go many more places and I absolutely love adventures.  I really like the mountains, and the snow capped mountains in Nepal and Switzerland really captivate my interest. Camping is gobs of fun for me, and I'll go on solo trips.
I also like woodworking, metalworking/machining, rock climbing and building things. I like treehouses, and lived in one for about five years. Some things I built are the recumbent unicycle and tandem unicycle. I like working with my hands and I'm skilled at many things. I love being outdoors. Yosemite is one of my favorite places in the world. I have a passion for animals. I have a kitty cat named Ichigo, some pet fish, and worms. I used to have chickens, but they disappeared…
I live in the Santa Cruz mountains, and I enjoy working on my house, dubbed Project Hutchinson. I live with my wonderful wife, Lexi.
I also enjoy photography, and especially like HDR landscape photos.
I'm particularly fond of electric cars, and how they are good for our environment. My 1969 electric VW bug conversion is my pride and joy, and I'm happy to share all the build details with everyone. I've also got a Tesla Model S that I drive around in.
My friend Anita Stubenrauch took some cool pictures of me and did an interview here at Indoor Boys. This is one of my all time favorite pictures. Thanks Anita!!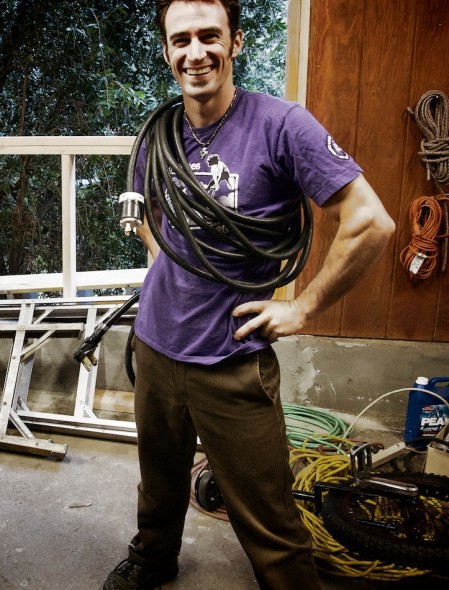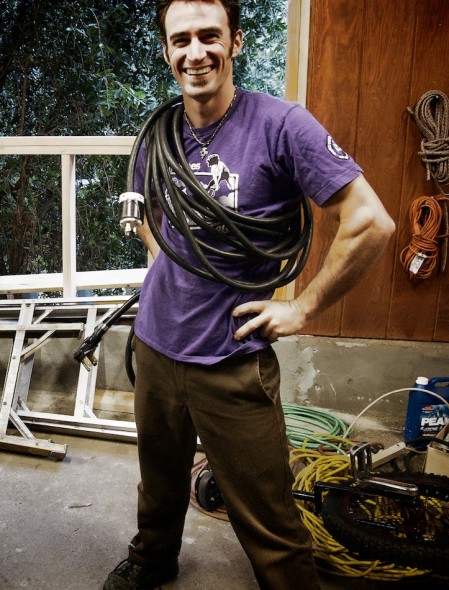 A few years ago I got reacquainted with Burning Man and really enjoy the art and experiences that the playa provides.
If you want to get ahold of me, my email is: corbin at corbinstreehouse dot com. My Facebook page is https://www.facebook.com/corbinstreehouse/