YouTube Copyright Problems with Creative Commons Music
YouTube's automated song detection software is generally terrible, as I have gotten three or four incorrect violations in the past and the songs barely even match. However, in this case it was an exact match, so what gives? The short answer: Cloud Media is actually in violation! 
—
UPDATE: A few hours later I heard from Move Music Distribution, who distribute the song for Cloud Media. They were quick to address this situation and took the song down from YouTube's content ID match system. Thanks everyone for the quick response!
—
The song I used is "DIZARO – IntoTheJungle", located at: https://soundcloud.com/dizarofr/intothejungle. DIZARIO stated it is Copyright Free and released it under a Creative Commons License which requires attribution. I followed the license and gave the artist attribution at the end of the video.
I used the entire song in my video, but only received a copyright claim on a portion of the song from 1:12-2:30, which you can hear below:
It was said to match Is It Love by Tropical Boys. Some random DJ or band that I have never heard of. I couldn't find the song online, so I just filed a typical dispute against the violation and referenced the song I used. 
The next day I got an email response: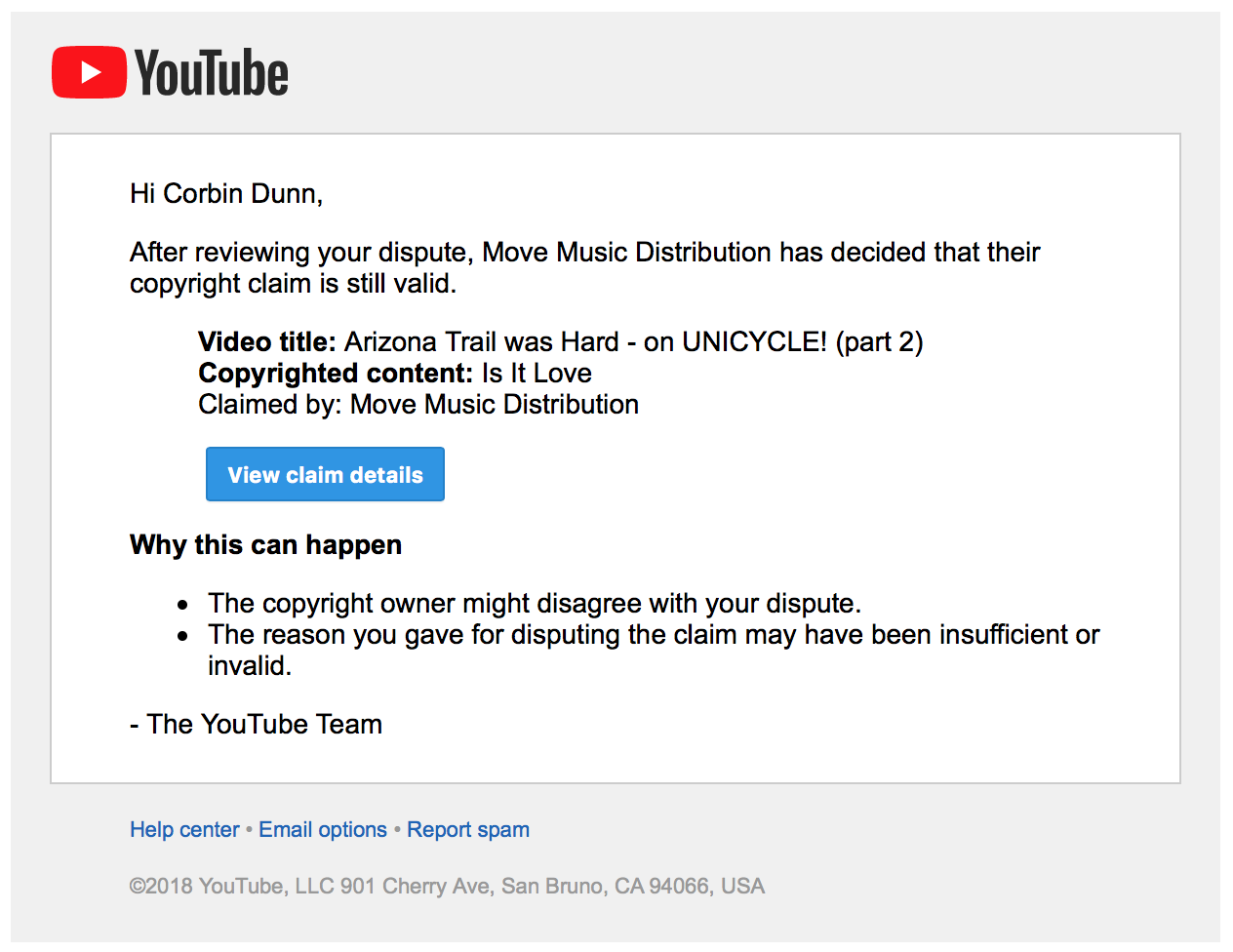 Move Music Distribution, on behalf of Cloud Media, upheld their content violation. I have no idea who Cloud Media is, as there are a ton of companies with that name.
I had to find their song online, and I did some more searching and found it at: Is It Love (Original Mix) by Tropical Boys on Beatport. Released on 10-29-2018. My video was published on 02-16-2018, over 8 months before this song was even released. WTF is happening? 
I listened to their song, and holy smacks, it is an exact match for the portion they are claiming against. Then it hit me: they remixed portions of this CC licensed song and added a vocal track over it. So of course it is going to match. And they are totally allowed to do this, but they need to give attribution to DIZARO based on the Creative Commons license that the song was released under. They didn't do this, and are actually in violation of the license. In particular, it is an "ND" version, which means "No Derivatives" and can't distribute the derived material. Maybe they did do the attribution, but I can't find a reference to it anywhere. I'm sure no one actually cares about this type of violation of the CC license, and legally it would have to be DIZARO who would have to pursue something against Cloud Media, however mundane it is. 
It would be a travesty to allow Move Music Distribution to make money by running an ad on my video simply because I used some CC music that they also used. In particular, it is ironic as YouTube took away my channel's advertising privileges a while back simply because I didn't meet the 1000 subscriber minimum. So I filed again filed dispute against the claim. I was a little reluctant to do this, as a second dispute can land you in YouTube jail by giving you a "strike" against your channel. I went ahead, and stated a lot of the information I found out, and directly referenced the Creative Commons license and the artist's original page for the song I used.
To my surprise, I got an email response about 30 minutes later stating that they released the claim. I was mentally preparing for the methods to find this, which might have included going to court. 
The real problem here is that I'm sure Cloud Media has sent out TONs of violation requests for this song, as it is quite popular and used in many YouTube videos. YouTube gives too much power to people who feel they are content copyright holders. I'm sure there are a lot of people who don't give a rat's ass about copyright, and use whatever popular music they want in their videos. I'd even bet that this type of abuse outweighs the false positives and incorrect matches. But this process hurts those of us who follow copyright laws, and I despise it. It would be particularly bad if I was actually getting ad revenue from my videos, as a copyright violation removes all advertising until the dispute is settled. This can take up to 30 days, which could be a huge loss if a video happens to go viral in that time.
---
---