The Wind Can Sneak Up On You
Yesterday my friend Emmett came out on the sailboat with me to get the crab traps. There wasn't a lick of wind, but it is always fun to be out in the ocean. The swell was 6-8 feet, and it was like plowing over small mountains. The surf was booming with everyone in the water, and we could watch the local Moss Landing surfers hit the waves as we left the harbor. So we motored out for about 30 minutes, and pulled in the two traps: empty handed again. Oh well, I heard it has been slow the past few weeks.
The motor was idling low, and stopped. It didn't want to start back up, and it seemed like it was having an electrical problem. A touch of starter spray to its mouth didn't help, and it looked like it was getting fuel. The starter was strong, but the engine wasn't kicking. We already had the sails up in an attempt to sail with the lack luster winds, and Emmett took the helm while I laid myself over the hot engine to poke around on the wires. Everything looked okay; nothing was loose. I took off a few things and put them back on and pressed stuff tight. Nothing worked, but I continued to mess with it and was almost ready to call TowBoatUS to get us back to dock.  All of a sudden, while I'm in the hull the boat leans over and I hear the gush of water flowing by. I pop out from the cabin, and we are moving fast!
The wind went from zero to gushing in an instant! The boat was heeled over and we were moving fast. The swell was still pretty large, and it quickly got exciting enough to put on life jackets. I was worried we had too much sail out, and the easiest thing to do was to furl in the jib, so we brought it down to about ¼ size. I should have practiced reefing the main, as I've only had to do it a few times. I'm working on replacing my GPS with a fish finder, and it was sort of taped on but falling off half way. We plugged it back in to see what our speed was, as we seemed to be booking it really fast. The truth was that we were moving only 4 – 4.5 knots. Now, this is ground speed, and it felt like much faster, and we were probably moving close to 6 knots over the water. There was a really strong back current pushing out to sea as we moved forward towards land. 
At this point I tried the starter again, and the motor kicked back to life like nothing ever was wrong with it. I turned it off, and we continued to sail a few miles back to the harbor mouth, as it is much more enjoyable to move by wind power. I figured if it didn't start back up that we would stay off shore with sail power and call for a tow back in. The winds inside the harbor tend to be really light, and my skills aren't good enough to get me back into the slip. 
So, we sailed! As we got closer to shore the swell grew bigger, and the winds a touch less, allowing us to let out a little more of the jib until it was fully extended again. We approached one of the outer buoys while on port tack, with a strong offshore wind. The boat is heeling over to starboard and it initially seemed like we could pass in front of the buoy. But that offshore wind and strong current was pushing us out to sea a lot faster than I realized, and we had to pass it on the back side. This was easy to do, but as we turned away from a close haul the boat tends to dip into an even steeper heel due to the winds coming from close abeam. Everything loose in the boat shifted around. After we passed the buoy I wanted to tack, so we would be heading back towards the entrance of the harbor and not towards the waves looming on the ever growing closer shore. We tacked, and this was a dumb idea, it was way too soon for such a strong current and it pushed us back out to sea, forcing us to do another pass behind the buoy again in the opposite direction in order to avoid hitting it! 
We got stabilized, dropped the jib, and started the motor. I like to keep the mainsail up until I'm in the harbor channel; it gives me a feeling of safety to fallback onto sailing in case the motor randomly died. However, it ran like a champ and got us back into the slip.
Once I got home I ordered some new electrical bits: condenser, plugs, and points. I think some full wire replacement and new bits will give it a nice tune up and stop having issues.
Photo: Lexi took this picture from the dock the last time I went out solo.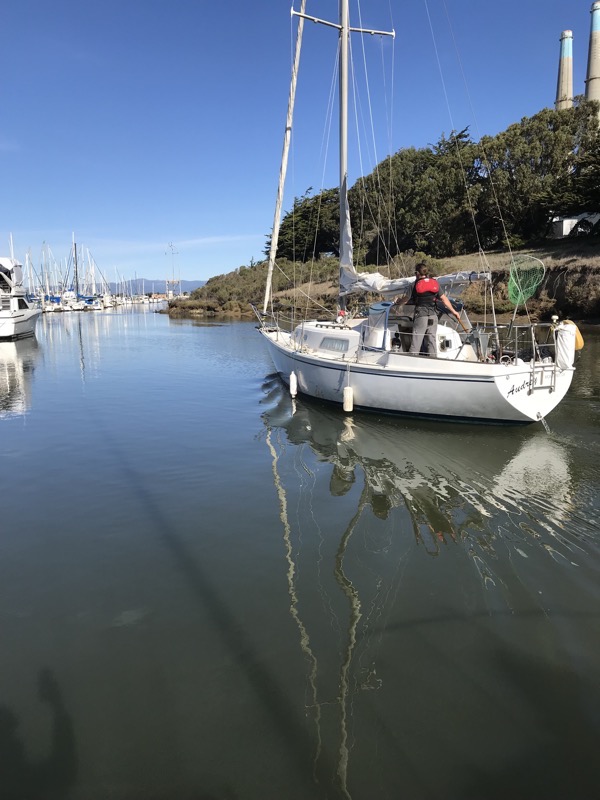 ---
---