Plug Bug: More motor comparisions
I'm trying to figure out the best motor for my project. I'm now down to considering the EVE AC30 (or AC40) versus the DC WarP 9.
The WarP 9 data is all given at 72v rated on the dyno by Netgain; I simply doubled the RPM and assume the torque output is the same up until about 4000 RPM; I'm not sure if that assumption is correct.
Here's a graph of Torque vs RPM for the various motors: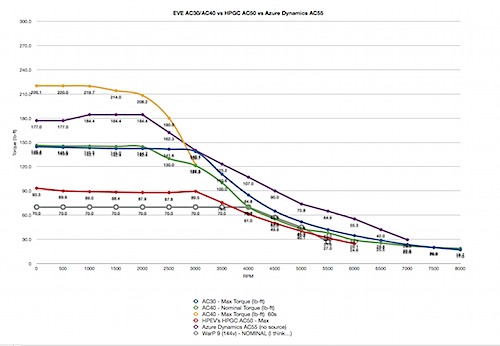 I know the HPGC AC50 will be underpowered for what I want, but this chart makes it look like the WarP9 is also underpowered. However, this at ~260 amps — more amps will give more power, but it is a question of how long can the motor take that.
UPDATE: From http://www.belktronix.com/WarPOwnersManual.pdf I found out the Netgain WarP 9 is: "They are actually rated at 450 Amps for 5 minutes, 225 Amps for 1 hour, and 190 Amps continuous duty".
I could probably (quite safely) push 300 amps for 10 minutes up my 5% grade hill.
Based on looking at other AC conversions, I think the AC30 will be too weak; I really would need to go with the EVE AC40. I'm sort of paranoid to use a motor that no one else in the US has used in a conversion.
References/Sources:
* WarP 9 motor page on Netgain. WarP 9 Performance Data. WarP 9 Performance Graph.
* EVE data for the M2-AC30-L (30kw continuous). I think their chart is for the *max* torque.
* EVE emailed me data for the M3-AC40-L (40kw continuous). This chart shows both nominal and max torque.
* HPGC's AC50 (TODO: link to HPEV's website / graph). This is definitely max torque.
---
---