I initially was going to use a DC motor, but now I'm leaning towards AC. This website has a lot of great information on AC vs DC:
http://www.cameronsoftware.com/ev/EV_DriveType.html
Those are all good points, but I'll add some more I found:
* Regenerative braking. I have quite a few hills by my house and I want this benefit.
* Better motor efficiency
The Warp 9 (what I was considering using) has this performance graph: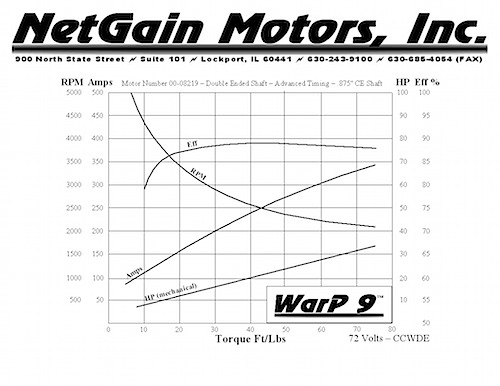 In general, never better than 80% efficient. Better efficiency is better range!
Consider the AC-50 motor from Thunderstruck Motors. It has up to 94% efficiency and it is in the higher RPM range (better for my transmission, which will produce higher RPMS).
Also, another great read about AC motors on the Metric Mind website.
---
---