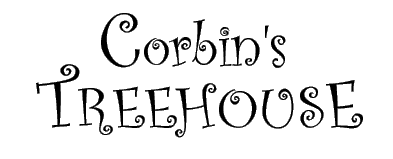 Second Story Style
Corbin's Treehouse on TV! My house will be on the series "Weird Homes" in an episode called Busy Bees. It already aired in Canada. In the USA, it will be on Discovery's Home and Lesuire channel. Let me know if you see it.
Corbin's Treehouse in a book! Buy this book, by David Pearson:
Treehouses (The House That Jack Built Series)


Buy on Amazon.com

This page now contains images of my new, second story, treehouse.
Here is a link to the old (bottom story) treehouse - it has now since been taken down because it was very dilapidated.
Page 1 of the Treehouse Floor Layout and Why
Page 2 of the treehouse. Construction Begins!
Page 3 - A (Tree) House Appears
Page 4 - Outside Treehouse Pictures
Page 5: The day before I moved in!!! It isn't totally done, though.
Page 6: Furnished Treehouse - 8/26/99