Corbin's Workshop Store on Etsy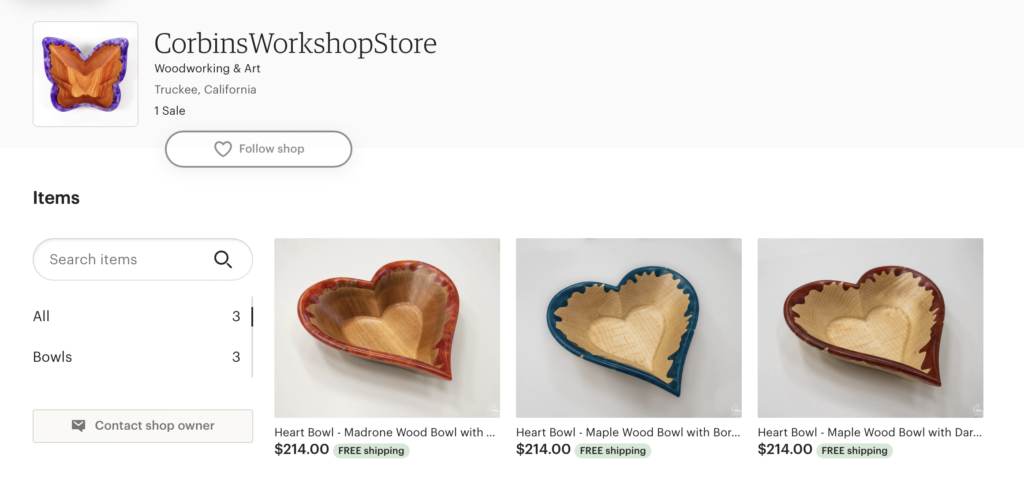 I decided to take the plunge and list some of my things on Etsy. Check out my store: CorbinsWorkshopStore for Woodworking on Etsy.
I was avoiding this, due to the 7% fees they charge, and that is in addition to any other payment fees. But there are a couple of big benifits.
Benefits of Etsy
Etsy has a large audience of consumers who are looking to buy things. People go there, search for stuff, and buy stuff. Alternatively, people would go to Google, search for stuff, and might find my website. But statistically, they are more likely to find me on Etsy.
Etsy provides confidence. Buying on Etsy feels safer than buying on a random website, like the one I setup to sell my products. I totally get this; brand recognition makes people feel safe, and a small website can sometimes not feel that safe.
Etsy can provide discounts on shipping.
Etsy can handle sales tax.
Negatives of Etsy
Fees. They charge per listing, every three months. It is only $0.20, but still, that is something. They charge a huge fee; around 7% as their "commission". Then they also charge payment fees, around 3-4%. It's hard to get around the payment fees in today's age of credit cards and PayPal, but the 7% Etsy tax is pretty steep.
Customization and control. I guess this really isn't too big a deal for an individual like me, and I believe they do have a custom website store service you can use.
Etsy charges sales tax for everyone; a nice thing about a small store, like mine, is that I only have to charge sales tax for California. Handling California sales tax is pretty easy; I have all my data stored in one location (my website), and I can generate reports of how much I have to give to California each year. Etsy does make this super easy, but eliminating me from the process.
When I really think about it, the biggest issue is the fees, as the other things aren't that big of a deal.
But with regards to shipping; I recently decided to absorb the shipping costs, and made everything "free shipping" in the mainland US. Most my products cost $6-$12 to ship. I recently realized that Etsy and PayPal have deals with shipping partners that give a lot better rates compared to an individual account. So, something that is $10 for the individual to ship via UPS or USPS would be $7 if I go through Etsy or PayPal's shipping. This is one of the things I hate about companies; they give discounts to people who do large quantities of sales, and charge high prices for the individual. Why not just set one price and let everyone pay the same thing? I know they want to encourage high profile clients to repeatedly use their service, and giving the a discount is they way they do it.
---
---