DIY Hydronic Radiant Floor Heating – The Truckee Workshop Part 17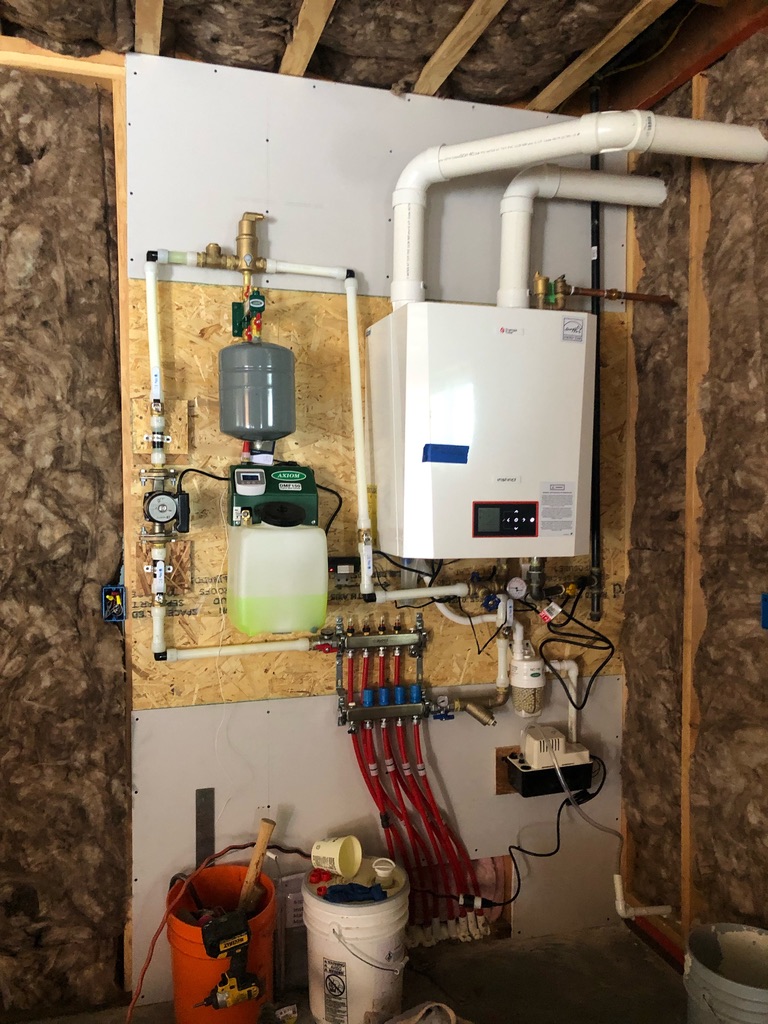 In my last post, I talked about the drywall install. If you are new here, check out my overview posts for the Truckee Workshop Project.
Truckee gets really cold in the winter, and I needed some sort of heating in the garage. I decided to do hydronic radiant heating, by installing PEX tubing in the concrete slab. I contracted out a company to do this work, as I didn't have time to learn how to layout the tubing and there was a very short window before I could get the concrete poured, which was the next day after the tubing was installed and inspected. I was only able to get a few quotes for my the heating system, as a lot of companies work on radiant heating but didn't do new-construction installs. I picked one company and my plan was to have them also do the boiler install, but at this point the project was way over budget and I really couldn't afford to pay them to do it. So, I decided to learn how to do my own DIY install.
In retrospect, I wish I would have not used a propane boiler. There seems to be three options to heat the radiant heat liquid (water or glycol mixture): propane/gas boiler, electric boiler, or an air-to-water heat pump.
Back when I first started the project, a propane boiler seemed like the only option — mainly because it was what all the heating contractors were telling me to use, and it is what our house used. Then I started researching DIY setups, and they all seem to use on-demand electric water heaters. These electric water heaters can't put out as many BTUs as a propane boiler, but they are way easier to install. I also realized it was hard to purchase a boiler; most companies will only sell them to a licensed contractor or plumber. Luckily I had a friend who helped me out with this.
I somewhat recently learned about the other option for heating: an air-to-water heat pump. These efficiently use electricity. Normally, an electric water heater has a Coefficient of Performance (COP) of 1, meaning every 1 kWhr of electricity that is put into it goes directly into heating the water. Heat pumps can get a COP of 2 or 3, which means every one kilowatt of electricity put in can get out 2 or 3 kilowatts of heat out.
Air-to-water heat pumps are relatively new in the US, but are more common in Japan and Europe. Some companies aren't even importing them into the US yet, so the options are rather limited and it is a somewhat "new" technology here. Even so, if I would have known about them I probably would have put my radiant tubing output at a different location and used one. I'm also really wanting to put one into my main house.
But, for the workshop for now, I am going with a propane boiler. This was difficult to buy, and also required a lot more work. I had to get a propane tank just for my garage. I had to trench and run pipe over to the garage. I had to get fire-department approval for my tank location. I had to install a second stage regulator and all the appropriate piping over to my boiler location. I had to properly pressure test everything. I still need to install a bollard in front of the regulator. I think I also have to get a final inspection from the fire marshal to make sure everything is okay.
I started working on the install while the drywall was starting to get done. I did a FaceTime inspection with the county inspector for the drywall, and also mentioned I had the boiler installed. He noted that the height of my vent exhaust was too low for our given snow load. This meant I had to redo a bunch of the vent plumbing to another location…one that wasn't ideal, as it had to go through the entire building and out the back wall. Eventually I may simply rip it out all out and go with an air-to-water heat pump.
I haven't yet done my final building inspection, but I think I did it all right. The slab is insulated really well, and seems to hold the heat incredibly well, but I have only been heating it up to the 50's just to take the chill off while I work. I test it by touching the two heating wires together.
In the next post I'll talk about painting and finishing the drywall.
---
---