Wood Package Delivery – The Truckee Workshop Part 7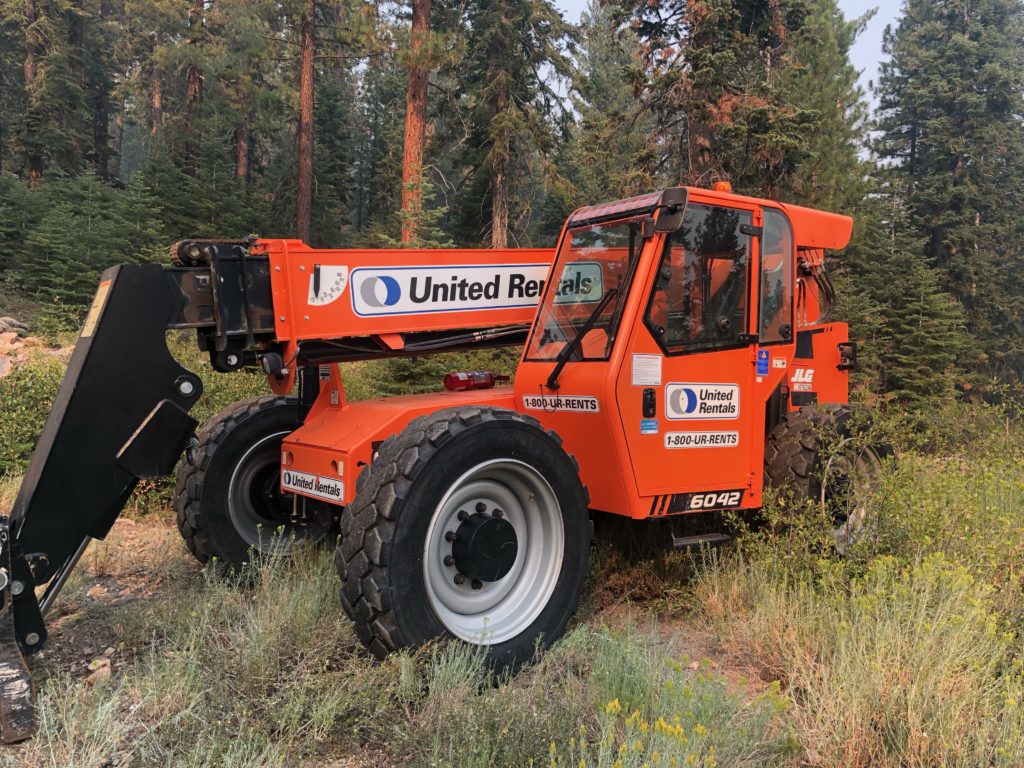 The slab was done and it was now time to get the wood package from Pacific Modern Homes Inc (PMHI) via my dealer California Precut Homes (CPH). Once my plans were approved by the county PMHI could set a delivery date for my wood package, and they were insistent on not doing it before that. This meant it was scheduled for the end of August, which was a lot later than I had hoped, and I had pushed hard to try to get it sooner. In the end, it was perfect timing; we finished the slab just a week or so beforehand, and there was still some digging work left to be done, so it all worked out. I still wish I would have had the plans done and approved a month sooner; it would have been better to start building in July/August instead of September/October, where the threat of early snow was a possibility.
CPH did a site visit about a month before the wood delivery. My dealer recommended I rent a telehandler. This is a large machine with a telescoping forklift on the end. Our driveway is pretty long with a few tight turns, and we needed someway to get the wood from the bottom of the driveway up to the site. The telehandler alone couldn't get it all; some of the wood was too long to be carried perpendicularly to the direction of travel; it would simply hit the trees on the side. For that, he recommended renting a flat bed trailer, so I reserved one from our local Truckee Rents.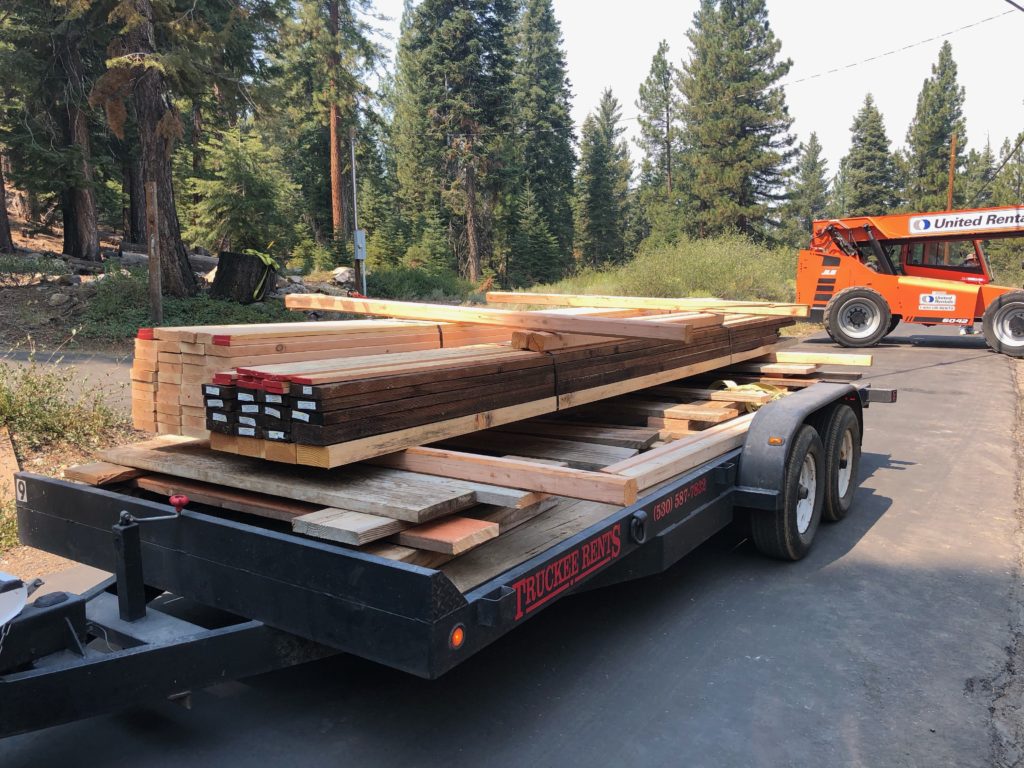 I picked up the trailer the might before and once I saw it I realized it wasn't what I expected. I thought the wood bed would be above the wheels, but it wasn't. This meant they would be in the way for loading from the side with forklift. Luckily my friend Lloyd came by to lend a hand and had the idea of building up some scrap wood underneath to get the forks above the wheel wells. This worked!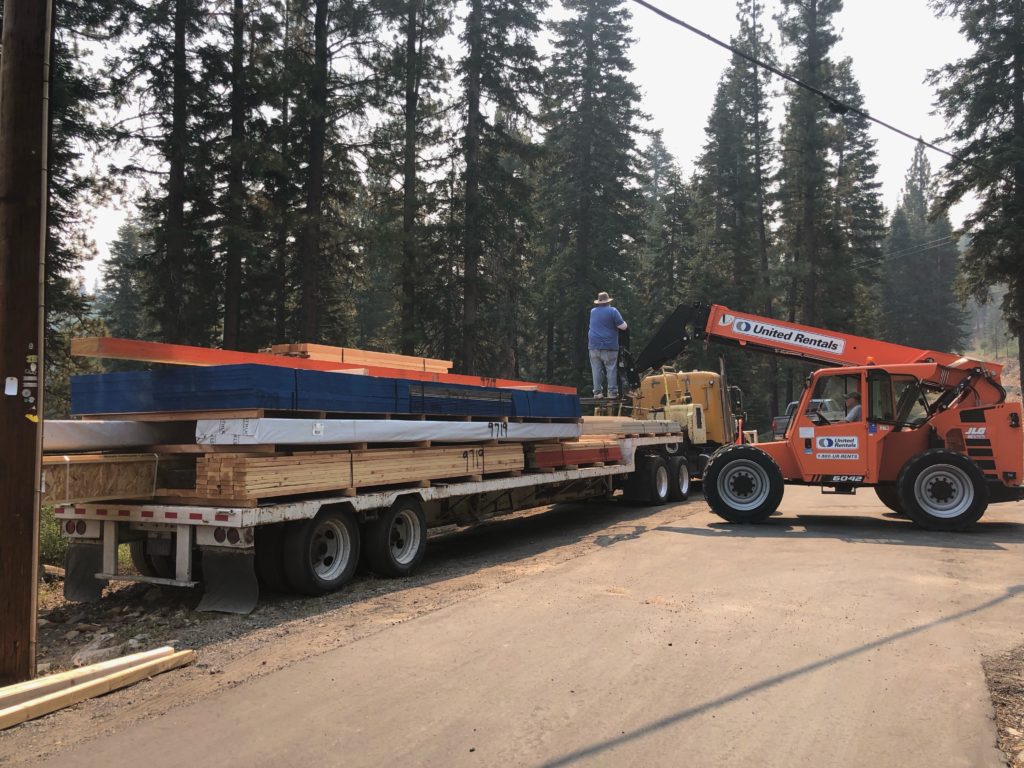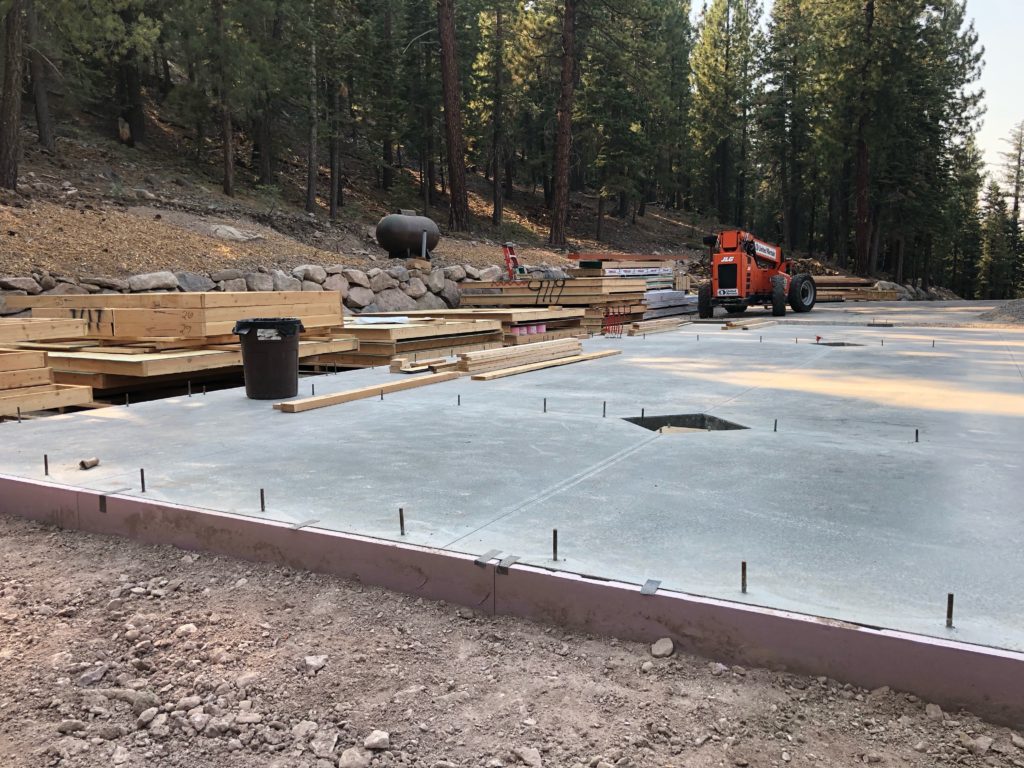 The process was pretty quick: the truck driver would use the telehandler to load the long pieces of wood onto my rented trailer, and I would ferry it up to the site. He would then grab a load of something smaller, like plywood, and bring it up. At the top he would unload the trailer and we'd repeat the process. There were two semi-trucks that delivered the wood from PMHI's factory in Elk Grove.
The wood package consisted of almost everything I would need to complete the building: pre-framed walls with the windows pre-installed, the floor joists, plywood for the exterior sheathing/floor/roof, rafters, garage door header, three huge 30″ x 7.25″ glulams for the main beam, rafters, soffit, and the Allura fiber cement board siding.
In the next post I'll go into the assembly process!
---
---