Building the Chesapeake 16LT Kayak: Part 1 – Choices
I've been wanting to build my own kayak for quite a while. Ideally I want to make a strip-style kayak; something out of locally sourced redwood would be awesome! For now, I decided to start with a stitch-and-glue style build. They are pretty easy to do, and will give me some starting experience with fiberglass.
I've been eyeing kits on Chesapeake Light Craft for some time now. There are so many choices, so it was hard to choose exactly what would suite my needs. The first thing I had to figure out was what are my kayaking goals? The main goals are to cruise out on the ocean at a decent pace and be able to do some casual fishing from it. That means I need something somewhat stable. At first I was thinking of the "Wood Duck" kayak, as it looks great for fishing. But the size is small, and it seems to be designed for calm waters; something like a lake or pond. I then settled on the Chesapeake models; they seem to fit the bill, but I wasn't sure what size to go for. The 16 LT model seemed to be the best for me; they say it is suited for someone 125-175lbs, and it is highly stable. The longer ones seemed better suited for heavier people, and the smaller ones were for lighter people. The LT model is just a tiny bit smaller than the regular 16 model, and seemed perfect! I also considered the Shearwater 16 — this is also a beautiful kayak, but seems a little less stable. I really like the "hybrid" option that has a plywood stitched bottom combined with a beautiful cedar strip plank top. 
 So, I decided to go ahead and order the Chesapeake 16LT Kayak: http://www.clcboats.com/shop/boats/kayak-kits/light-touring-kayaks/chesapeake-16-lt-sea-kayak-kit.html
Right now, it is $100 off at $899 for the complete kit, and includes a few other accessories for free. The kit's parts probably aren't the highest quality (the seat is foam cut outs), but it will get me a taste for what I like and don't like in a ocean kayak, and I don't have to think about sourcing the individual pieces and wood.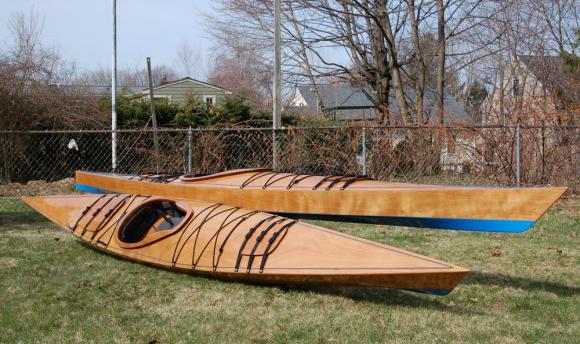 (Picture source: Chesapeake Light Craft)
---
---