I do a lot of adventures. My last adventure was unicycling the Annapurna Circuit in Nepal. I wasn't planning on having a lot of access to electricity, so I wanted to get a portable solar panel for the trip.  I'll share my notes and research in case you are looking to do the same.
Goals: 
12 volt output (for my DSLR batteries)
Minimum 5 watt output (7 watts or more ideal)
Fairly durable
Ideally regulated voltage (but not essential)
Ideally waterproof, or weather resistant
Some type of battery system would be nice
Optional: USB outputs
The lighter the better
The cheaper the better
I bought the Goal Zero Guide 10 Solar Panel Kit — in the end, I decided on this one because I could buy it in person at REI and use a 20% off coupon and dividends to make it really affordable. Several of my friends on my Nepal trip also had Goal Zero panels and we could chain them together (I did this once — so, that wasn't all that useful of a feature). The Goal Zero Nomad 7 solar panel (which is what is in the kit) is small enough to strap to my camelback and ride with it on – this worked out quite well to charge my phone while riding. I found the USB battery pack was essential for charging it; otherwise it wouldn't work all that well directly off the panel. The battery stabilized the power output. 12 volt charging of my DSLR batteries didn't work all that well; I needed a lot of direct sun, and a lot of time to do it. Instead, I found power outlets to top them off (and bought two spare Wasabi power 5d battery packs)
Monocystalline vs Thin Film cells: Thin film seem to be much better suited for indirect sunlight, and are usually really light weight for the same wattage as monocyrstalline. However, they require at least twice the surface area! For deploying while riding, this won't work. But for deploying while stationary, that is totally fine.
 My research led me to the following:
---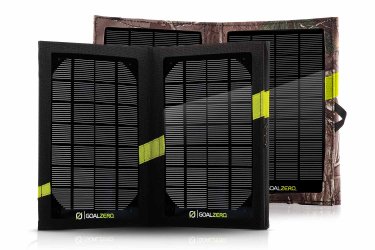 Goal Zero Guide 10 Solar Panel Kit (What I bought)
$111 on Amazon — Amazon prime shipping (a plus!)
7 watt solar panel
Guide 10 battery pack — 11Wh, with 4 replaceable AAs. Can charge AAAs too! This is an added bonus for me
Nomad 7 panel size:  9 x 1.5 x 17 in (22.9 x 3.8 x 43.2 cm)
Nomad 7 weight: 0.8 lbs (363 g)
Monocystalline cells (relatively heavier, but smaller surface area)
 Notes: Small in size, but heavy. Could easily be strapped to my backpack.
---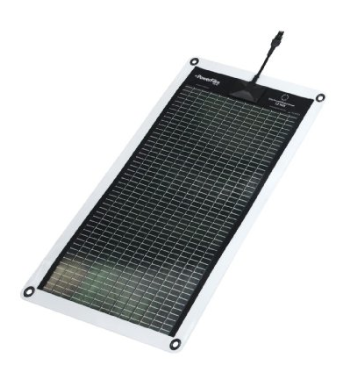 PowerFilm R-7 Rollable Solar Panel Charge
 $132 on Amazon – has Amazon Prime shipping
7 watts
no battery
368.3 mm / 14.5 inches Length: 584.2 mm / 23 inches
Weight: 0.27 kg / 0.6 lbs
Waterproof, rollable to a small size
Notes: This one would probably be better at charging my DSLR off 12 volt, but I would also have to buy a 12 volt USB charger to charge my iPhone. And no battery backup, for a higher price!
---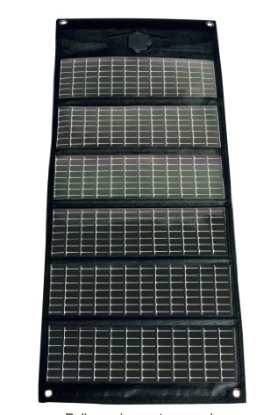 PowerFilm 5W F15-300N Foldable Solar Charger
$112 on Amazon, also has Prime
5 watts (a little on the lower side)
no battery
not waterproof (I think that would be fine…do you really want to charge stuff when it is raining?)
6 onces / .17 kg (very light!!)
Folds to a very small size
I think it's output is unregulated; so you need a 12v to <something> adapter that regulates the charging
Notes: There is a cheaper PowerFilm USB that would work nicely if you don't need 12 volts. 
---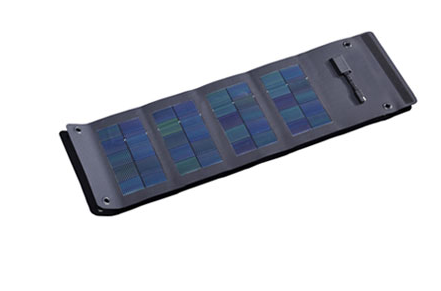 $94 (plus shipping) – available on Go Green solar or California PC  Couldn't find on Amazon.
6.5 watt (15v at 433mA)
Unfolded: 9" x 29" (229 mm x 736 mm), Folded: 9" x 5" (229 mm x 127 mm) (small!)
Weight: 7 oz (198 gm) (very light!)
Notes: This is what I would have gotten if I had more time. I would have tested it and gotten some 12V USB chargers, and a small lithium battery (and charger) to go with it. I just didn't have time, and in the end, my Goal Zero was cheaper with the coupon at REI.
I was going to pair it with a Voltaic battery system
---
 Others: http://www.voltaicsystems.com/7-watt-kit – looks good, $112, but I wasn't sure about it..and about getting it in time for my trip. The voltaic systems ones look MUCH cheaper than goal zero, and more power or more storage.
---
---