Woodshop – Dust collection
I've been working on my "Woodshop" (aka: the garage) in preparation for some larger projects (in particular, kitchen cabinets). Jason Beaver, who works with me at Apple, clued me into how bad it is to breath wood dust. So, I ended up getting a dust collector.
Here's a picture of my current layout before I began work on the dust collector: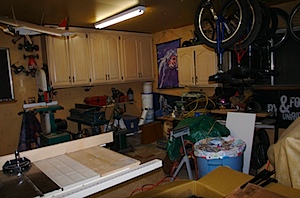 Grinder stand: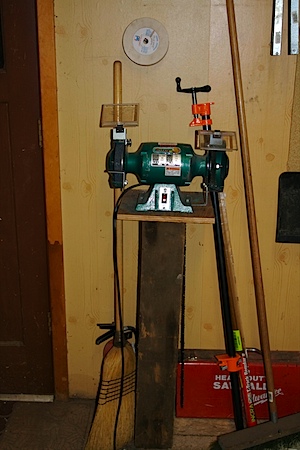 The dust collector — I purchased the Grizzly G1030 3 HP Dust Collector. I wanted something that could move a lot of air, and supported 6 inch ducting, which is better for moving fine dust away from the machine and out of the air. This is a non-cyclone dust collector; my intent was to vent the air to the outside. The machine was also much cheaper than a cyclone — it was only $395, plus $74 shipping to my door. A cyclone would have been at least $750 for the machine alone, and probably would have been 1.5 or 2 hp and not 3 hp.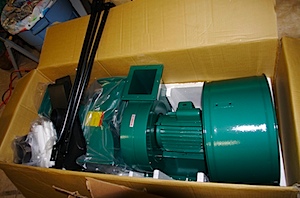 Of course, this required rewiring the shop, as it needed 220 volt. But, that was okay, as it isn't too hard to do, and I really wanted a larger circuit breaker box and to make my table saw run 220 too.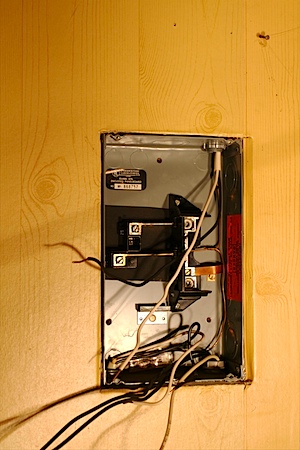 I wanted to vent the air outside, and not hear the sound of the machine. So, I built a shed out back. I poured a 3″ concrete slab, 3′ by 8′ in size. This was my first concrete job, and it turned out pretty good. I ended up having to spend about $200-$300 on plywood and hardware, but most of the wood was recycled from the deck project.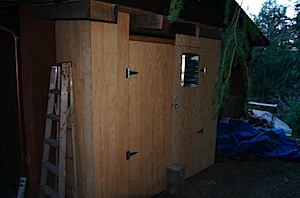 Here's a picture of the dust collector peaking out from its new home: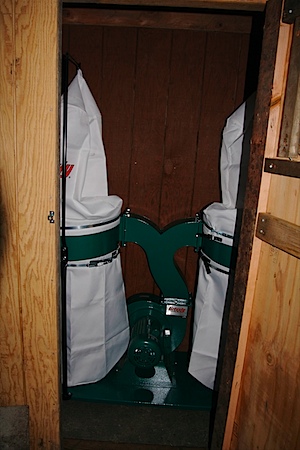 After building the back shed, I could cut the hole in the wall and run ducting. I ran 6″ out and dropped in a T to fork off to two machines and a floor sweep with 4″ flexible hose. The picture below shows one machine not hooked up yet (the jointer — which I need a dust hood for).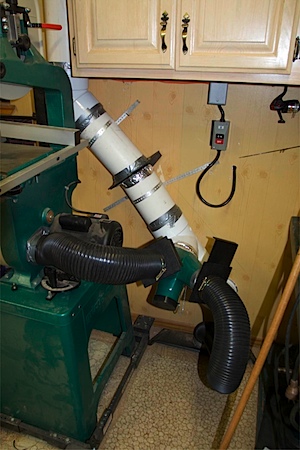 Then, I ran the 6″ directly over to the tablesaw: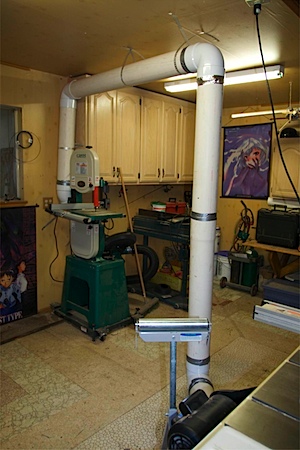 I need some 6″ flexible hose, so the 6 temporarily drops to 4″ flexible tubing for now.
Next up is to run some more ducting over to my "welding area" to suck away all the fumes generated by melting steel.
I'm also going to build a new router table, and table saw out feed table. The out feed table will double as a work table and down draft sanding table (also hooked up to the dust collector).
---
---