Coker Muni Ride and Disc Golfing
Yesterday was a fun day. Nathan, Beau, Jason Nick and I did a cool "Coker Muni" ride in Santa Cruz. We rode up the UCON trail, and then down Magic Carpet. It was really cool, and fast on coker's. Afterwards, we went to De Laveaga Disc Golf course in Santa Cruz, but we couldn't play due to a tournament. I saw my old Borland buddy, Jim (from ages ago), and he gave us a tip about a course over behind SLV. So, we drove out to Felton and managed to find the course. Finding holes was another story, as the course needs a lot of work to really be playable. But, we managed to have a ton of fun. The highlight was finding a vine that doubled as a rope swing: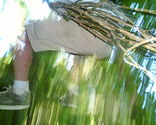 Nick's Ass — out on the swing.
With more pictures (very bad quality), here:
---
---