---
Louise and I need a shoe rack that looks nice. I decided to design something pretty in Sketchup. Here is what I came up with while on vacation: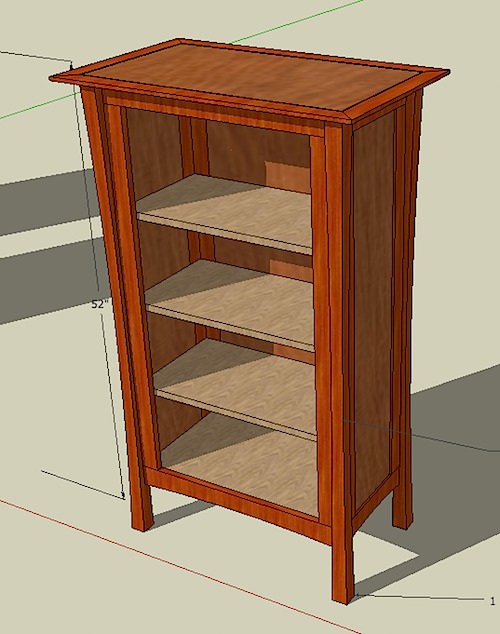 The vertical side pieces have a slight curve to them, and the bottom pieces have a slight arch. I'm planning on using cherry for the outside, and staining the outer pieces slightly darker than the inside sheet pieces (which will be 1/2″ cherry ply). The shelves will be 3/4″ maple. The overall size will be 52″ tall by 28″ wide by 16″ deep.
Download the Sketchup file (coming soon, email me to get it).
---
This entry was posted on Wednesday, December 23rd, 2009 at 11:38 pm and is filed under
Project Hutchinson
,
Woodworking
. You can follow any responses to this entry through the
RSS 2.0
feed. Both comments and pings are currently closed.
2 Responses to "Shoe Rack"
woodworking plans and projects says:
January 23rd, 2010 at 9:07 am

hallo corbin, this happens when I'm working on a shoe rack. I had to base the initiative placed on the shoes sloped 25 degrees. whether your design also uses the slope at the bottom?

thx's
b.joe

corbin says:
January 25th, 2010 at 10:22 am

Hey b.joe,
Yeah, that's a good idea! I'm leaning towards keeping mine non-sloped in case I want to repurpose it for something else (like a normal shelf).