Unicycle handlebar: Inverted V
In my last unicycle handlebar experiment I did a simple T, slightly bent forward. This design was too close to my knees, didn't feel very good on my hands, and felt a bit unstable.  I made a new handlebar with a slight inverted V, and a more forward position. I also put some comfy handlebar grips on them from REI, sort of similar to these ones from Amazon for $6. I think I paid more at REI, and next time I'll get a set from Amazon as I can get free Prime shipping. Here are a few shots of the setup on my V 36 unicycle.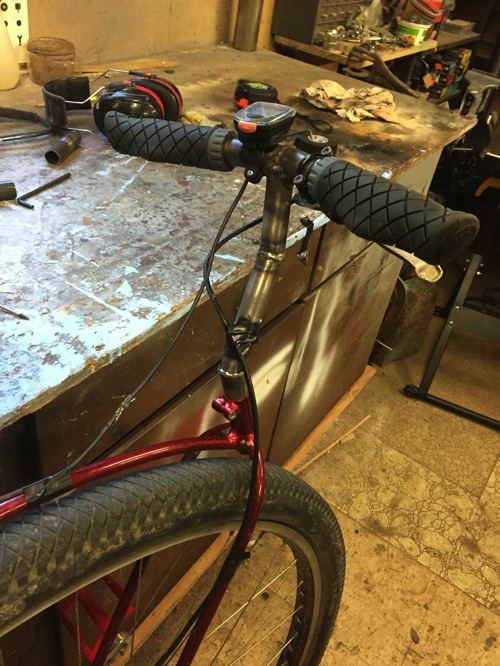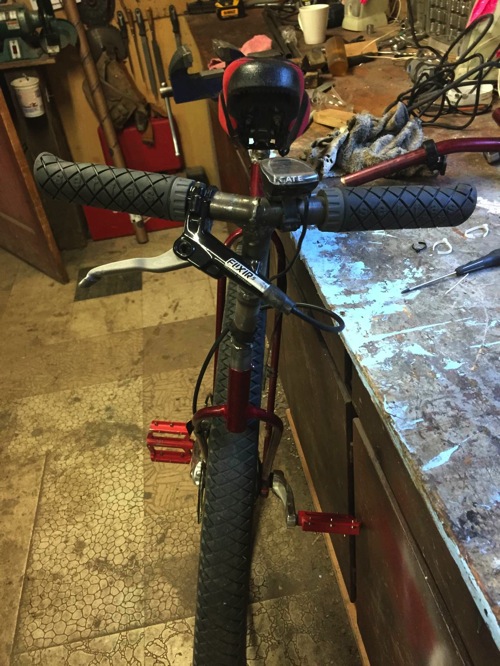 The V has some extra cuts and re-welds, as I experimented with different forward positions. I settled on pretty far away and up high enough so my knees have plenty of clearance. This also makes for quite a comfortable riding position! I like it a lot. So far I have about 50 or 60 miles on this setup. My first setup was giving me some hand and wrist pain. This has been super comfy with zero riding pain (so far!).
It is hard to get a good feeling for it from the pictures, so here's a walk around video: