26″ Mountain Unicycle Tires
I have had my geared 26″ mountain unicycle since about 2009. It is a Kris Holm 26″ frame (KH26), the Schlumpf 2-speed hub, and a custom handlebar I made. I've gone through a few tires in the past years, so here is my recent experience and research on them.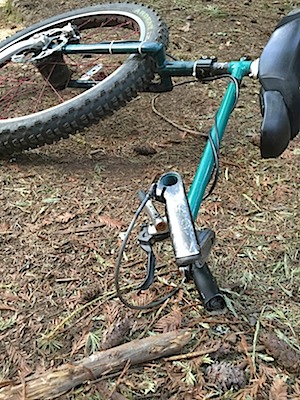 Tires I've Used (in order):
1. WTB Stout 26×2.3″: Cost: ??. Weight ??. My first tire that I got on the unicycle in 2009. I wanted something very light weight for racing and cross country. Unfortunately it is too light, and definitely not wide enough. I felt like uni was a little too unwieldy to ride, or too "squirrly", wanting to wander about. It also would kick me off on bumps, as I had to ride it with a bit higher pressure (at this point, I forget what I used). I still have this tire hanging in my basement. I also recall that this tire was *very* hard to get on and off the KH rim.
2. Maxxis Ardent Wire Bead Downhill Tire 26 X 2.6: Cost: $35 (plus shipping). Weight ??. Part #: TB74306200. In November 2011 I decided to go for a wider tire to get more stability. It definitely worked; the unicycle felt more stable, and I was pretty happy with this tire. The Ardent is also a good "all round" tire and seemed to perform well for muni. Unfortunately the 2.6″ width isn't available anymore from Maxxis. The widest Ardent that they make is now 2.4″. But that is okay, because in February of 2015 I started having trouble with the tire: it kept popping off the rim! This is probably because I had a heck of a time changing a flat one day on a ride. I could not get the tire off. I broke a plastic tire iron off, and it was still fighting me. Eventually I got it off and patched the tube (which didn't hold!). Putting it back on was even worse: I couldn't get it back on. I eventually got it on, but I'm sure I blew out the wire bead in the process. On the next ride I did (very wet and muddy out with my friend Roland), the tire kept popping off the rim about 3/4 the way through the ride. Oh well; the tire tread was getting a little low, so it was time to replace it.
3. Maxxis High Roller II: (26×2.40), Cost: $65. Weight: 840-855 grams. What I'm currently using. I'm using a light weight tube, and the tire is pretty light, so it has really good low rolling weight for hill climbing abilities. It also feels pretty good on the street, with low resistance (not like a Gazzoladi at all!). It fit the rim pretty well (not too tight, not too loose). It corners really well — great tread. I am using a light tube — which means I have to have higher pressure (32psi), so it is a bit bouncy. A regular or heavy weight tube would add up to a pound more in rolling weight, but I could run lower pressure (25-28psi), and would be able to avoid pinch flats and potentially roll faster on bumpy ground. Overall, I think I really want a little wider tire, but it works really well, and should be good for my upcoming Nepal unicycle tour.
Tire Research
I did quite a bit of tire research before settling on one (actually, two!). I wanted a tire that was good for off road use; particularly fast high-gear unicycling on flowing trails, but with enough stability to roll down rough trails and a high pace and not get too thrown off. I also wanted it to be as light as possible, as I'm going to use this tire on the next big unicycle tour in Nepal over the Annapurna Pass (coming up in April 2015). The tour will have lots of climbing, so I want it to lower the rolling weight. I decided to stick with Maxxis; they are a pretty good tire, and have too many options to choose from. Adding another manufacture or two would make it even more difficult to decide. For tire wide, I was ideally shooting for 2.5″ or higher, and 2.7″ was ideal. However, the 2.7″ tires were nearly twice as heavy as 2.5″, so I cut them from my choices. I also decided to throw in a 2.4 in the mix. I wasn't picky about tread compound: EXO, 3C, TR, or whatever — they don't mean too much to me, except one will wear faster because it is stickier. I'm not doing fast road cornering, so stickiness isn't too important on a unicycle — weight is, so I picked whatever compound was lightest (when there was a choice).
1. Maxxis High Roller II: 26×2.4, 840 grams. Web: Maxxis High Roller II.$65 on Amazon. Light weight (for muni) at less than 900 grams, but only 2.4″ width — I really wanted 2.5″ or wider!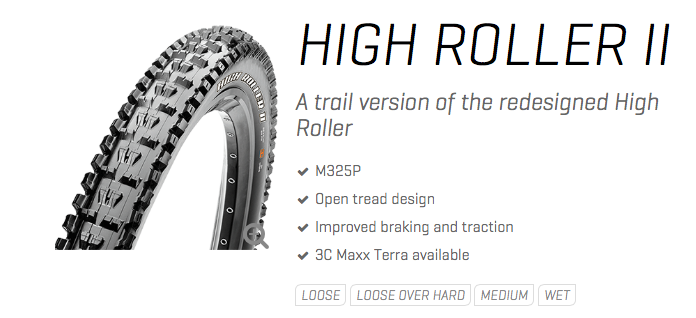 2. Maxxis Minion DHF: 26×2.5, 860 grams. Web: Minion DHF . $? on Amazon. Also pretty light, and 2.5″ width! The DHF stands for "Downhill Front", but that doesn't matter for unicycling. I ordered this tire too, but the High Roller II came first, so it is the one I'm running. This might be a great tire, and the uses show the same as the High Roller. But the high roller might be better for less rolling resistance on hard packed dirt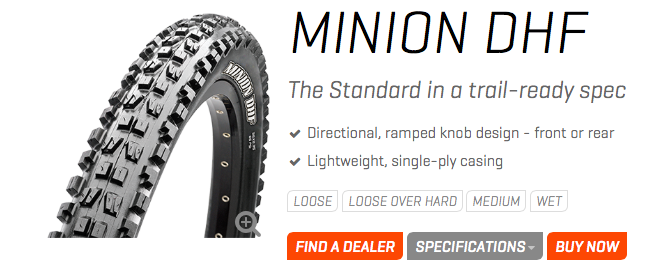 Tires that seem less good to me:
3. Maxxis Minon DHR: Web: Minon DHR : $?. Seems good, but 2.35″ width just isn't wide enough for me. DHR stands for Downhill Rear.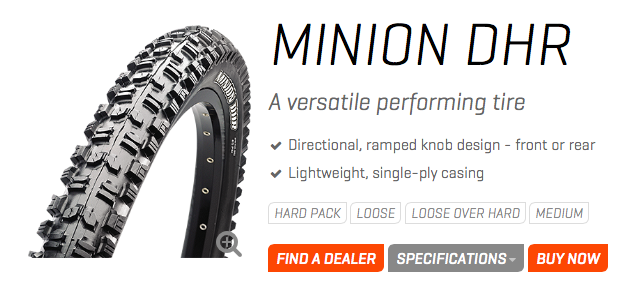 4. Maxxis High Roller: Web: High Roller. 26×2.5: 1180grams. 26×2.70: 1320 grams. Too heavy. At least for me, for now. This might be a great tire — and it is offered in a 2.7″ width — but at 1320 grams it is a pound heavier than the 2.4″ High Roller II. The tread looks not as good for wet ground.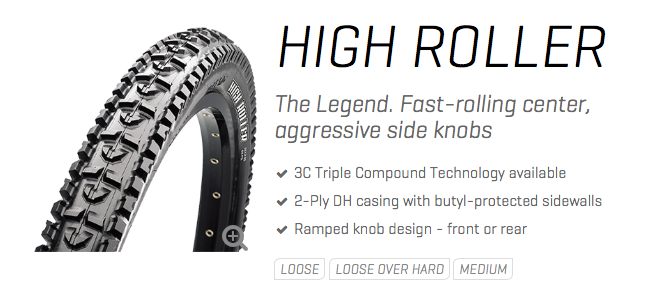 5. Maxxis Ardent: Web: Ardent. 26×2.40: 685 grams. I already know this is a good tire, but I figured it was time to try something new. It is lighter than the High Roller II and the same width.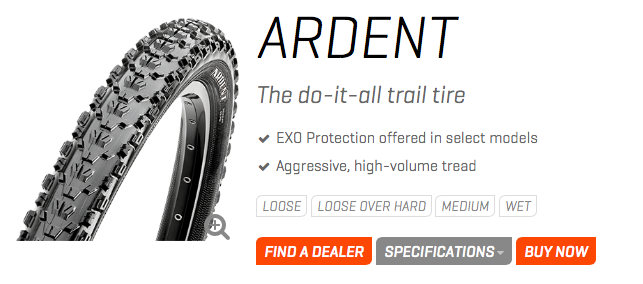 6. Other's considered: Griffin (26×2.4 – too heavy at ~1130 grams), and Aspen (not wide enough).
I also looked at some of the wider downhill tires, but they were all way over 1000 grams — great for pure downhill muni, but horrible for climbing.
---
---