The Elithion Lithiumate BMS uses a serial cable to talk to the computer. That's kind of a pain to see additional information that the SOC display doesn't tell me. It is also nice to see how the batteries are doing "on the fly", or when I'm charging at work.
I bought a WiSnap and made a little case for it: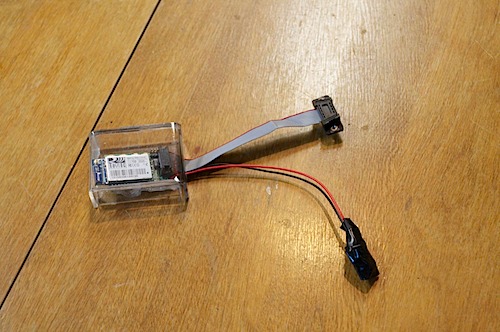 The red/black cord is for a 9v power supply, but it doesn't need it as it can get its power from the RS-232 input. I can now connect to an adhoc Wifi network with my iPhone (dubbed "PlugBugBMS") and see all the serial data from the BMS controller. Pretty cool!
I still want a better display, and eventually I want some easy software that displays cool battery status in a nice graphical package. I thought the serial port might be good to do it, but it won't work. I need to tap the CAN bus line and somehow emit the data to my phone. Bluetooth would work, but the bluetooth connection kit (and SDK) for the iPhone is not free. I'm also not sure if the iPhone can connect to more than one bluetooth device, and I really want it to always connect to my hands free headset and car stereo. Now…only if that bluetooth device could tap into the CAN bus and report additional packets of information to a custom app on the iPhone…
---
---