Unicycle Criterium Race in Auburn, CA
Yesterday I drove a 6 hour round trip drive to do a unicycle criterium (crit) race in Auburn, CA. It was the first time I've had to pump gas in several months, but it was worth it!
The Auburn Journal did a nice write up and took this cool picture of us starting: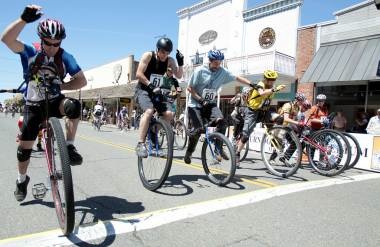 From left to right: me (Corbin Dunn), Stephen, Tom Holub, Nathan Hoover, John Foss, Robert, Wiley, Jim and Austin (the last three are sort of hidden in the back).
There is also a thread on the unicyclist forums about it.
I got first, which was cool, but I also really enjoyed the race. It was the third crit I have done; the first was during "Ride the Lobster" a few years ago in Canada. The second was last year at UGames in San Francisco. Both of those crits were on flat ground around a block and just making right turns. This one in Auburn was a blast because it had an uphill, a flat section, a steep downhill into a left turn, and the usual right turns. It was nice to have the variety and I really enjoyed it.
Robert Allen's daughter also snapped a picture of me cruising by on one of the laps: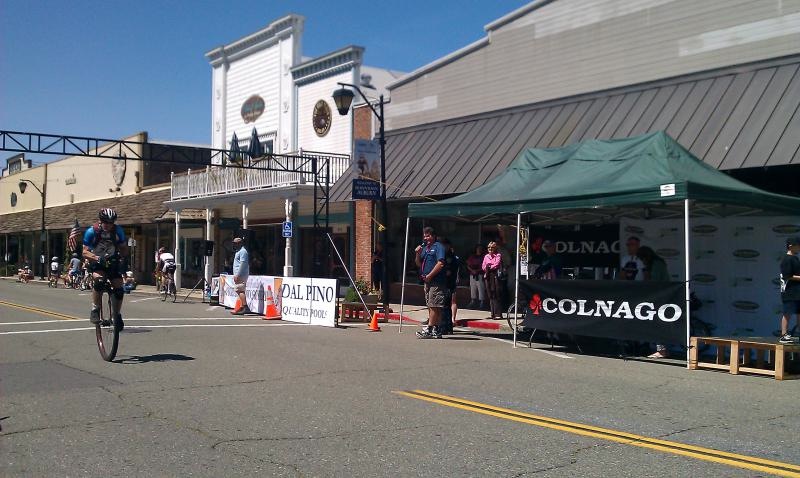 Afterwards, we did a 10 mile "coker muni" ride that really wore me out. I'm somewhat out of shape for sustained distance riding, and the hills tired me out. But it was really fun blasting down the single track in high gear.
The next event coming up is Strawberry Fields Forever — a casual rode rode of 100km. I hope I'm in shape enough to do it….after the 13 miles of riding yesterday (10 + the 3 mile crit), I was dying.
---
---