The Circular Treehouse – Beam Install
The first step was to install the top brackets. Well, first had to get the proper bolts. I wanted to use 3/4″ thick (radius) by 8″ long lag bolts — galvanized to support the weather. When I built my first treehouse, I just bought them from OSH or San Lorenzo Lumber. Now a days, we have Home Depot, and still OSH. Home depot doesn't really carry large lag bolts, and OSH has a wider selection, but no 3/4″ lag bolts. Both places have coarse thread 3/4″ ungalvanized bolts, and that was my only real option. I could order something from the internet…but I wasn't that patient. I did some test holes in a sample tree and discovered that the coarse thread 3/4″ bolts thread quite nicely into a 5/8″ pilot hole. The only problem is that they will eventually rust, since they aren't galvanized. I figure it will be an experiment to see how long before they rust and cause the treehouse to fall down. I think it will last at least 10 years, probably 20 and maybe 30. The bolts will be "somewhat" protected from the elements, so they shouldn't rust all that fast. I realize I'm making a mistake by not using the proper hardware, but that's okay by me.
So, I sunk the first bracket into the tree; all was fine. I drilled the hole for the second and realized that an 8″ lag bolt is too big for a tree that has a radius slightly less than 8″ (oh, duh!). I really need to have used a larger tree, but this is the one I wanted it in. So, I traded in my 8″ bolts for 5″ bolts. They seem to get as much holding power as the longer ones, and I think 8″ is overkill.
Rock climbers use much smaller bolts — but then again, those bolts are drilled into solid granite. So, a second experiment is to see how well these shorter ones work. Before I got the shorter ones, I used a few of the 8″ ones but made a 1″ space out off 3/4 inner diameter by 1″ outer diameter steel pipe I had from moving my mill.
Here's some more iPhone pictures: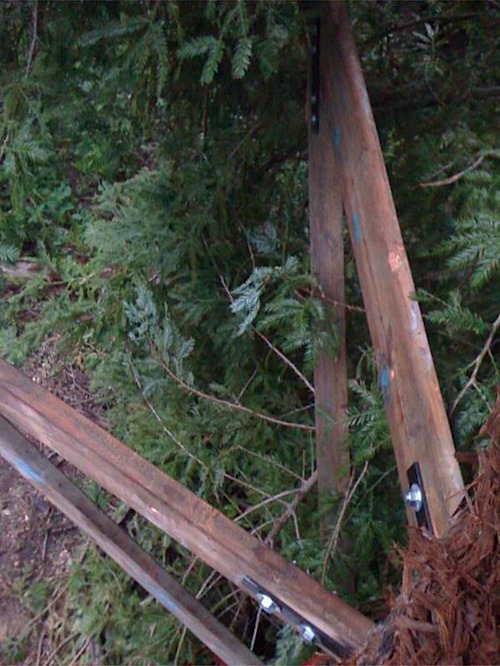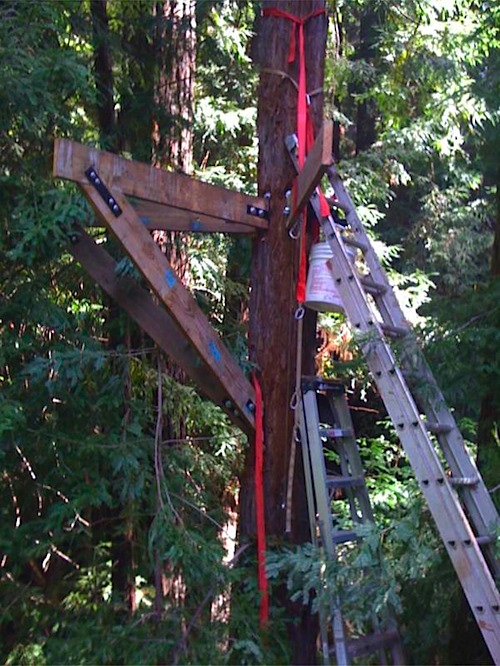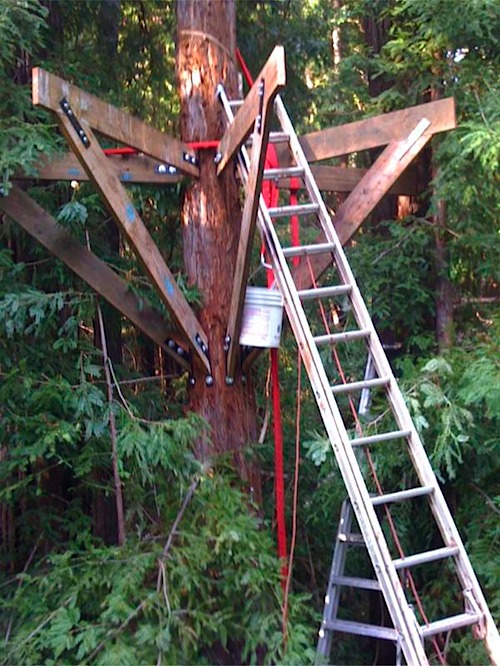 Each beam was carefully leveled with the previous beam and then leveled radially. Unfortunately…I now realize that didn't work so well, as some of the old beams are slightly warped. I should have ripped (or jointed) a side perfectly flat before using them…but then again…"oh well"..
More soon…
---
---