---
I machined out one ounce out of each of my KH Moment 125/150mm cranks. I went with a big pocket, just like what I did for Joseph's cranks. Hopefully they won't break!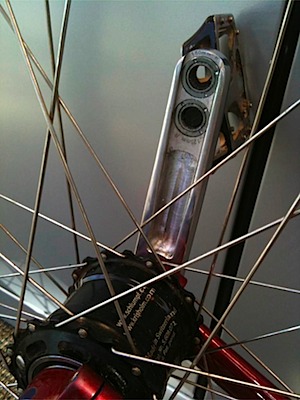 I also tried my geared KH 36 coker out with the 125 mm crank holes. It feels like it takes a lot of power to keep the thing moving at a basic pace (like 15 mph). But, they really scream for slight downhills and probably add 1 mph to my speed (or more on steeper downhills — I was pushing 24 mph without any effort on one downhill). I'll probably switch back to 150s, since climbing is a lot harder with 125s and there are a lot of hills around where I live.
---
This entry was posted on Tuesday, November 17th, 2009 at 9:30 pm and is filed under
Unicycling
. You can follow any responses to this entry through the
RSS 2.0
feed. Both comments and pings are currently closed.