SOLD: The Plug Bug – 1969 VW Beetle Electric Conversion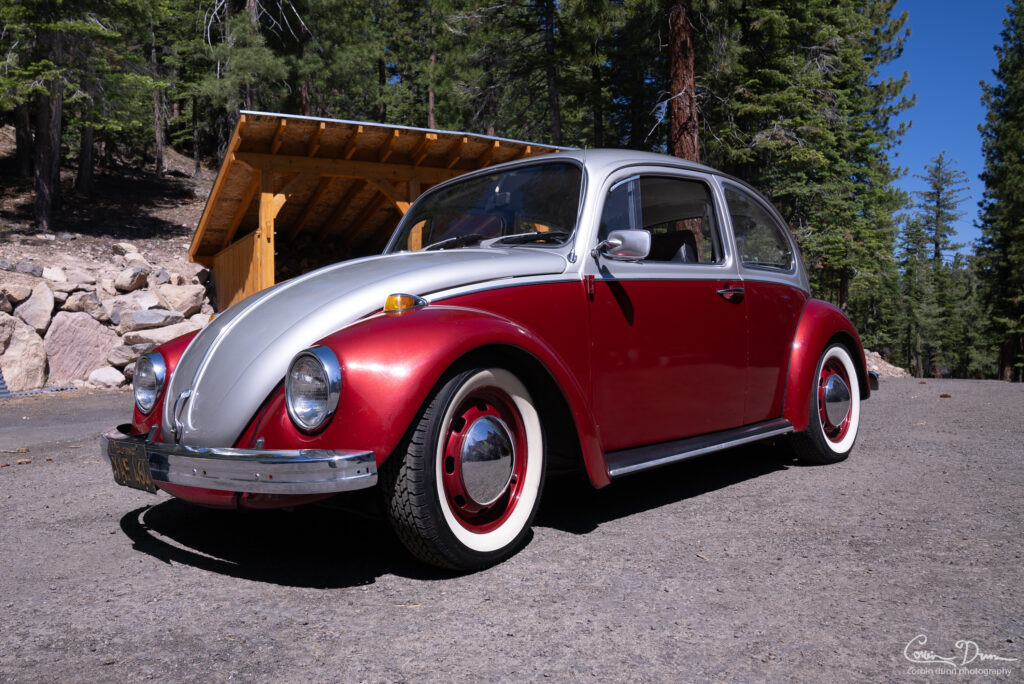 I'm selling my 1969 Volkswagen Beetle Electric Car, called the Plug Bug. Currently asking $6500
Main Details:
Full restoration and conversion started in 2010 and completed in January 2011.
Range: Unknown, but at least 30 miles, probably 50 miles or more. Originally it had up to a 120 mile range, but the battery pack is now aged. A few cells have been replaced over the years. I have not done a range test in 3 years, and I typically don't drive it more than 30 miles. I may do a range test soon to find out.
Batteries: 30 kWhr lithium iron phosphate. They take up the rear seat area and the front trunk. Elithion BMS to manage and monitor the cell charging and discharging.
Salvage Title. I was rear ended in 2016, and their insurance totaled the car. I have full repair details for how I fixed it; the main damage was to the transmission, the transmission mount, and the rear panels.
Charger: Onboard 6kw charger, but I run it at 4kw. In theory, 7.5 hours from completely empty to a full charge. In general, about 2 hours to charge it for normal day-to-day driving. It uses a J1772 inlet plug, but I have adapters for 110v and 220v.
Roughly ~100 hp from a 9″ DC motor – no regenerative braking.
Disc brakes all around
Lowered 2″
Originally had about 300,000 miles when purchased in 2010; the odometer was broken and it was an estimate by the original owner that I bought it from.
47,000+ electric only miles on the conversion and restoration
A California car; I bought it from the original owner in San Jose, and I'm the second owner.
This car looks beautiful and is fun to drive, but I don't have an indoor space to keep it in, and the winters in Truckee are too harsh to keep it outside. There aren't any known problems with the car; it drives and works well, but issues will eventually come up with the car and someone knowledgeable will have to repair problems. Generally these are old car related problems, but sometimes there are some electrical things that need to be fixed or re-worked. I can potentially provide some assistance and consulting, and I can also recommend some EV conversion specialists.
The battery is aging, which means less range than when it was new. Individual cells can be replaced on an as-needed basis, and I have replaced several over the years.
The paint is still pretty good, but it is shown its age. There are some typical nicks and dings that have been touched up, in particular two dings on the hood. I have some of the original paint for doing more touch ups.
Rust: I've seen a lot of people say their car has "no rust", but they look rusted out. This car has a few small spots of rust, but it is incredibly minor.
Interior: There are some nicks and tears on some parts of the seats from daily use wear and tear.
The car is a stick shift with a 4 speed transmission. It can be driven like an automatic in 2nd gear up to 40 MPH. I don't use 1st gear (too much torque) and always start in 2nd. I shift to 3rd between 35-40 mph, and to 4th between 55-60 MPH. I've taken it up to 80 MPH or so, at which point it starts to feel too much like an old car to go any faster.
I probably have over $30,000 invested into this car. The same motor new currently sells for nearly $5,000. The original battery pack cost me $10,000. Today you can buy used Tesla cells for half this price, or lower.
A complete documentation of everything that has been done to the car is located on my blog: https://www.corbinstreehouse.com/blog/plug-bug/
---
---