Video: How to Shift Gears on a Unicycle!
I have been riding a geared unicycle since around 2006 or 2007. At that time Schlumpf Innovations partnered with Kris Holm Unicycles to develop a shiftable geared unicycle hub. Florian Schlumpf already had a regular duty version of the hub that he developed, but it required a special frame and was not heavy duty enough for off road mountain unicycling. The hub is a planetary transmission, and can shift into a high speed 1 to 1.5 ratio. This is a huge improvement for unicycling, where the only way to change your speed ratio is to get a larger diameter wheel. Well, you can also use shorter cranks, but that just changes your power input mechanism (your legs) and not the distance per revolution.
The hub has a small button on one side of the axle protruding from the crank bolt. As you ride you can hit this button with the ankle of your foot and shift gears. Once you shift, the button is pushed inward towards the other side, causing the gears to engage and and simultaneously pushing a button out on the other side. You can then downshift to the original gear by hitting the button on the other side with the other foot.
This can be tricky to learn, but I developed a pretty easy way to do it. You simply move your ankle closer and closer to the button until it just starts hitting it. It will then give you a feel for the musical rhythm as your foot lightly touches it, producing a steady click – click – click beat each time you make a full revolution. You get in sync with the beat, and one time just hit it a bit harder to engage a shift. In theory, it sounds easy — but it takes some practice and I give a lot of great tips in the above video!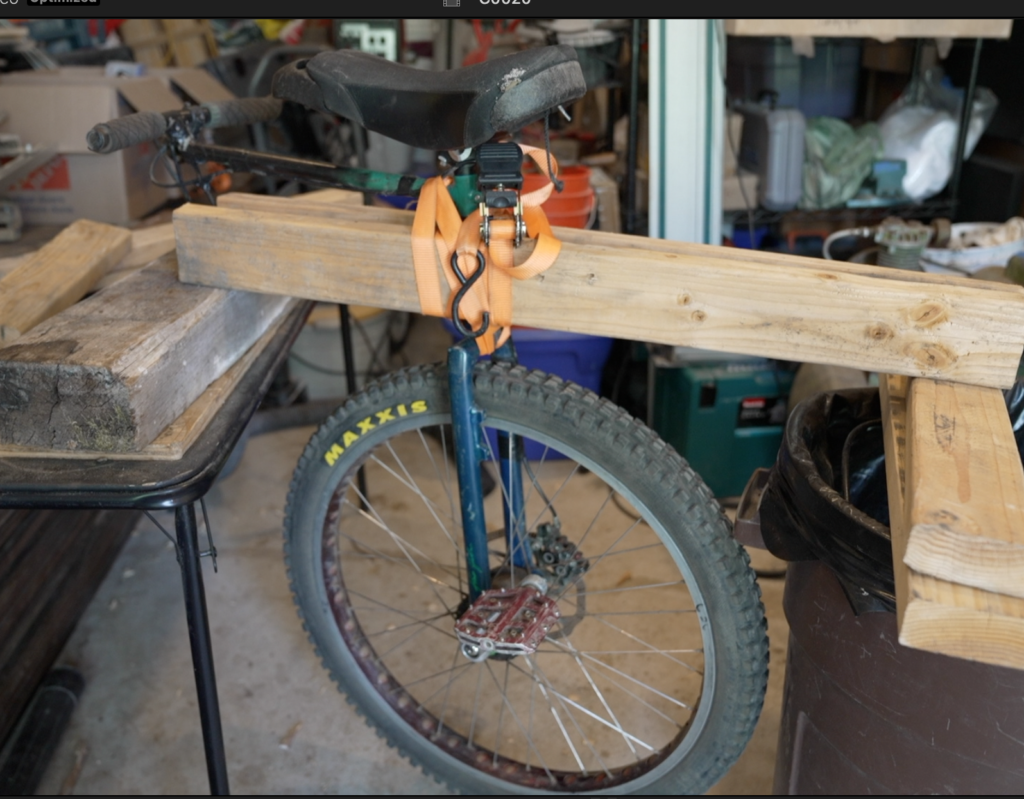 To get the close up shifting shots, I made a quick jig to hold the unicycle. A couple of two by fours across the frame held in place with a tie down strap. I then supported them across two tables — gingerly floating in the air. This required a bit of balance to get on, but worked really well to get the close up shots in 120 FPS slo-motion.
I'm hoping to make some more unicycle videos in the future. Leave a comment below to let me know what you might think!
---
---