My First Treehouse (pt2) 1997
This is a continuation of "My First Treehouse". Below are some pictures I scanned of it back in 1997. All text is written by me back then.
—
I scanned these pics that I took a week ago just today (June 23, 1997). When I got around to saving them w/ Photoshop as jpegs I found out that my cool Pegasus jpg saver wasn't working. I had to use the photoshop default jpg saver and it produces really big file sizes. Sorry about that…I hope to fix the sizes to be smaller very soon..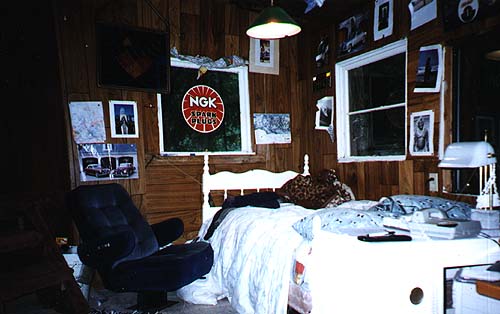 This is my bed…notice the chair. It is from a van. My high school auto shop teacher, Mr. James, gave it too me. It is pretty nice.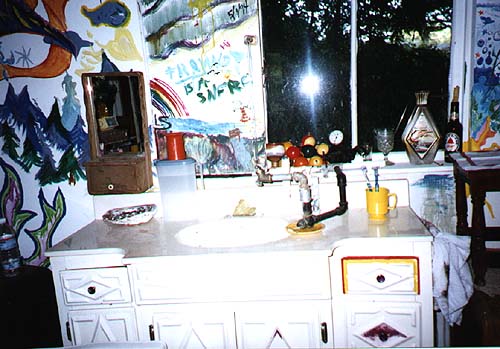 The sink. It has the abolone shell for my soap. I did all the plumbing myself, and the thing has just finally stopped leaking! You can see some of the artwork on the walls done by me and my friends. Also, there is a cupboard built into the wall that opens.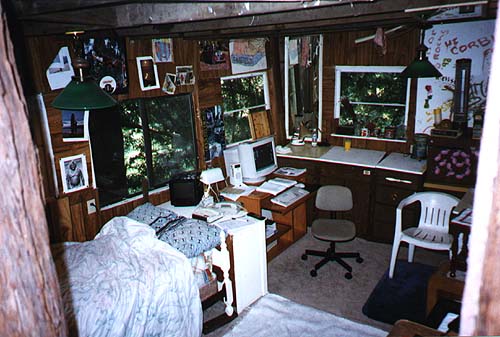 Here is a general view of the treehouse. I am standing on top of the stairs. You can see my computer where I am typing this right now (it is a Gateway…which are a good brand BTW). The rug is new; it used to be pink but it got ruined by the rain and my mom had been given some new rug so I put it in. As you can see, the left wall is coverd with some wood paneling that was given to me.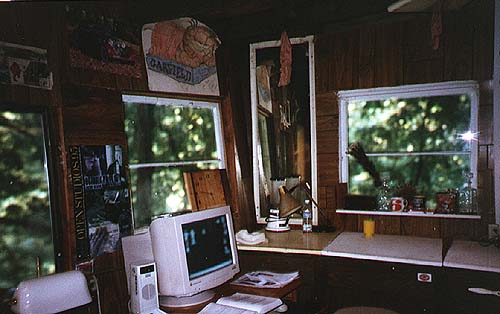 Here is a closer picture of my computer. This picture didn't turn out too good so the scan also was kinda lousy. The cupboards were given to me by Randy Smith, who also happend to be my Calculus teacher in High school at Aptos High.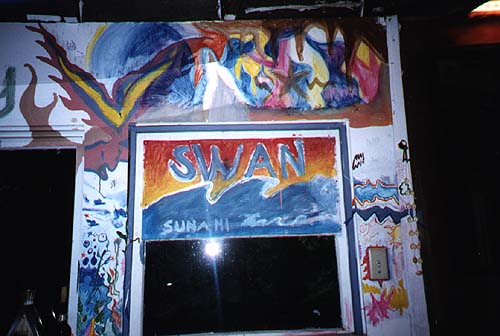 This is a picture of the right hand wall. You can see the artwork on it. I did some of it, but the SWAN was done by Lindsay Swan. I don't know what she was thinking, but I put that piece of wood there to cover a window that I accidentaly broke (i swung open the door and it hit a railing that I had just put in on the outside).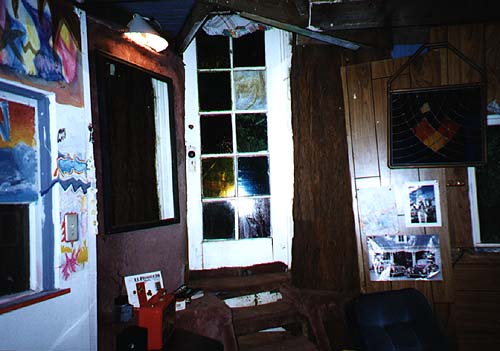 This is a picture looking back at the stained glass windows on the door. me and Chris Howland did that. The pink rug still resides on the stairs, and you can see the redwood tree in the corner.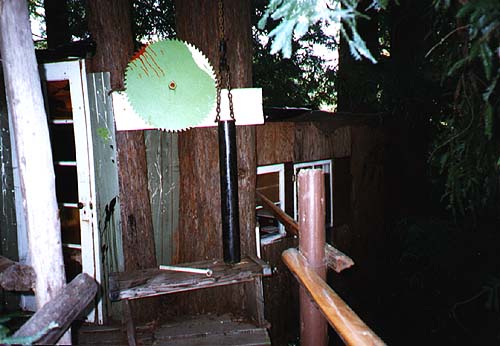 A picture of outside looking at my treehouse. A stump is hiding half of the door. You can see the green saw and the 'gong' which was given to me as a joke by my extra lame little ex-ex-girlfriend jessica something.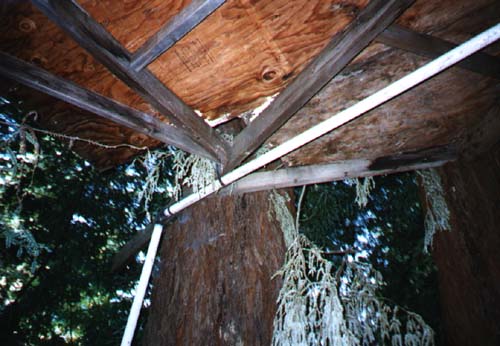 You can kinda see the plumbing and the way that I attached the house to the trees.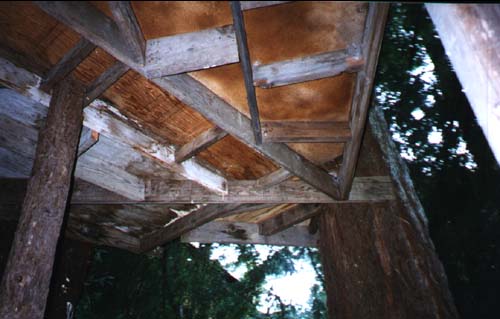 Another view of the way my house is attached to the giant redwoods that surround me.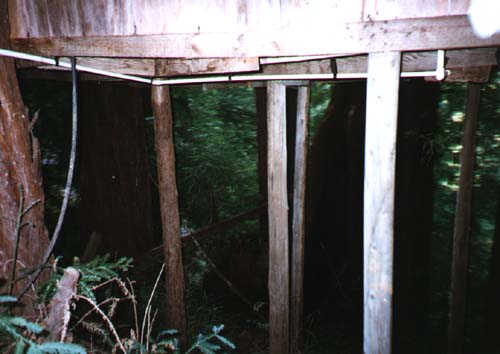 This is looking at the base of my house. You can see the black power cord and the white drainage pipes. The posts (which I put up way more than I think I really needed) are redwood, also. There were leftover from when we (my parents, as in 'we') built our real house and had cut down small trees on our property. They give added support.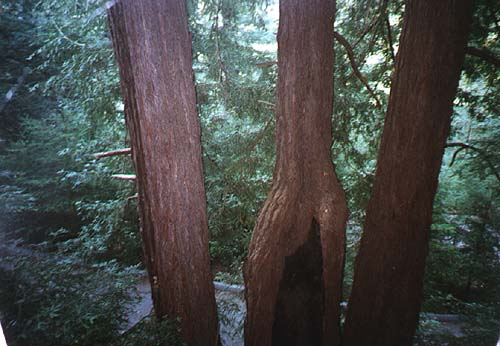 The trees you see when looking out one of the windows and downward.
---
---