The Arizona Trail on Unicycle: Day 24, The South Rim of the Grand Canyon
April 23, 2017
Ah, the south rim of the Grand Canyon! We didn't want to miss our last chance at civilization so we first went to the coffee shop in town and grabbed something warm for breakfast. A simple egg and bacon on a bagel tasted really good at that point, even after having my normal oatmeal for breakfast. 
We were prepared for about six miles of easy trail from town to the Canyon but it turned out they had recently paved the path and we just cruised it at a fast speed and ended up at our destination campground of Mathas a little before 10AM. Lexi had booked us a campsite and we headed straight for it and found out that the previous occupants had already departed well before checkout time. That was great; it allowed us to drop off our gear and I headed straight to the showers. 
Unfortunately the showers took $2 in quarters, and I only had a $20. I had to ask around quite a bit, but after 15 minutes I found a nice gentleman that was able to give me some change so I could take a shower and clean up a bit. Apparently everyone at the showers seemed to do this, and I don't know why the lady taking care of the facility didn't provide change. There was no way in hell I was sticking my $20 in their quarter machine and hauling around all that heavy loose change for days on end. 
Lexi and two of our other friends, Colin and Ashley, had planned on meeting us at the campsite to hike the Grand Canyon with us. Originally they were going to go hike rim to rim with us, but the shuttles weren't running this early in the season and there would be no way to get from the north rim back to the south rim. So the plan was that they would camp with us a few nights and hike back out and pick us up at the end of the trail.
About an hour or so later Lexi rolled up in a big truck with Ashley and pulled out some delicious beers. Colin planned on hiking Humphrey's Peak and then driving over to meet us later that evening. I was ecstatic to see Lexi; I think I had pushed us to leave earlier in the morning and ride faster just so I could see her sooner. 
Nothing much happened but a lot of relaxing, hanging out with good snacks, and a trip to visit the edge of the Grand Canyon. It was a fantastic rest day in preparation for some hard hiking through the Canyon with our extra heavy packs. 
I didn't take hardly any pictures, so here is one from the prior day.  Rebecca and me by the store.
Stats:
Today: 7.4 miles
Total: 559.6 miles  
Route:
Strava: https://www.strava.com/activities/956214214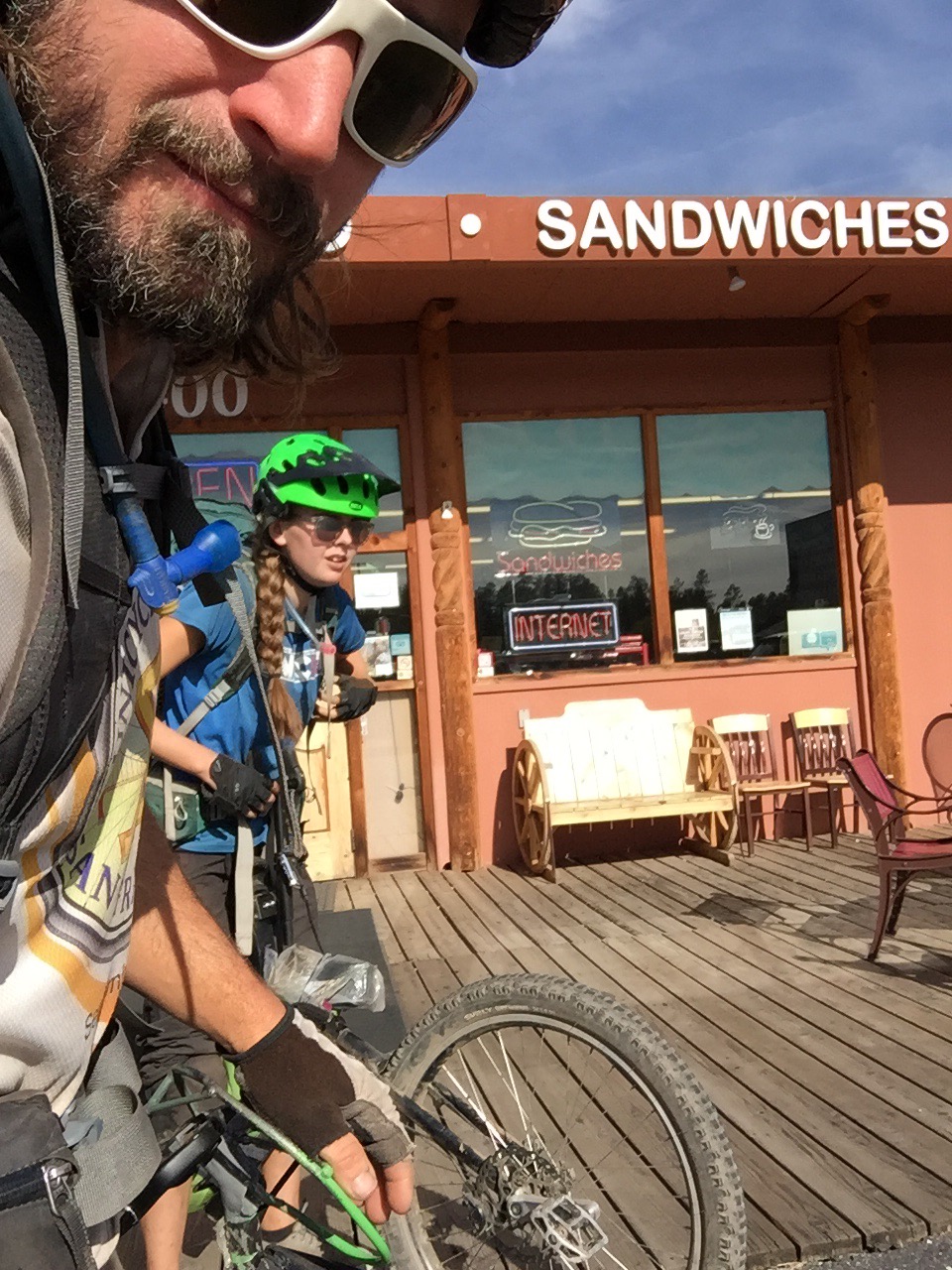 ---
---