The Arizona Trail by Unicycle: Day 4: Going Commando
April 3, 2017
My upper butt was incredibly sore from the past few days so I started my day a little bit earlier than Jamey and Rebekka so I could take it easy. That meant a little bit more pushing and less riding to let my bottom heal. I also decided to nix the riding shorts for the first hour and just left everything air out a bit. I wished I had brought two pairs of riding shorts so I could swap to a more comfortable pair. So I flipped on my phone and discovered I had descent reception. I hit up Amazon and did some two day shipping of a fresh pair of bike shorts to our next food delivery in Superior. Score one for having cell service in the middle of nowhere! After an hour or so Jamey and Rebekka caught up to me and I went back to normal riding with them. 
Sometimes after breaks I would get a short bit ahead or behind. At one point I turned a corner and saw a huge lizard dead center in the trail. A gila monster! The first time I've ever seen one in the wild and it wasn't too happy about me looking at it. It hissed and hawed as I snapped a few pictures and then it slowly mosied off into the brush. 
We had to do a lot of climbing and climbing and climbing. The day started with a little less water than usual since we had to utilize some of our water for cooking the precious dinner and breakfast (two oatmeals AND coffee!) and water for riding to the last campsite. We knew there was a solid water source not too far ahead — something like 12 miles or so, and I had a bit less than 3 liters and figured it was fine. 
But Arizona is hot. The sky was a clear blue with non clouds to filter the blazing rays. The cold snow was now long gone and left in the higher elevation. I was forced to conserve my drinking and pace myself. Eventually the uphill turned into about 2 miles of downhill with "Cowhead tank" (I think that was the name) down at the bottom in a large wash. 
I rushed those last few miles like mad because I wanted to indulge in non regulated drinking. Once I saw the big wash I noticed a bunch of cowboys out on their horses. I pushed my unicycle and said a few quick hi's. One said his wife saw us a few days ago and asked where we all were from. I quickly answered and headed to find the water tank, as I was on a mission! Water. Water. … I wasn't empty until I hit the wash and knew I could quickly find the tank. 
The tank — it was glorious. A humongous round steel tank at least 12 feet tall and a very large diameter. Think of a deep diving pool, overflowing with water. I climbed a rickety metal latter and tossed my filter in and so I could start pumping out some safe fresh water. It tasted great and I indulged and enjoyed. 
Jamey and Rebekka rolled up shortly after. We all filled up on water and ate some snacks before continuing on. 
The rest of the day was a blur. My legs were tired and I was fatigued. The last few miles were super windy and my motivation was seeing my two friends ahead of me. Becky got a second wind and was dashing forward at a lightening pace. I was slogging behind pushing my uni up the slightest incline. Finally we hit an easy road; that was a blessing and a curse, as flat easy terrain is faster but means more weight in my sore butt. Eventually we did the final few turns of the trail and hit a large parking lot. Jamey had set a water stash here a few weeks earlier. 
It was tricky to pitch the tents as it was super windy at the campsite. A touch of warm, but windy. I use the term campsite loosely as we put our tents under some strange wooden shade structure made with a thorn roof. The wind usually settles down once the sun sets but that night it didn't stop until sometime early in the morning. 
Stats:
Today: 24.0 miles
Total: 101 miles  
Route:
Strava: https://www.strava.com/activities/928526848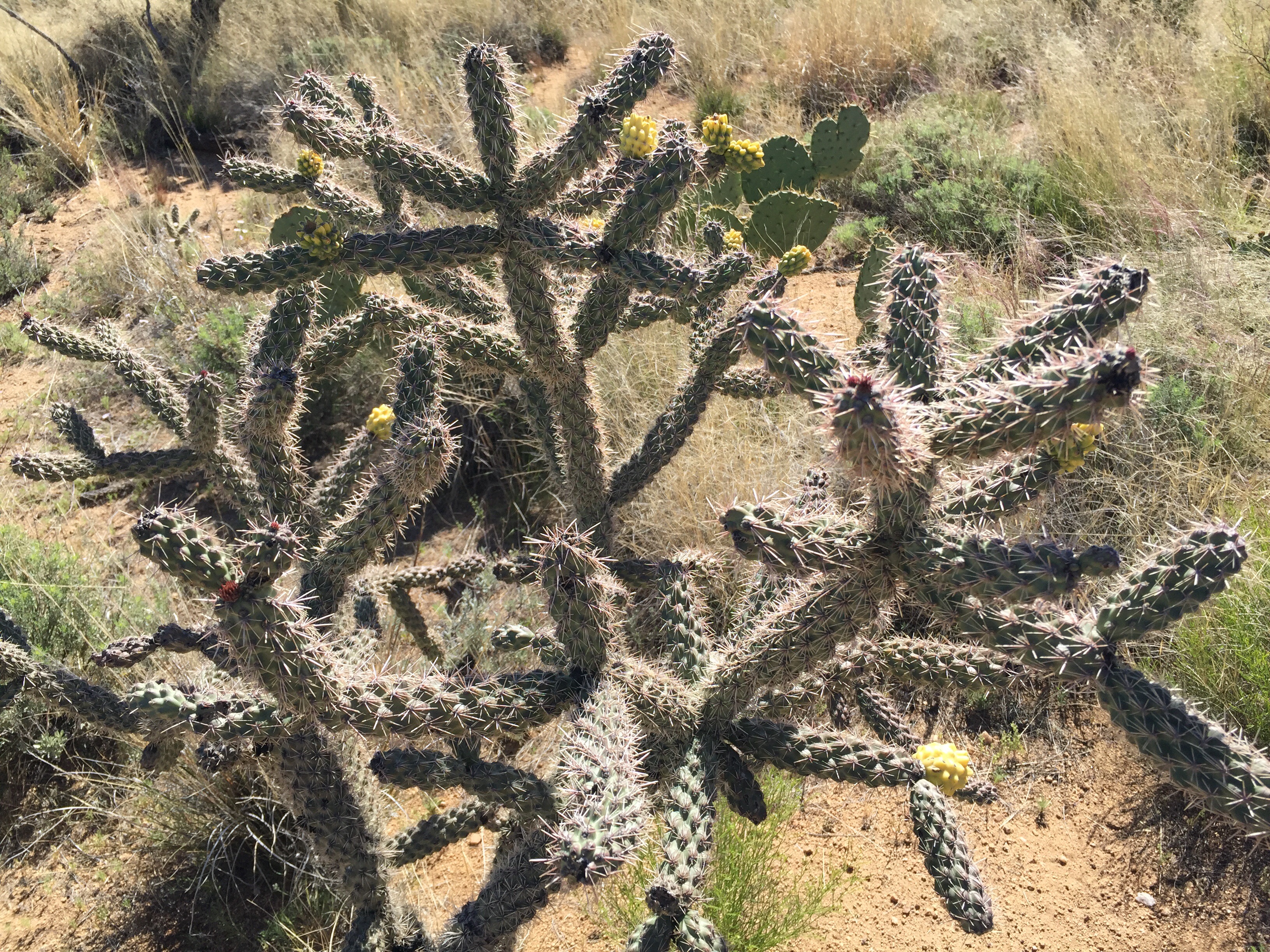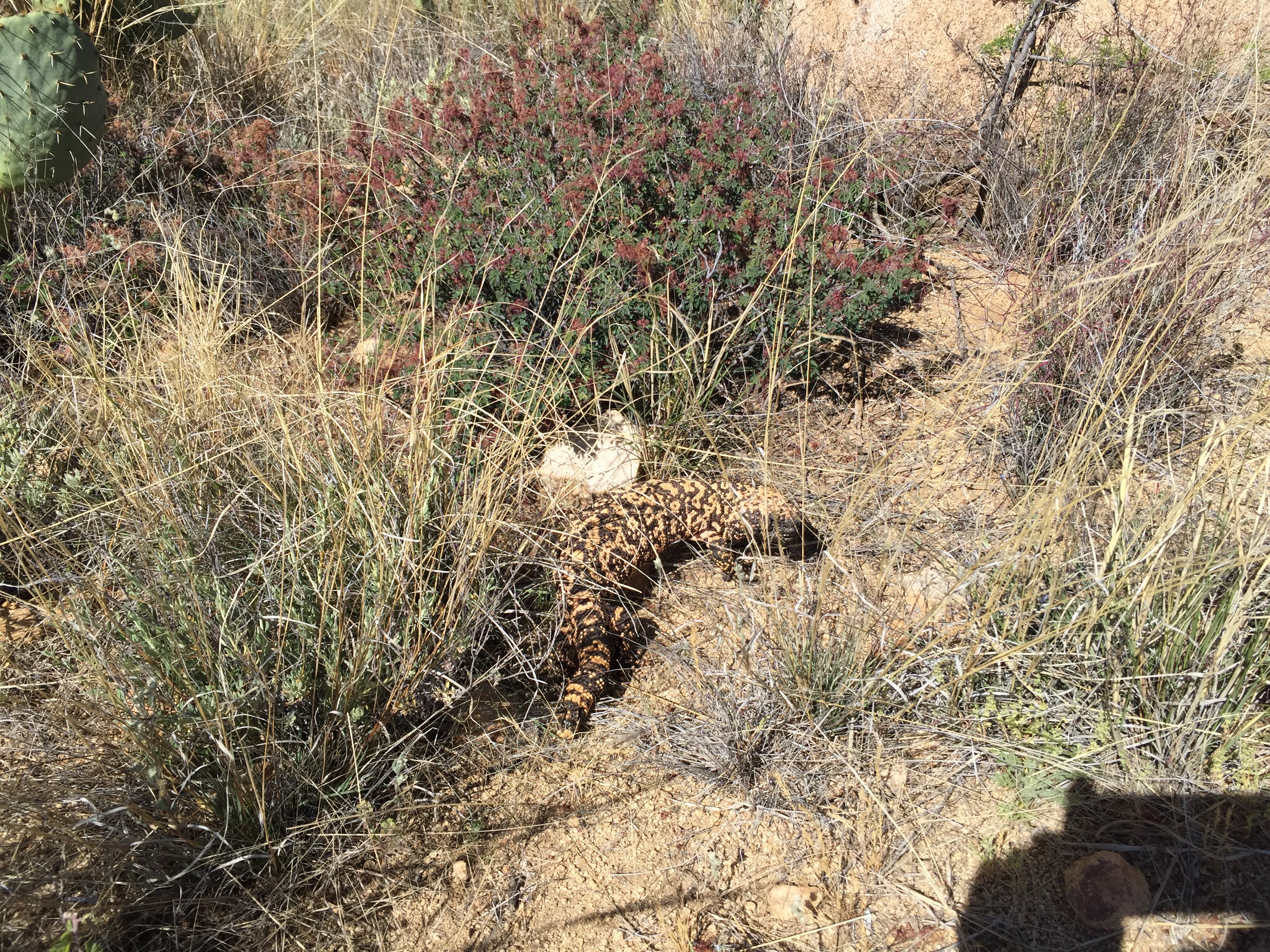 ---
---