The Arizona Trail by Unicycle: Day 11, Shade and Cracks
April 10, 2017
Yesterday was effectively a rest day. More accurately, it was a "drink beer and rest day" while waiting for the Visitor Center to open. 
We packed up a little late because the Visitor Center didn't open until 8am, but we got there about 15 minutes before to plug some gadgets in to the outlet on the outside of the building and let them juice up. I ran in and got my food package as soon as they opened and organized a few things. We all had too much food, so we rode down to the marina to drop off the excess in their camper box and grab a few snacks. Jamey got a coffee and I snatched up a breakfast burrito. It was frozen, and not all that great, but I ate it up. 
We were still doing a wilderness bypass and had to hop onto Highway 188 and go west to the end of Lake Rosevelt. The road was gently rolling and some pretty easy terrain and it made me wish I had my geared hub or a 36er to speed down the road. 
At some point I started to get worried my brake pads were going to run out. I had been avoiding using the brake the previous day and started to use my legs a bit to slow down. This was starting to make riding more difficult and tiring, and I decided to order some new pads from Amazon and have them shipped to Pine AZ, our next food drop. Luckily we still had some reception, and after quite a few tries of inputting the USPS address into Amazon I finally got an order off. Hopefully they will arrive within 4 days before we arrive!
Eventually we hit the dirt fireroad and started our long climb up a mountain. The terrain was pretty steep, and we had to mainly push the unicycles with a touch of riding every now and again. The sun was not as hot as the previous few days and the time went by pretty quickly. Eventually we got to a one gallon of water that Jamey dropped off a few weeks earlier and we used the opportunity to fill up our camelbacks to about 2 liters each. Jamey also stashed 4 more gallons about 5 miles further up the hill, but put on bonus gallon here in case we needed it. We probably would have been fine without it, but it was nice to not have to lug extra water for such a long distance. 
The road wasn't all that bad because quite a bit was shaded as the sun started to edge lower on the horizon. We loaded up with water at the second stash (I did 4 liters) and we were prepared to hike/ride about another 7 or so miles to a small creek crossing. 
The fireroad eventually turned into the official Arizona Trail and right at that point we saw our friend Smiles. We kept meeting up with her at various drops and ending spots, so it was super coincidental to see her as she hiked the normal trail (leaving the day before) while we did a 22ish mile bypass to make it to that same spot. 
The next part of the trail was some up and down fireroad. I did a stupid crash and cracked my handlebar. I have some ideas on how to fix it, but they will have to wait until we hit the town of Payson in two days. I hope I can avoid crashing anymore, as it can't take much more before it will snap right off!
Eventually we hit the little creek that crossed the road and found a nice little campsite. Smiles walked up and joined us not too long after we arrived and were just starting to make dinner. 
The night was cold again; two sweater weather, and long underwear. 
Stats:
Today: 28.3 miles
Total: 261.7 miles  
Route:
Strava: https://www.strava.com/activities/939715789
 Me looking out the dirt road: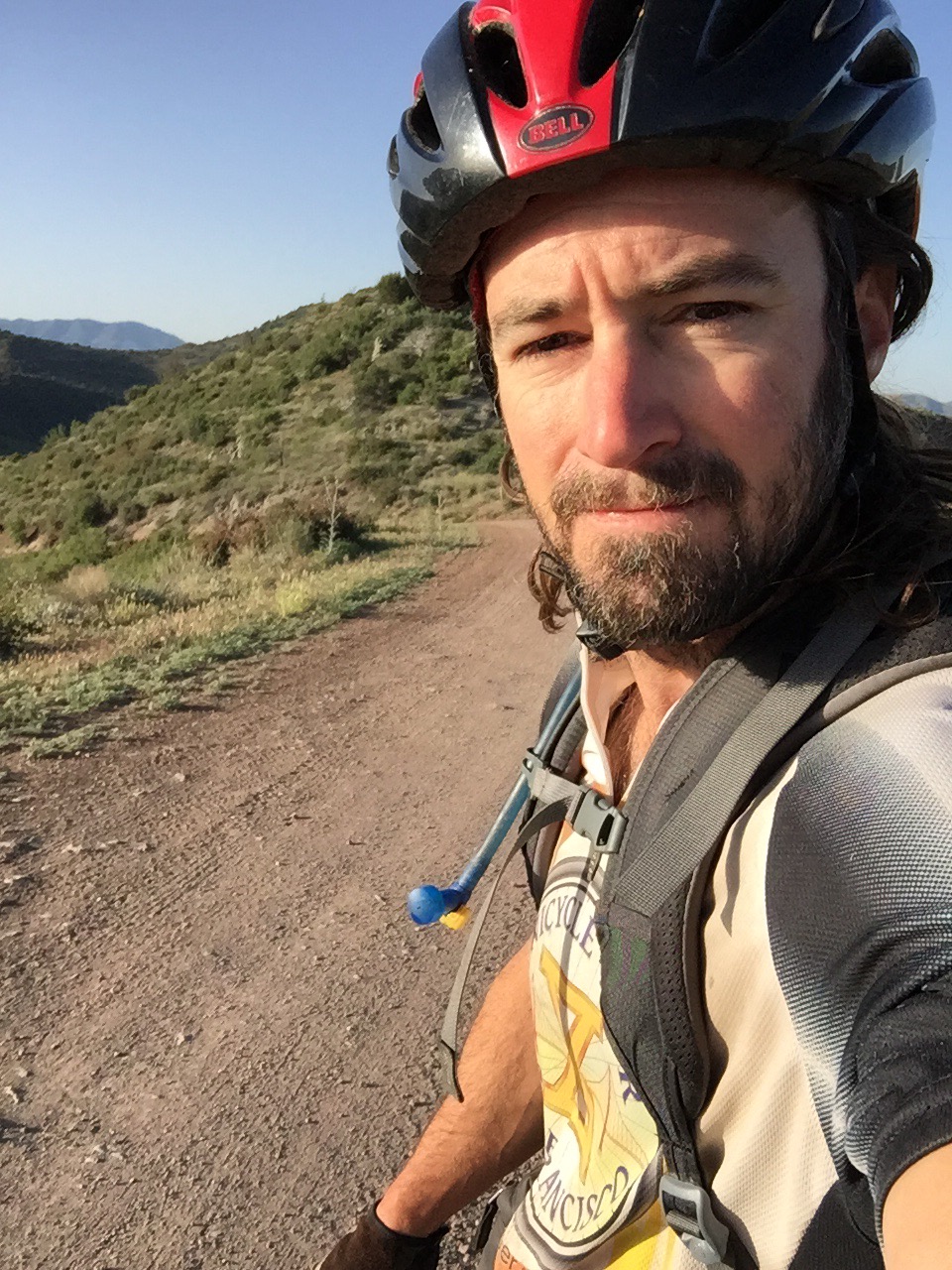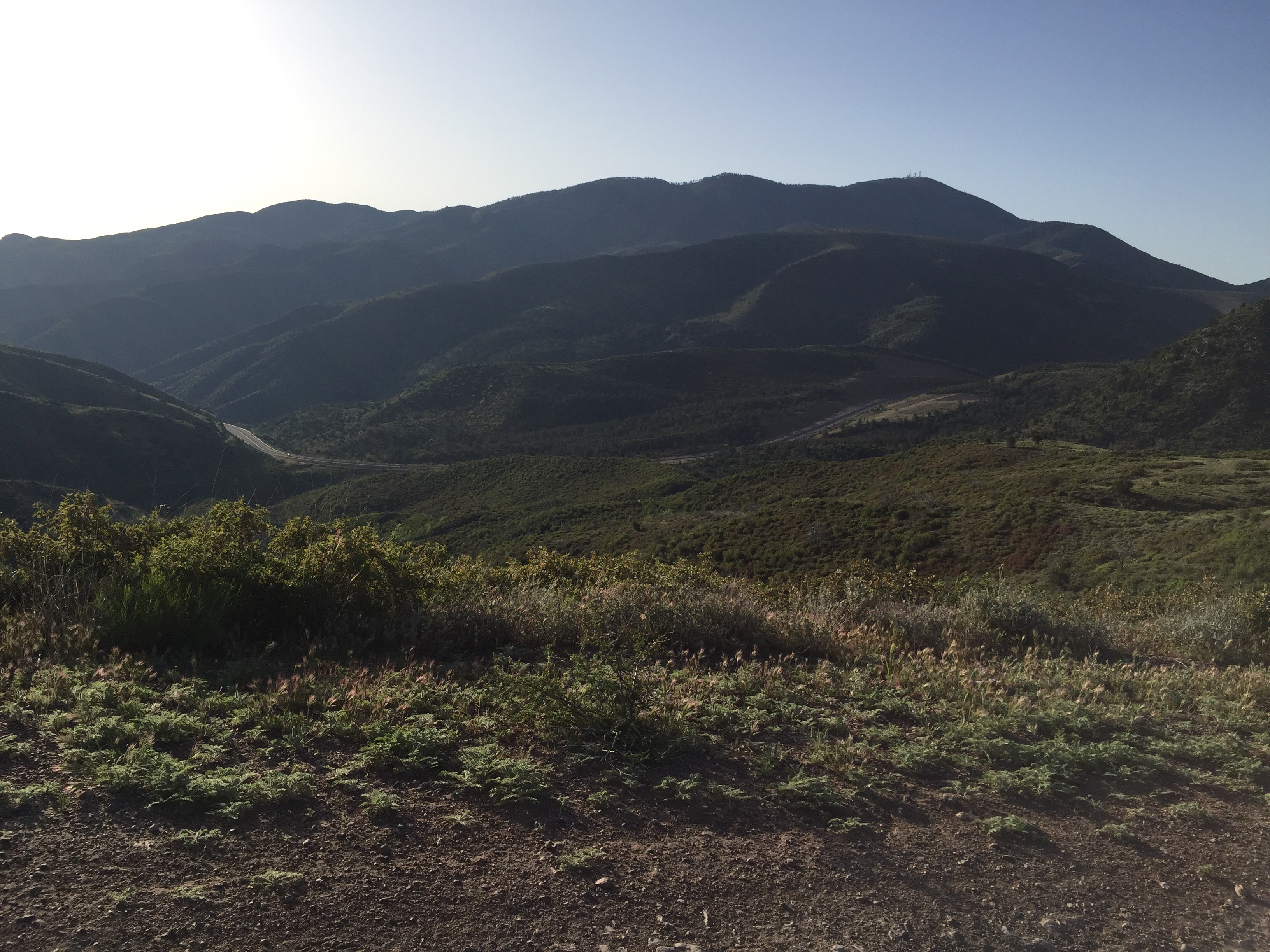 ---
---