The Arizona Trail on Unicycle
I'm in the process of preparing for my next big trip: The Arizona Trail on Unicycle.
The Arizona Trail splits the state almost in half with an 800 mile vertical line from Mexico all the way to the top of Arizona. My friend, Jamey Mossengren, spearheaded the idea to do the trail. I've always loved doing adventures, and this sounded absolutely epic. 
I'm going to coin a new term: unipacking. Unicycle + Backpacking = Unipacking. Biker's already have a similar term: Bicycle + Backpacking = Bikepacking.  This differs from bike touring in that it is all offload, and the setup is usually slightly different. While bike touring (or uni touring) you generally have the advantage of riding on roads and going through lots of towns. This makes it relatively easy to find food and shelter, and pretty easy to load the bike down with heavy panniers that contain all the essentials. With bike packing and unipacking you have to carry with you everything you would need: tent, food, clothing, and people usually go minimalistic with just essential gear. You will forgo the normal panniers and opt for tricking out the frame with small auxiliary bags to carry the essentials. And you will get to ride awesome trails, without having to deal with cars and modern civilization. There are tons of great resource out there on the subject; one easy example is http://www.bikepacking.com
So, follow along on my blog as I document my adventure and setup my unicycle in just the right way!
The map below is a copy from aztrail.org showing the overall route: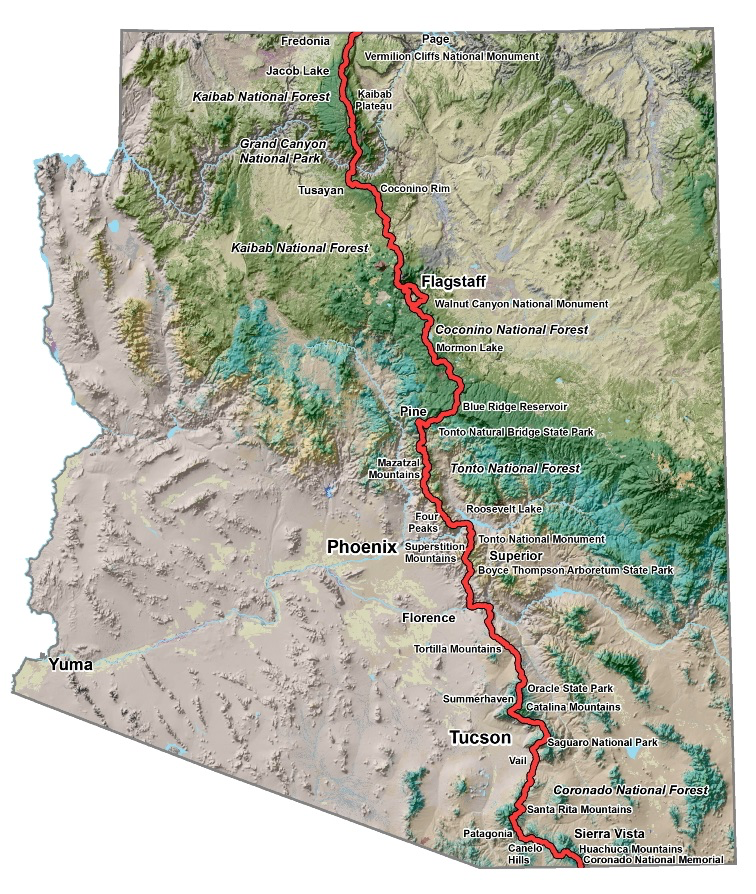 ---
---