I needed a 5 piece wheel for traveling with my roué cyr and decided to make a new one for the Chicago Big Wheel Weekend. My prior wheels were three pieces, but five seems to be much better. It provides a more solid wheel, with less flex (due to more solid inserts), and it is more portable.
I picked up metal in my truck from the Metal Supermarket in San Jose. As usual, I bought 20′ pieces of 6061 aluminum; 1.5″ diameter tubing, with 1/8″ sidewall. And a 12′ piece of 1.25″ solid stock for making inserts.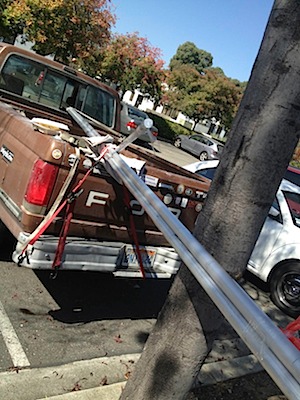 I bent the wheel in the bender; this time I got a lot of spiral that I had to work out (which was a pain!):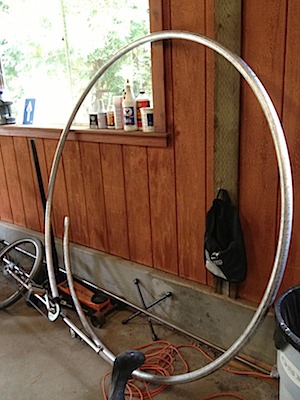 I now have a new technique for getting it straight. My friend Gabriel is using it to make his own wheel, and he tested the new technique, which worked out great. We set the tubing on flat ground (using my deck), and painted some bluing fluid on the top of the tubing. Then we used a scratch awl type of tool to scrape a line perfectly straight along one edge. This perfectly straight line could be fed into the bender at the same spot, allowing it to be come in straight and come out straight without any spiral.
I discovered it is best to work the curve as much as you can while it is a big circle; it is possible to bend/unbend the pieces after they are cut, but it will sometimes squish the edge. I did the thing I did before, which is compare the curve to a jig of the desired radius (I use a 34″ radius for a 68″ wheel inner diameter. After it is bent and skinned, it will be 1/4″ shorter (the skin is 1/8″ thick). I am a little less than 5'6″, so it will be about 1 3/4″ taller than me; rather tight and small — some people like them up to 3″ larger than their height).
After I bent it, I cut it into 5 pieces, being sure to mark where each one would match to the other.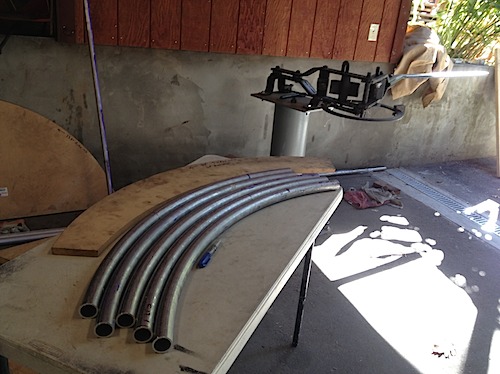 Before bending the solid insert, I turned it on the lathe. I turned it to 1.242″, which was too tight; for Gabriel's wheel we are going to 1.235″; I'll update this post about how that goes when we finish his wheel.
The solid insert was then bent in the same way, just using a different die on the bender. It was essential to get its curve just right: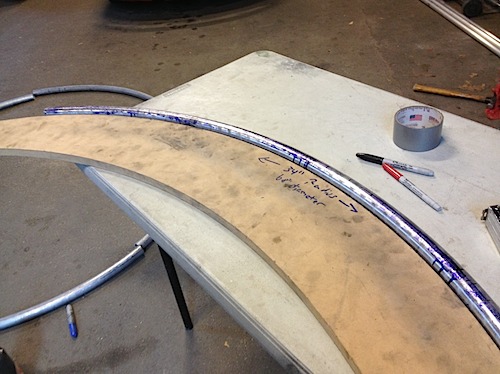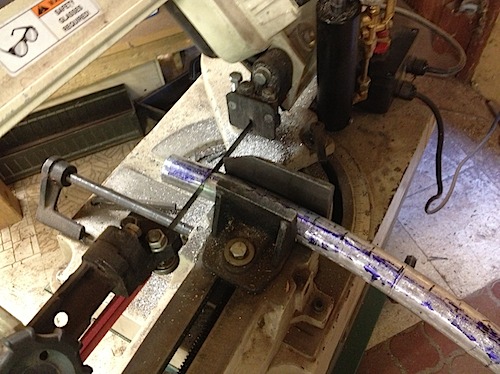 The inserts were cut 10″ long. I had to sand them down quite a bit to get a smooth fit. Here is the rough one above, and the solid below: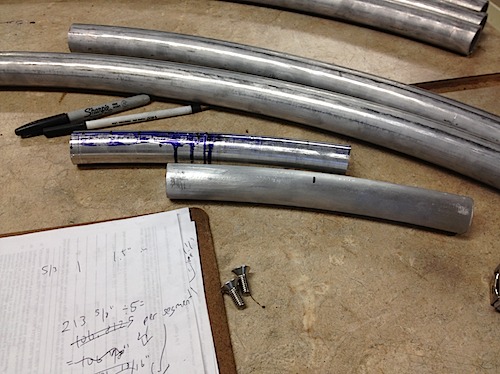 Drill and tap two holes on each side; I put them slightly offset to make it easier to know which way to assemble the wheel, and make it easier to turn the allen: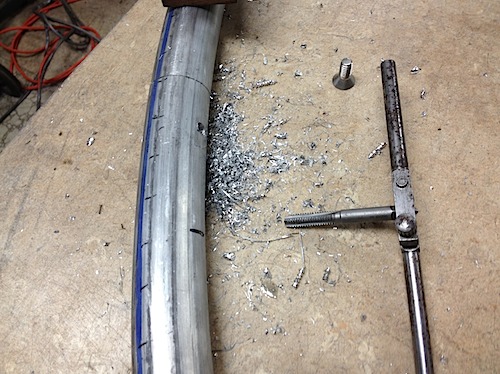 Wheel was sanded, with the help of Gabriel.
I welded a quick jig to allow me to powder coat the wheel sections: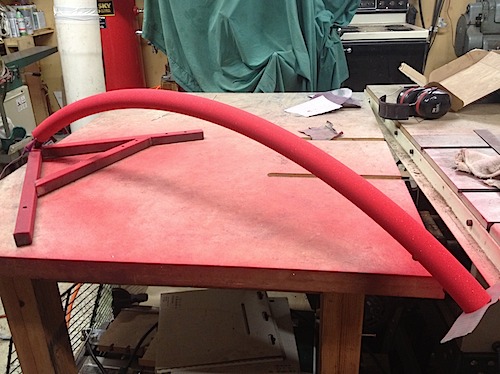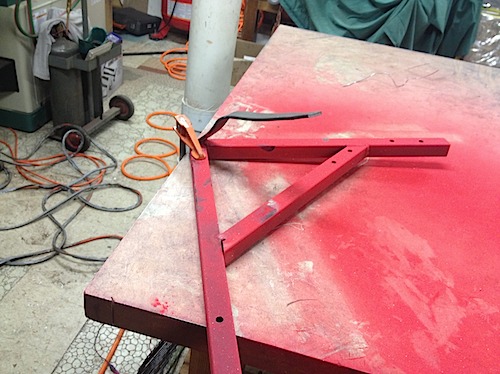 A similar jig is on the inside of the oven I use to powder coat. The wheel section would not fit, so I welded up a "pregnant oven" to allow coating larger things. It is just mild steel welded together with some insulation on the outside. Very cheesy, but it worked and didn't catch on fire: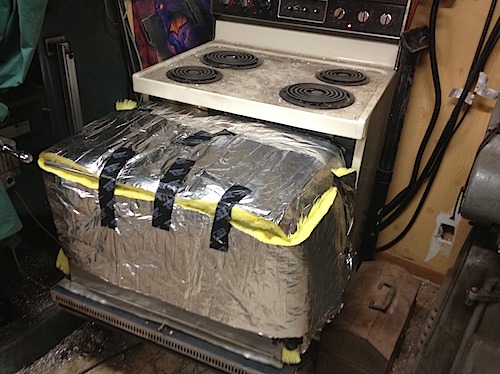 Wheel out of the oven on the cooling "rack":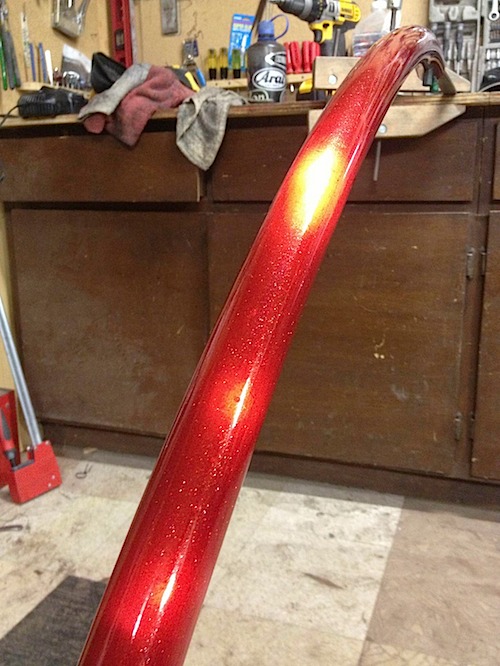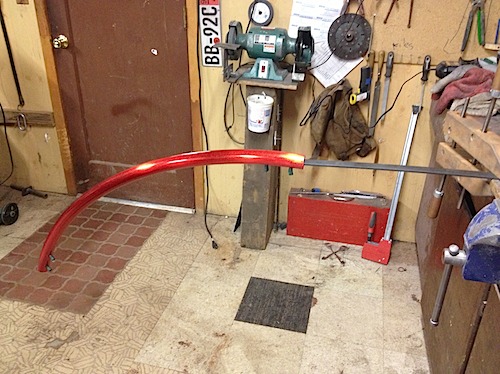 Skinning the wheel was a pain! My air technique was not working; the tubing was too tight. This time I had to submerse the tubes in warm bath water (in my bathtub) and work on the skin. That worked pretty well. I then used compressed air to get most of the water out of the tubing, but there was a little left. I'll see how tight it remains over time.
Completed roue cyr (cyr wheel), powder coated red: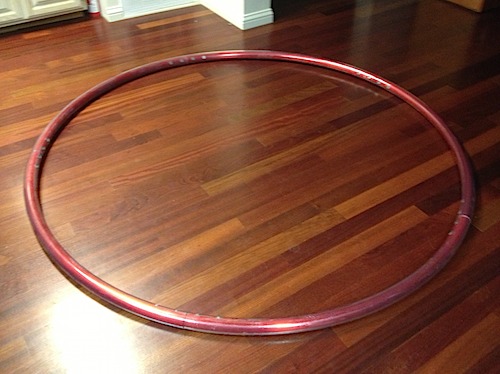 ---
---