Plug Bug: Mileage and Range
So, how far can it go?
Today I drove home from a Plug In America gala event in San Francisco.
I maintained 55 mph on highway 101 and 85 — relatively flat highways. This is the path: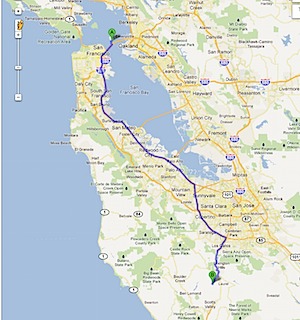 The car was at 57% State Of Charge (SOC), meaning it consumed 43% of the battery (depth of discharge – or DOD). That was a 55 mile trip. So, in theory, that is a 127 mile range to 0% SOC! EDIT: I originally thought it was 60 miles, because that is what the iPhone GPS said…but looking at google maps at the point where I read the SOC, it looks like it was more like at 55 miles. So, I change the range estimate from 140 to 127.
It's an extra ~10 miles to my house, which includes highway 17 (quite a steep hill!) I maintained 50mph (the speed limit) up 17, and the power consumed is nearly 3x what it took to maintain 55mph at flat. After those miles I was at 44% SOC. I took a screen shot of the Elithon BMS output on my iPhone (yes, I was talking to Kim while I took it):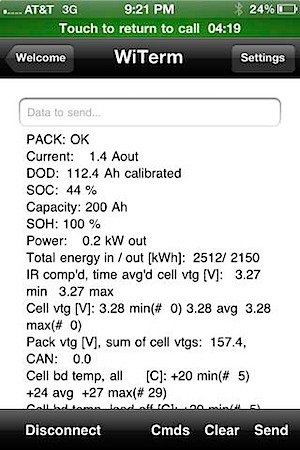 So, based on that math, it would be 116 mile range. Since I never want to take it to 0% SOC (and ideally keep it above 20%), I can probably safely say I have roughly a 100 mile range with the car at 55mph – including a trip up highway 17.. 70-80 miles if I drive more "normal" (meaning 65-70 mph, and harder accelerations).
---
---