I saw a roue cyr wheel in a performance and thought, hey that looks cool! I bet I could make one, despite knowing nothing about them and not ever have touched one. Anyone who knows me probably wouldn't be surprised by that :).
Here's the finished wheel in my garage: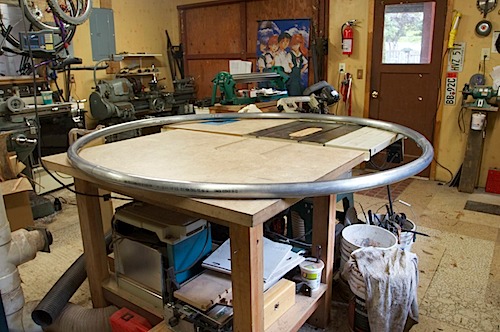 And me trying it for the first time (yesterday!)
I got a bender…partially for this project, and partially because I have needed one for several other things. I then ordered material from speedymetals.com — they are cheaper than onlinemetals.com by far. I spent about $170 in metal (actually a bit more to have a backup piece), and $120 in PVC tubing from www.pwmall.com. I purchased 4 74″ pieces of 1.5″ outer diameter, 1/8″ thick 6061 aluminum tubing and a 50′ roll of 1/8″ thick, 1.5″ inner diameter Kearon PVC vinyl tubing. There is enough tubing to make at least two cyrs, and I may eventually make another for Aaron.
I used a 1.5″ 26″ die on a Hossfeld bender. A 29″ die would be better, but it was on back order…and I figured I could just stop the bend early. It turns out that is hard to do, and my diameter is a little flat where each piece meets. Oh well, it was a learning experience!
Here's the bender with the tube. Eventually I used an outfeed table to keep it all level: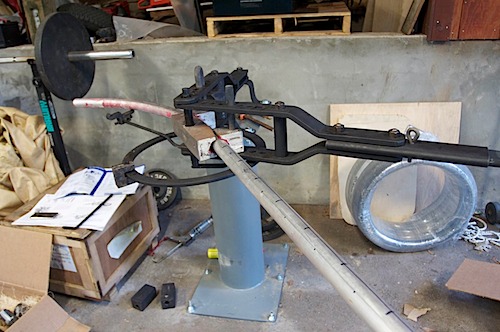 Back side of the bender. I greased it up to help with the bends. Bending the aluminum was no problem.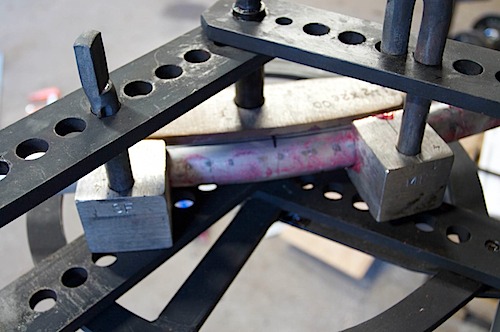 Bending the steel inserts was next to impossible. In the end, I made the steel inserts 5″ long (way too short) and a little loose so I could fit them in. They are bent a little..but not much. You can see the insert below on the table: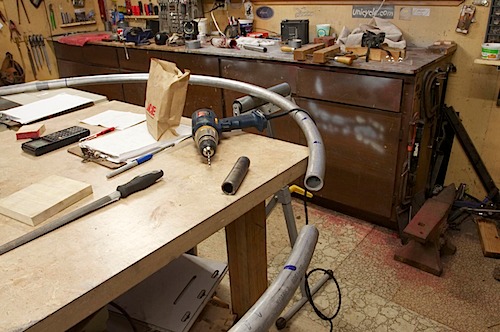 Covering with PVC tubing was a nightmare! At first I tried just muscling it over.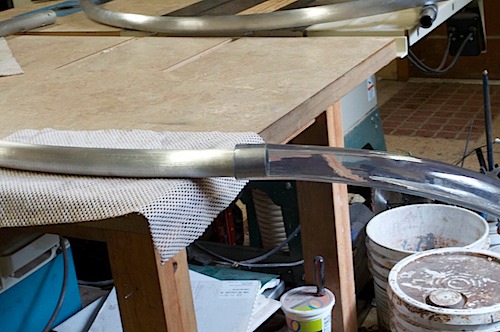 Then I heated it in my oven at 200 F for 3 minutes; that helped, but I still had to work really hard to get the covering over the tube. It took hours to get it done..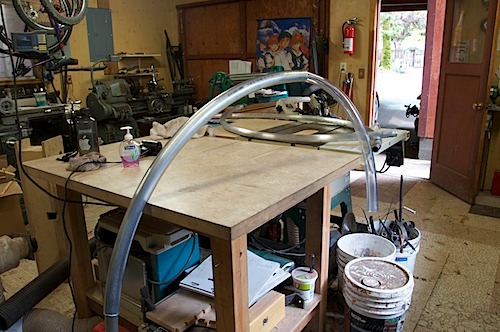 The other two were much faster; I heated the tube, and also used soapy water as a lubricant; they slid on fairly easily (~15 minutes or so each section).
---
---