---
Welcome to the EV Page of Shame!
The first victim.
This little lovely neighborhood EV was parked in the decided EV spots in the downtown Santa Cruz parking garage. But it was not charging! Shame on you. All the other spots were taken, and people could not charge because you took this spot! Please be courteous. (I would have left a note but I had no paper).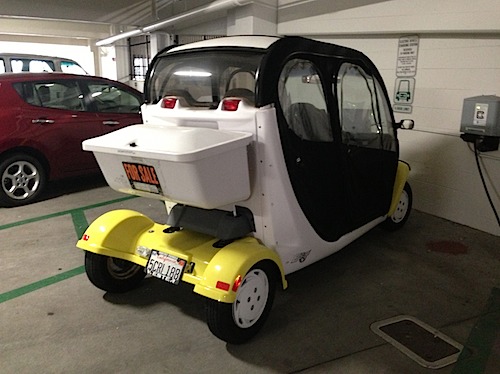 ---
This entry was posted on Thursday, March 7th, 2013 at 7:12 pm and is filed under
Electric Bug
,
EV Page of Shame
. You can follow any responses to this entry through the
RSS 2.0
feed. Both comments and pings are currently closed.
2 Responses to "EV Page of Shame: Post 1"
diagonal Plough says:
April 6th, 2013 at 5:33 am

You ought to participate in a contest for among the top blogs on the internet. I will suggest this site!

flap bucket says:
April 6th, 2013 at 10:28 am

Hi for super synopsis, but then I am glad for totally howling the Zune, and moreover pray such a, together with very excellent ratings some other type of a lot a lot more produced, beneficial analyse if is it doesn't proper choice for you.