---
An electric motor doesn't need a big flywheel to keep the engine running. It also doesn't need the starter gear teeth around the edge. In fact, all it really has to do is engage with the clutch disc via the pressure plate. I'm not sure how beefy that needs to be, but I decided to take down a bit of the flywheel size on my old south bend lathe.
Here's the tranny, coupling adapter, and flywheel: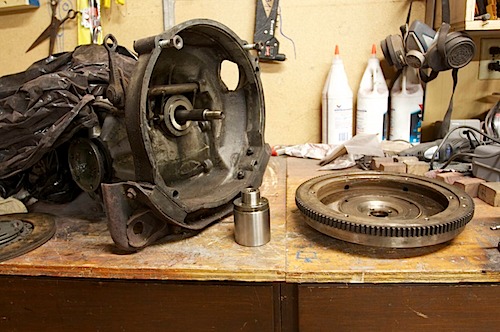 I bolted the coupling adapter to the flywheel; it didn't come with the right bolts, and I had bought some grade 5 bolts that didn't quite fit on it either, so I turned down the coupling a little bit to let them attach. Later I replaced it with an hex head bolt.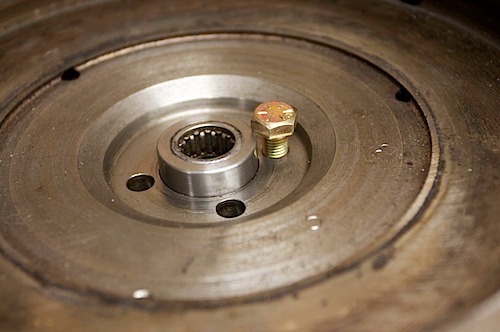 I put the coupling/flywheel in the four jaw chuck and centered it on the lathe: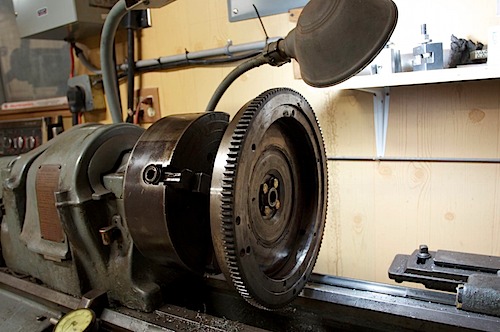 The teeth were probably hardened, as they weren't cutting too well, so instead I just did a bunch of plunge cuts on the fact and cut the teeth off: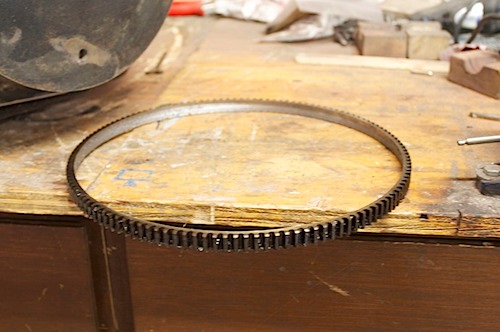 It had taken a while to do that, but after it was done it was just a matter of setting the machine up and letting it cut over and over again: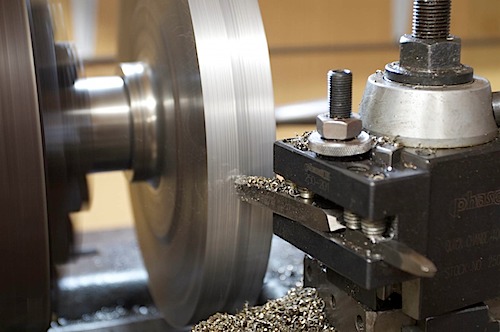 I only took off material from the side; I could probably have made the back thinner too, but I wasn't sure how much and if it would be worth the time. Here you can see a bit of the material that I cut off: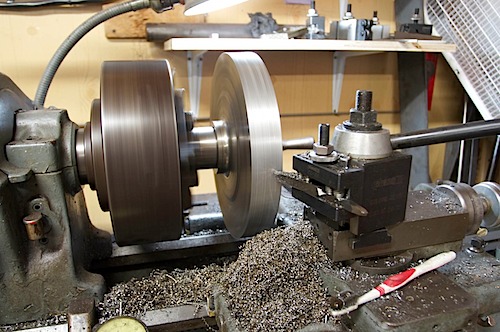 Then a sample test fit on the motor with the adapter plate. The adapter plate was all rusty looking; the machinist that made it did a terrible job on the steel, and had literally painted over some rust. I cleaned it all off as best I could and powder coated it red to match the motor: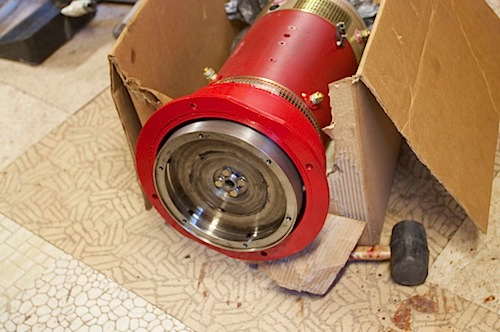 I then dropped the flywheel off at a machine/transmission shop (Clarks Machine Shop in Cupertino) to balance it, since I have no idea how to do it and I wanted it to be done right with no vibration. They have had it for almost two weeks; they need some kind of axle or something to mount it to their machine and were supposed to borrow one a week ago. Hopefully I'll get it back next week, and then I can actually put the motor in!
---
This entry was posted on Saturday, September 11th, 2010 at 9:33 pm and is filed under
Electric Bug
,
Machining
. You can follow any responses to this entry through the
RSS 2.0
feed. Both comments and pings are currently closed.
3 Responses to "Plug Bug: Turning the flywheel"
John C. Randolph says:
September 12th, 2010 at 1:50 am

If your flywheel was running true on the lathe, then isn't it already balanced?

corbin says:
September 13th, 2010 at 9:27 am

Hey John — well, it is true, but due to imperfections (in mounting) and steel uniformity will cause it to not be balanced. So, even brand new flywheels still need to be balanced. The same goes for clutch plates.

John C. Randolph says:
September 13th, 2010 at 5:40 pm

Ah, now I understand.