---
Blue Tree Software, my shareware "company" that I have had for many many years is now closed. If you visited http://www.bluetreesoft.com you will be redirected to corbinstreehouse.com.
I plan on releasing my flagship product, WallChanger, as open source. The applications all run on Windows, and I only use MacOS, so it might take a while for me to post the source somewhere and rebuild a "freeware" version. If someone wants to build it for me and remove the reg code stuff, let me know…I'll send it to you.
Screen shots of my old website in QuickLook (boy, I designed that a *long* time ago):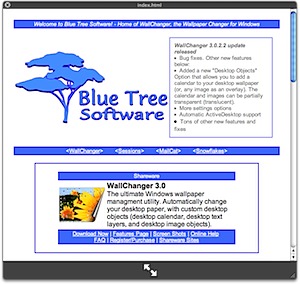 Before "Blue Tree Software" I called "Blue Software" (even older! Cool main font):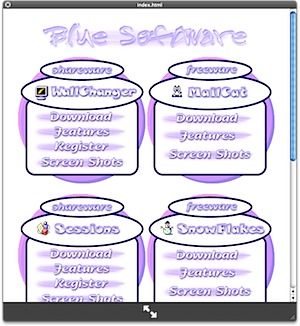 Playing around with designs: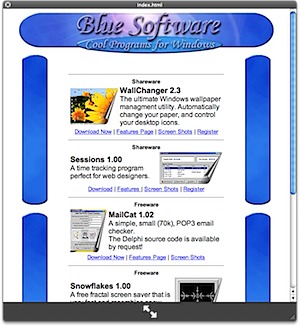 And while I'm at it, old screenshots of corbinstreehouse.com, designed when I was in high school back in 1995/1996: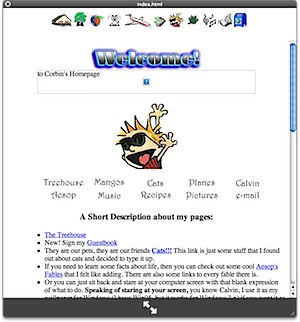 The fruity rainbow design when I was learning Adobe Illustrator and playing with dynamic javascript stuff. Back in 1997/1998ish (and around for quite a few years):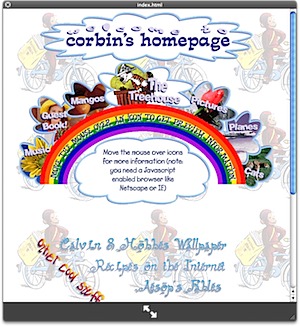 "Imaginary Internet Websites" when I made web pages for people in college: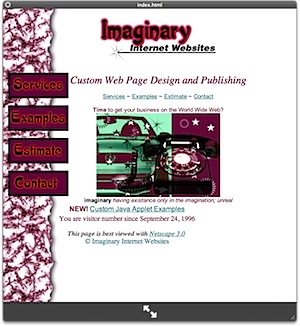 ---
This entry was posted on Thursday, October 29th, 2009 at 12:35 pm and is filed under
General
. You can follow any responses to this entry through the
RSS 2.0
feed. Both comments and pings are currently closed.
One Response to "Blue Tree Software is now closed"
rojayva says:
February 11th, 2012 at 7:22 am

Hi Corbin,
I really like your site and comments. It looks like you're into some interesting stuff. I'm a do-it-yourselfer/restorer also.
I've been using the WallChanger software for a number of years now and was just looking for an update. I see you've given it up. Well, sorry it wasn't more successful for you. I really like it and still use it.
Good luck to you!
rojayva
rpoole@hotmail.com
Fredericksburg, VA.