---
Well! Today I finished the base platform. This is all I'm planning on doing for the wedding. Well, this and adding stairs. Sometime after honeymoon I will turn it into a real treehouse with walls and a roof. It turned out pretty neat, but a little shaky in the horizontal plane. I had let the brackets cool by themselves and didn't harden them by quenching in water (or oil); I think this made them stay slightly flexible, which I thought would be a good thing. In addition, the half-circle design isn't as strong as a complete circle which would prevent most lateral movement in the horizontal plane.
Here's a sneak peek of the finished platform. I'll hopefully write a blog entry on the making of it, and include some of the framing details.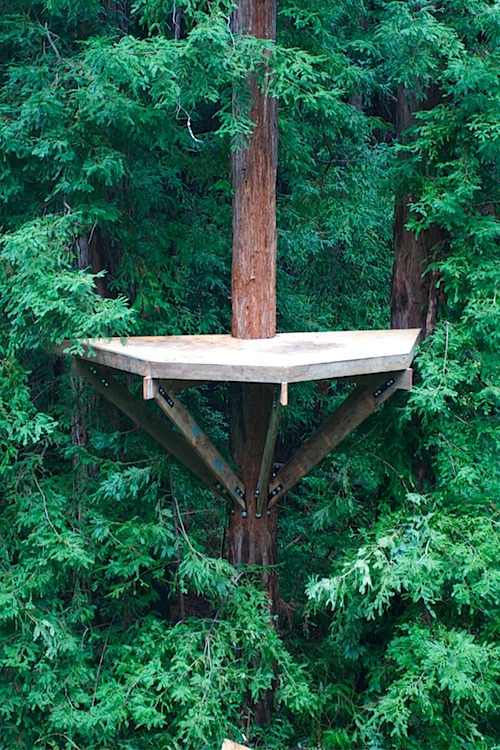 ---
This entry was posted on Sunday, May 3rd, 2009 at 9:54 pm and is filed under
Treehouses
. You can follow any responses to this entry through the
RSS 2.0
feed. Both comments and pings are currently closed.
One Response to "Wedding Treehouse – platform sneak peak"
Julie K. says:
June 11th, 2009 at 7:49 am

Congratulations on your wedding! We follow your twitter because we are friends with Irene and Andy and our kids unicycle with Hutch One Wheelers. We watched them get married in their barn. Very impressed with your treehouse habit! We have one of our own, though we didn't build it ourselves. Sometime I should post a photo on my twitter. Also impressed that you Uni to work! God bless your special day and hope to see some treehouse wedding pics on your twitter :)

Julie, Chris, Georgia, Michelle, and Renee Kovacic
Hutchinson, MN