---
While walking along the street in Barcelona, I saw something that astonished me. A flock of "wild" parrots in Barcelona!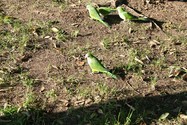 I really like nature, and I really like birds, so it was cool to see them. I snapped a few pictures, but they didn't want me to get too close.
---
This entry was posted on Wednesday, December 7th, 2005 at 8:47 am and is filed under
General
,
Nature
. You can follow any responses to this entry through the
RSS 2.0
feed. Both comments and pings are currently closed.